Evolution: The enigmatic xenopsins
A new member of the family of light-sensitive proteins called opsins has stirred up our view of photoreceptors.
How did animals develop the ability to detect light and see? The process began when a transmembrane protein evolved into an efficient light sensor called opsin (Feuda et al., 2012). Subsequently, a stunning diversity of opsins emerged in various animal phyla that set the stage for the evolution of eyes.
The two most-studied opsins are r-opsins, which are are found in rhabdomeric photoreceptor cells, and c-opsins, which are found in ciliary photoreceptor cells (Arendt et al., 2004). The r-opsins are commonly stored at the top of rhabdomeric cells in the folded cell membrane, called the rhabdom, which became the major light sensor in invertebrate eyes. In contrast, the c-opsins are transported into the cilium of ciliary photoreceptor cells, where the membrane is likewise folded to expand the light-sensitive surface. Ciliary photoreceptors are the main constituent of vertebrate eyes.
Besides the r- and c-opsins, which are well characterized, other opsins are now becoming the focus of attention. For example, tetraopsins are co-expressed with r-opsins in the eyes of segmented worms (Gühmann et al., 2015), and cnidopsins locate to the light-sensitive cilia of jellyfish eyes (Bielecki et al., 2014). The newest addition to the zoo of opsins, however, is an enigmatic group called the xenopsins (Ramirez et al., 2016). Now, in eLife, Harald Hausen and colleagues at the University of Bergen – including Oliver Vöcking, who is also at the University of Pittsburgh, as first author – report the results of a study that reveals more about how opsins evolved (Vöcking et al., 2017).
Vöcking et al. first present a molecular phylogeny, based on RNA sequence data, that distinguishes a total of ten distinct opsin families (Figure 1). Complementing this analysis, they then plot information about the introns (which are not present in the sequenced RNA molecules) of all available opsin genes, so that for the first time we can exhaustively compare how the opsin families are evolutionarily related with the structure of those genes. This analysis reveals distinctive intron patterns for the majority of the opsin families. Moreover, and rather strikingly, some introns are shared between families, suggesting that these families are more closely related: for example, the 'anthozoan opsins II' (only found in the polyps of anthozoans such as sea anemones and corals) and the ctenopsins (which are found in ctenophores, also known as comb jellies; Schnitzler et al., 2012) share one intron with each other and two introns each with c-opsins. This is in line with the results of the molecular phylogeny that likewise links the three families and indicates that the ctenopsins and the anthozoan opsins represent offshoots of the c-opsin branch. This is a huge step forward in our understanding of how c-opsin and ciliary photoreceptors evolved.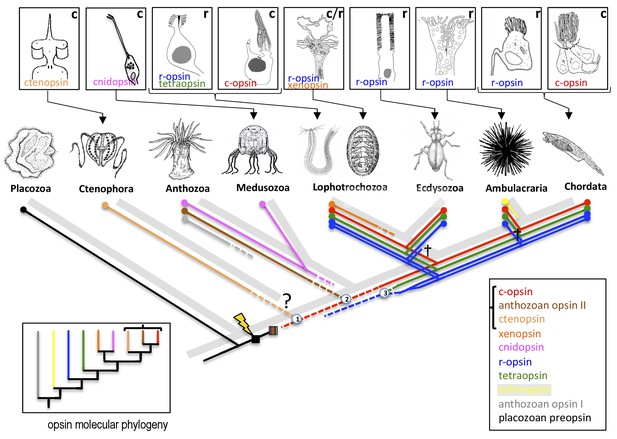 The position of the xenopsins, however, remains enigmatic. While the molecular phylogeny suggests they are closely related to the cnidopsins, the intron comparison reveals one shared intron with the r-opsins, which is insufficient to draw any conclusion. Even more puzzling, despite their apparent deep rooting in the opsin molecular phylogeny, the xenopsins are found only in the Lophotrochozoans (a superphylum that includes mollusks). This would imply that xenopsins have frequently been lost throughout animal evolution.
Complicating matters further, Vöcking et al. investigated the expression of xenopsin in the chiton, a marine mollusk. They found that xenopsin is co-expressed with r-opsins in the rhabdomeric photoreceptor cells of the larvae. They also found that these cells bear a cilium and express genes that help to localize opsins to cilia. Thus an r-opsin may be found in the rhabdom and a xenopsin in the cilium of the same photoreceptor, giving these cells a somewhat chimeric appearance.
To validate and explore this finding further, it will be necessary to test whether xenopsin and possibly other opsins indeed localize to the cilium and to determine the phototransduction cascades that the opsins trigger when they detect light. Only then will we understand how the diversity of the new opsins fits into the classical picture of rhabdomeric and ciliary photoreceptors.
Another challenge emerges from the molecular phylogeny. As it stands, this suggests that all opsin families outside of the c-opsin branch existed very early in animal evolution, even before the birth of the ctenophores (whose phylogenetic position is currently debated; see Simion et al., 2017). This is implausible for the xenopsins, especially so for the anthozoan and echinoderm opsins that only exist in one phylum, because it means they must have been lost in all other phyla. Of course, this paradox might also reflect the difficulty of using molecular phylogenies to resolve molecular interrelationships across animal phyla that separated more than 600 million years ago.
Article and author information
Author details
© 2017, Arendt
This article is distributed under the terms of the Creative Commons Attribution License, which permits unrestricted use and redistribution provided that the original author and source are credited.
2,068

Page views

271

Downloads

7

Citations
Article citation count generated by polling the highest count across the following sources: Crossref, PubMed Central, Scopus.
A two-part list of links to download the article, or parts of the article, in various formats.
Downloads
(link to download the article as PDF)
Open citations
(links to open the citations from this article in various online reference manager services)
Cite this article
(links to download the citations from this article in formats compatible with various reference manager tools)
Detlev Arendt
Evolution: The enigmatic xenopsins
eLife 6:e31781.
https://doi.org/10.7554/eLife.31781
Further reading
Genetics and Genomics
Neuroscience

Ciliary and rhabdomeric opsins are employed by different kinds of photoreceptor cells, such as ciliary vertebrate rods and cones or protostome microvillar eye photoreceptors, that have specialized structures and molecular physiologies. We report unprecedented cellular co-expression of rhabdomeric opsin and a visual pigment of the recently described xenopsins in larval eyes of a mollusk. The photoreceptors bear both microvilli and cilia and express proteins that are orthologous to transporters in microvillar and ciliary opsin trafficking. Highly conserved but distinct gene structures suggest that xenopsins and ciliary opsins are of independent origin, irrespective of their mutually exclusive distribution in animals. Furthermore, we propose that frequent opsin gene loss had a large influence on the evolution, organization and function of brain and eye photoreceptor cells in bilaterian animals. The presence of xenopsin in eyes of even different design might be due to a common origin and initial employment of this protein in a highly plastic photoreceptor cell type of mixed microvillar/ciliary organization.

Developmental Biology
Genetics and Genomics

The larynx enables speech while regulating swallowing and respiration. Larynx function hinges on the laryngeal epithelium which originates as part of the anterior foregut and undergoes extensive remodeling to separate from the esophagus and form vocal folds that interface with the adjacent trachea. Here we find that sonic hedgehog (SHH) is essential for epithelial integrity in the mouse larynx as well as the anterior foregut. During larynx-esophageal separation, low Shh expression marks specific domains of actively remodeling epithelium that undergo an epithelial-to-mesenchymal transition (EMT) characterized by the induction of N-Cadherin and movement of cells out of the epithelial layer. Consistent with a role for SHH signaling in regulating this process, Shh mutants undergo an abnormal EMT throughout the anterior foregut and larynx, marked by a cadherin switch, movement out of the epithelial layer and cell death. Unexpectedly, Shh mutant epithelial cells are replaced by a new population of FOXA2-negative cells that likely derive from adjacent pouch tissues and form a rudimentary epithelium. These findings have important implications for interpreting the etiology of HH-dependent birth defects within the foregut. We propose that SHH signaling has a default role in maintaining epithelial identity throughout the anterior foregut and that regionalized reductions in SHH trigger epithelial remodeling.

Genetics and Genomics
Plant Biology

As a first step in innate immunity, pattern recognition receptors (PRRs) recognize the distinct pathogen and herbivore-associated molecular patterns and mediate activation of immune responses, but specific steps in the evolution of new PRR sensing functions are not well understood. We employed comparative genomic and functional analyses to define evolutionary events leading to the sensing of the herbivore-associated peptide inceptin (In11) by the PRR inceptin receptor (INR) in legume plant species. Existing and de novo genome assemblies revealed that the presence of a functional INR gene corresponded with ability to respond to In11 across ~53 million years (my) of evolution. In11 recognition is unique to the clade of Phaseoloid legumes, and only a single clade of INR homologs from Phaseoloids was functional in a heterologous model. The syntenic loci of several non-Phaseoloid outgroup species nonetheless contain non-functional INR-like homologs, suggesting that an ancestral gene insertion event and diversification preceded the evolution of a specific INR receptor function ~28 my ago. Chimeric and ancestrally reconstructed receptors indicated that 16 amino acid differences in the C1 leucine-rich repeat domain and C2 intervening motif mediate gain of In11 recognition. Thus, high PRR diversity was likely followed by a small number of mutations to expand innate immune recognition to a novel peptide elicitor. Analysis of INR evolution provides a model for functional diversification of other germline-encoded PRRs.