Electrophysiology: Leading the charge
A simple label-free method uses the electrical properties of cells to detect how ligands bind to membrane proteins.
Membranes are thin slivers of fat that envelop cells, but on closer examination it becomes clear that the phospholipid bilayer that forms the membrane is more like a kind of sandwich. The water-repellent 'tails' of the phospholipids point inwards and form a core that acts as a barrier around the cell, whereas the 'head' groups (which are polar) orient outwards and attract water, ions and other charged molecules (Figure 1). Not so much keeping your friends close, as keeping your enemies closer.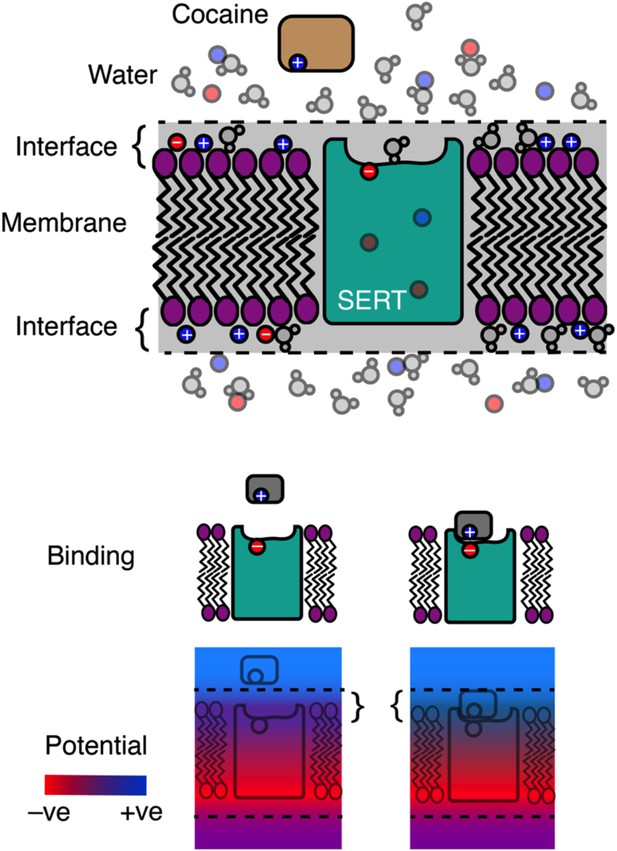 Because the membrane is so good at preventing charged objects from crossing it, cells employ numerous membrane proteins – pumps, secondary transporters and ion channels – to transport ions and all kinds of charged molecules. This is essential for a number of processes, including cell signalling, nutrient absorption, and muscle contraction. Anything that is charged needs to bind to the membrane proteins to be transported, so these proteins carry charged and polar groups to attract the particles. These groups, together with the head groups, contribute to the charged layer associated with the membrane surface.
The electrical properties of cell membranes have been actively studied for at least a century. Membranes have an electrical potential (usually measured in millivolts) across them that results from the unequal ion distributions inside and outside the cell; the action potential by which neurons conduct signals along their length is perhaps the most celebrated example of electrophysiology (Cole and Curtis, 1939).
Molecular scale information can be extracted by measuring the flow of charge in the cell membrane. Esoteric examples include brief 'gating currents' that accompany the activation of voltage-gated ion channels (Armstrong and Bezanilla, 1973), and brief current spikes that result from shape changes to the G-protein coupled receptors (Ben-Chaim et al., 2006). All this is just another way of saying that a few electrical charges per molecule matter a lot. Now, in eLife, Walter Sandtner and co-workers at the Medical University of Vienna – Verena Burtscher, Matej Hotka, Yang Li and Michael Freissmuth – report how apparent changes in the capacitance of the membrane can be used to measure the binding of charged ligands to membrane transporters (Burtscher et al., 2018).
Figure 1 illustrates the general principle of the measurement. Serotonin transporters (SERT) expose negative charges at the outer surface of the membrane. If a positively charged ligand like cocaine binds to the transporter, the net charge in the membrane (which is negative) is reduced. Burtscher et al. found that this change could be detected in whole cell patch clamp experiments.
Applying a square wave voltage to the membrane allows the charging and discharging of the cell membrane to be measured by studying the current that flows in response. The capacitance of the membrane (that is, its ability to store charge) can be calculated from this current and the potential of the membrane. Burtscher et al. could reliably and robustly detect apparent changes in capacitance that were associated with drug molecules binding to the transporters. Brief spikes in current also appeared as the drug first bound to the transporter; however, the capacitance change was a much clearer indicator of the binding.
Because there are many possible artefacts in the recorded current, Burtscher et al. went to considerable lengths to ensure that their results matched the predictions of prevailing theories for the electrochemistry of the charged layer. Indeed, the measurements did correspond with the Gouy-Chapman theory, which states that capacitance depends on the applied potential and the concentration of ions in solution. By buttressing their measurements with a solid theoretical approach, Burtscher et al. have developed a powerful method that could be used to detect processes other than ligand binding. For example, conformational changes that expose or cloak the charges on the surface of membrane proteins might be detected by a separate, slowly developing capacitance change.
The pattern of apparent capacitance reduction could also be used to determine the location of the sites on the transporters to which molecules bind. In what initially seemed to be a rather puzzling result, sufficiently high concentrations of the antidepressant desipramine (which, like cocaine, is positively charged and can bind to SERT) can alter the apparent capacitance of control cells that do not express SERT. Burtscher et al. determined that this confounding effect is because desipramine accumulates in cells and binds to the inner face of the membrane; the effect is absent in more acidic conditions when less of the uncharged form of desipramine is available to freely move across the membrane.
Inverting this logic suggests that a SERT inhibitor called ibogaine does not bind to the transporter at a site inside the cell, as had previously been thought. Ibogaine reduces the apparent capacitance of cells that express SERT, but has no effect control cells lacking SERT. This led Burtscher et al. to conclude that ibogaine binds to SERT at a site on the outer face of the cell.
The principal advantages of detecting ligand binding from capacitance changes are that conventional equipment and analysis can be used, and that molecules do not have to be labelled. What is perhaps surprising is that the changes at the surface of a single cell are reproducible enough to be quite easily resolved.
More work will be required to show how generally this method can be applied. It seems likely that the electrochemistry of individual ligands has an important effect on how they affect the apparent capacitance of the membrane they bind to. The approach is not obviously high-throughput but could in principle be adapted to a multiplex approach similarly to other patch clamp experiments, like the HERG screening that checks that new drugs won't affect heart rhythms (Kiss et al., 2003). However, because so many membrane proteins deal with charged ligands, this capacitance method should be applicable to many situations and is therefore a welcome addition to the toolkit of membrane physiologists.
Article and author information
Author details
© 2018, Plested
This article is distributed under the terms of the Creative Commons Attribution License, which permits unrestricted use and redistribution provided that the original author and source are credited.
1,783

Page views

101

Downloads

0

Citations
Article citation count generated by polling the highest count across the following sources: Crossref, PubMed Central, Scopus.
A two-part list of links to download the article, or parts of the article, in various formats.
Downloads
(link to download the article as PDF)
Open citations
(links to open the citations from this article in various online reference manager services)
Cite this article
(links to download the citations from this article in formats compatible with various reference manager tools)
Andrew JR Plested
Electrophysiology: Leading the charge
eLife 7:e37910.
https://doi.org/10.7554/eLife.37910
Further reading
Structural Biology and Molecular Biophysics

Electrophysiological recordings allow for monitoring the operation of proteins with high temporal resolution down to the single molecule level. This technique has been exploited to track either ion flow arising from channel opening or the synchronized movement of charged residues and/or ions within the membrane electric field. Here, we describe a novel type of current by using the serotonin transporter (SERT) as a model. We examined transient currents elicited on rapid application of specific SERT inhibitors. Our analysis shows that these currents originate from ligand binding and not from a long-range conformational change. The Gouy-Chapman model predicts that adsorption of charged ligands to surface proteins must produce displacement currents and related apparent changes in membrane capacitance. Here we verified these predictions with SERT. Our observations demonstrate that ligand binding to a protein can be monitored in real time and in a label-free manner by recording the membrane capacitance.

Structural Biology and Molecular Biophysics

Paclitaxel (Taxol) is a taxane and a chemotherapeutic drug that stabilizes microtubules. While the interaction of paclitaxel with microtubules is well described, the lack of high-resolution structural information on a tubulin-taxane complex precludes a comprehensive description of the binding determinants that affect its mechanism of action. Here, we solved the crystal structure of baccatin III the core moiety of paclitaxel-tubulin complex at 1.9 Å resolution. Based on this information, we engineered taxanes with modified C13 side chains, solved their crystal structures in complex with tubulin, and analyzed their effects on microtubules (X-ray fiber diffraction), along with those of paclitaxel, docetaxel, and baccatin III. Further comparison of high-resolution structures and microtubules' diffractions with the apo forms and molecular dynamics approaches allowed us to understand the consequences of taxane binding to tubulin in solution and under assembled conditions. The results sheds light on three main mechanistic questions: (1) taxanes bind better to microtubules than to tubulin because tubulin assembly is linked to a βM-loopconformational reorganization (otherwise occludes the access to the taxane site) and, bulky C13 side chains preferentially recognize the assembled conformational state; (2) the occupancy of the taxane site has no influence on the straightness of tubulin protofilaments and; (3) longitudinal expansion of the microtubule lattices arises from the accommodation of the taxane core within the site, a process that is no related to the microtubule stabilization (baccatin III is biochemically inactive). In conclusion, our combined experimental and computational approach allowed us to describe the tubulin-taxane interaction in atomic detail and assess the structural determinants for binding.

Structural Biology and Molecular Biophysics

Volume-regulated anion channels (VRACs) mediate volume regulatory Cl- and organic solute efflux from vertebrate cells. VRACs are heteromeric assemblies of LRRC8A-E proteins with unknown stoichiometries. Homomeric LRRC8A and LRRC8D channels have a small pore, hexameric structure. However, these channels are either non-functional or exhibit abnormal regulation and pharmacology, limiting their utility for structure-function analyses. We circumvented these limitations by developing novel homomeric LRRC8 chimeric channels with functional properties consistent with those of native VRAC/LRRC8 channels. We demonstrate here that the LRRC8C-LRRC8A(IL125) chimera comprising LRRC8C and 25 amino acids unique to the first intracellular loop (IL1) of LRRC8A has a heptameric structure like that of homologous pannexin channels. Unlike homomeric LRRC8A and LRRC8D channels, heptameric LRRC8C-LRRC8A(IL125) channels have a large-diameter pore similar to that estimated for native VRACs, exhibit normal DCPIB pharmacology, and have higher permeability to large organic anions. Lipid-like densities are located between LRRC8C-LRRC8A(IL125) subunits and occlude the channel pore. Our findings provide new insights into VRAC/LRRC8 channel structure and suggest that lipids may play important roles in channel gating and regulation.