Cell Communication: Studying gap junctions with PARIS
A new genetically encoded system manipulates the pH inside cells to detect whether they are coupled to each other.
For our bodies to work properly, cells need to communicate with each other. One way to do so is via gap junctions, which are connections between cells that allow small signaling molecules or electrical signals to pass between them. Cells coupled together by gap junctions often synchronize their activity (Bennett and Zukin, 2004).
Neuromodulators and the activity of neurons can affect gap junction coupling between neurons, which, in turn, can influence the pattern of activity in neurons (Lane et al., 2018; Haas et al., 2011). Gap junctions have also been implicated in a variety of diseases (Nielsen et al., 2012). So far, it has been difficult to identify their precise roles in health and disease, as present methods to map or monitor gap junction coupling are often invasive and damaging, or unable to measure a specific cell type in enough detail.
Now, in eLife, Yulong Li and colleagues at Peking University – including Ling Wu as first author – report that they have developed a new method called PARIS to map and measure gap junctions (Wu et al., 2019). PARIS is a genetically encoded system, consisting of an optically controlled 'actuator' in one cell (the actuator cell) and a fluorescent sensor in another (the receiver cell). When stimulated with light, the actuator generates an electrochemical gradient with the help of a light-gated proton pump. The activated pump then transports hydrogen ions out of the cell. If the cells are coupled to each other, the departing ions change the pH in the receiver cell, causing a measurable increase in fluorescence (Figure 1A,B).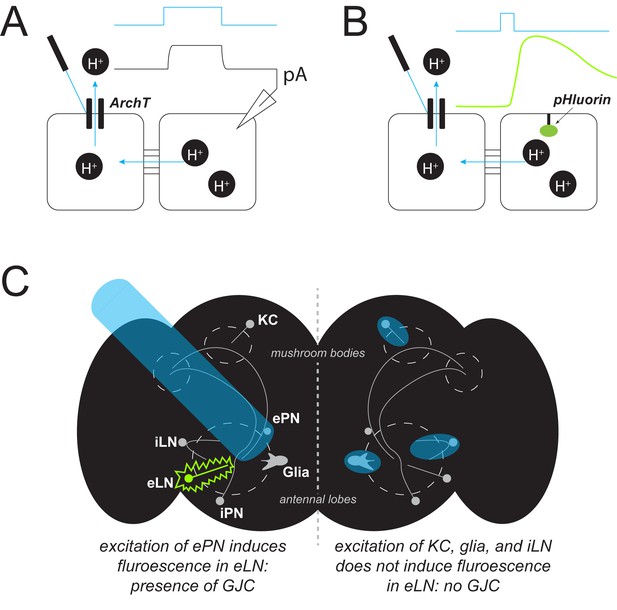 The pH gradient generated by PARIS can be detected in multiple receiver cells, even when they are not coupled directly to the actuator. Changes to the pH are known to affect the coupling and the strength of gap junctions (Nielsen et al., 2012). However, Wu et al. show that a slight pH increase of 0.1 is sufficient to detect gap junction coupling and therefore does not appear to disrupt the activity of a cell, even in repeated trials.
Furthermore, the change of fluorescence is noticeable within seconds and provides a consistent signal over repeated measurements that is strong enough to be tracked over hours. Moreover, since the technique is fully genetically encoded, there is no need to use dyes or to deliver compounds directly into the cell. Instead, Wu et al. have shown that PARIS can be delivered into the cell by various molecular gene transfer techniques, including virus-based transfer methods, allowing it to be applied to a wide range of organisms.
Given these attributes, PARIS can be used in a variety of fields where it promises to accelerate and expand research. For example, it could be used to study abnormal gap junction coupling associated with certain conditions, or to monitor drugs expected to alter coupling (Haas et al., 2011; Lane et al., 2018; Lane et al., 2016). It may even be used to study signaling within a cell, as it has been shown that certain intracellular enzymes can alter gap junction coupling too.
The ability of PARIS to assess gap junction coupling between individual cell types, especially in the brain, is particularly attractive. Wu et al. were able to confirm that in the olfactory system of fruit flies, a type of neuron known as an excitatory projection neuron, forms gap junctions with excitatory local neurons, but not with other nearby cell types (Figure 1C; Huang et al., 2010; Yaksi and Wilson, 2010).
PARIS also can be used to gain insight into where cells connect with each other. For example, the researchers revealed that excitatory and inhibitory projection neurons are coupled at their dendrites rather than at their axons. This degree of resolution is invaluable for studying nervous systems, and is difficult to achieve by other means.
Projects to map the brain connectivity in humans and other species based on chemical synaptic connectivity alone will be incomplete because they fail to describe alternate pathways information may use to travel, such as gap junctions (Marder et al., 2017). With future improvements in the sensitivity of the fluorescent receiver to an even smaller pH change, PARIS has the potential to be a valuable tool to study cell communication and its role in many different diseases.
Article and author information
Author details
© 2019, Kick and Schulz
This article is distributed under the terms of the Creative Commons Attribution License, which permits unrestricted use and redistribution provided that the original author and source are credited.
1,162

Page views

137

Downloads

1

Citations
Article citation count generated by polling the highest count across the following sources: Crossref, PubMed Central, Scopus.
A two-part list of links to download the article, or parts of the article, in various formats.
Downloads
(link to download the article as PDF)
Open citations
(links to open the citations from this article in various online reference manager services)
Cite this article
(links to download the citations from this article in formats compatible with various reference manager tools)
Daniel R Kick
David J Schulz
Cell Communication: Studying gap junctions with PARIS
eLife 8:e45207.
https://doi.org/10.7554/eLife.45207
Further reading
Cell-cell communication via gap junctions regulates a wide range of physiological processes by enabling the direct intercellular electrical and chemical coupling. However, the in vivo distribution and function of gap junctions remain poorly understood, partly due to the lack of non-invasive tools with both cell-type specificity and high spatiotemporal resolution. Here, we developed PARIS (pairing actuators and receivers to optically isolate gap junctions), a new fully genetically encoded tool for measuring the cell-specific gap junctional coupling (GJC). PARIS successfully enabled monitoring of GJC in several cultured cell lines under physiologically relevant conditions and in distinct genetically defined neurons in Drosophila brain, with ~10 s temporal resolution and sub-cellular spatial resolution. These results demonstrate that PARIS is a robust, highly sensitive tool for mapping functional gap junctions and study their regulation in both health and disease.

Understanding object representations requires a broad, comprehensive sampling of the objects in our visual world with dense measurements of brain activity and behavior. Here, we present THINGS-data, a multimodal collection of large-scale neuroimaging and behavioral datasets in humans, comprising densely sampled functional MRI and magnetoencephalographic recordings, as well as 4.70 million similarity judgments in response to thousands of photographic images for up to 1,854 object concepts. THINGS-data is unique in its breadth of richly annotated objects, allowing for testing countless hypotheses at scale while assessing the reproducibility of previous findings. Beyond the unique insights promised by each individual dataset, the multimodality of THINGS-data allows combining datasets for a much broader view into object processing than previously possible. Our analyses demonstrate the high quality of the datasets and provide five examples of hypothesis-driven and data-driven applications. THINGS-data constitutes the core public release of the THINGS initiative (https://things-initiative.org) for bridging the gap between disciplines and the advancement of cognitive neuroscience.

Sensory neurons previously shown to optimize speed and balance in fish by providing information about the curvature of the spine show similar morphology and connectivity in mice.