Tumor Evolution: Finding the mutations that drive resistance
Mutations that allow tumors to evolve and become resistant to treatment can be readily identified with a new sequencing approach.
Despite being a major cause of death, cancer is still far from being fully understood. Most cancer treatments target mutations that happen during the very early stages of the disease, as these genetic variants will be present in the majority of tumor cells (Bailey et al., 2018). However, not all cells inside a tumor are genetically identical, and this heterogeneity is one of the biggest problems in cancer therapy (Gatenby and Brown, 2018). As tumors evolve and become more heterogeneous, some cancer cells acquire new mutations that make them resistant to certain treatments, and drugs targeting these sites could prevent cancers from reoccurring (Figure 1A).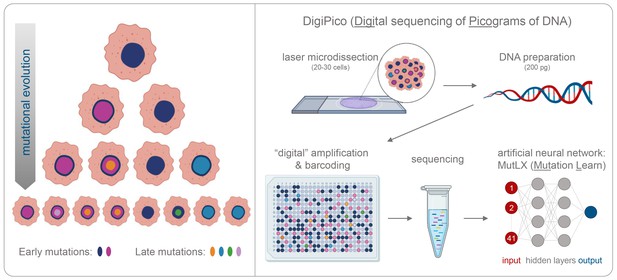 Whole-genome sequencing is a widely used strategy for identifying genetic variants which are present in the majority of tumor cells. However, mutations that arise later during tumor evolution are almost impossible to detect using this approach, as they only appear in a handful of cells (Figure 1A; Hrdlickova et al., 2017; Turajlic et al., 2019). Although whole-genome sequencing of single cells can uncover these rarer mutations, this technique requires a high number of individual cells, which are often difficult to collect and expensive to sequence. In addition, amplifying the small quantities of DNA extracted from tumor cells often introduces errors that can be mistaken for cancer mutations. Now, in eLife, Ahmed Ahmed from the University of Oxford and co-workers from the United Kingdom and Germany – including Eli M Carrami as first author – report how they developed a new whole-genome sequencing technique that can overcome these limitations and identify mutations that occur later in tumor evolution (Carrami et al., 2020).
In the first stage of this approach, termed DigiPico, genomic material was extracted from a small group of tumor cells and diluted down to 384 single molecules of DNA (Figure 1B). Each DNA molecule was then individually amplified to create a library of repeated fragments which were sequenced into reads. Carrami et al. hypothesized that if a mutation is randomly generated during the amplification process, it will only appear in a small proportion of the repeated fragments. However, if a mutation is truly related to the cancer sample, it will be present from the start and will therefore be detected in all the reads that result from amplifying the single DNA molecule. Moreover, true mutations that arise during tumor evolution will be distributed regularly across the different libraries, while artefacts that arise during amplification will appear more randomly.
The sequencing data were analyzed using common processing and mapping algorithms and compared to whole-genome sequencing data from the tumor material and blood of the same patient. This identified genomic variants that were unique to the DigiPico data, and true positive mutations that were also found in the majority of tumor cells and the blood of patients. KaramNejadRanjbar et al. then employed a neural network called MutLX, which uses a form of artificial intelligence, to determine whether the unique variants detected by DigiPico were artefacts or cancer related mutations (LeCun et al., 2015). Excluding artefacts dramatically decreased the number of candidates for mutations that occurred late in the evolution of the tumor.
Experimentally validating some of the detected mutants revealed that together, DigiPico and MutlX, are able to eliminate false positives and identify rare mutations. Using the new technique, KaramNejadRanjbar et al. were able to discover a hyper-mutation event called kataegis in a recurring ovarian tumor (Chan and Gordenin, 2015), which conventional sequencing approaches had not been able to detect.
One of the main advantages of this method is that it can identify rare mutations that appear late during tumor evolution from just a small sample of cells. Furthermore, the precision and robustness of the technique also makes it easier to characterize current mutational processes, even in cancers which have a high number of genomic re-arrangements, such as ovarian tumor cells. These findings demonstrate how DigiPico and MutLX can be used to study the evolution of tumors, during cancer development, progression and recurrence.
Article and author information
Author details
© 2020, Bley
This article is distributed under the terms of the Creative Commons Attribution License, which permits unrestricted use and redistribution provided that the original author and source are credited.
1,536

Page views

125

Downloads

2

Citations
Article citation count generated by polling the highest count across the following sources: Crossref, PubMed Central, Scopus.
A two-part list of links to download the article, or parts of the article, in various formats.
Downloads
(link to download the article as PDF)
Open citations
(links to open the citations from this article in various online reference manager services)
Cite this article
(links to download the citations from this article in formats compatible with various reference manager tools)
Nadine Bley
Tumor Evolution: Finding the mutations that drive resistance
eLife 9:e57678.
https://doi.org/10.7554/eLife.57678
Further reading
Cancer Biology
Genetics and Genomics

Bulk whole genome sequencing (WGS) enables the analysis of tumor evolution but, because of depth limitations, can only identify old mutational events. The discovery of current mutational processes for predicting the tumor's evolutionary trajectory requires dense sequencing of individual clones or single cells. Such studies, however, are inherently problematic because of the discovery of excessive false positive (FP) mutations when sequencing picogram quantities of DNA. Data pooling to increase the confidence in the discovered mutations, moves the discovery back in the past to a common ancestor. Here we report a robust WGS and analysis pipeline (DigiPico/MutLX) that virtually eliminates all F results while retaining an excellent proportion of true positives. Using our method, we identified, for the first time, a hyper-mutation (kataegis) event in a group of ∼30 cancer cells from a recurrent ovarian carcinoma. This was unidentifiable from the bulk WGS data. Overall, we propose DigiPico/MutLX method as a powerful framework for the identification of clone-specific variants at an unprecedented accuracy.

Cancer Biology
Computational and Systems Biology

Pancreatic cancer is one of the deadliest cancer types with poor treatment options. Better detection of early symptoms and relevant disease correlations could improve pancreatic cancer prognosis. In this retrospective study, we used symptom and disease codes (ICD-10) from the Danish National Patient Registry (NPR) encompassing 6.9 million patients from 1994 to 2018,, of whom 23,592 were diagnosed with pancreatic cancer. The Danish cancer registry included 18,523 of these patients. To complement and compare the registry diagnosis codes with deeper clinical data, we used a text mining approach to extract symptoms from free text clinical notes in electronic health records (3078 pancreatic cancer patients and 30,780 controls). We used both data sources to generate and compare symptom disease trajectories to uncover temporal patterns of symptoms prior to pancreatic cancer diagnosis for the same patients. We show that the text mining of the clinical notes was able to complement the registry-based symptoms by capturing more symptoms prior to pancreatic cancer diagnosis. For example, 'Blood pressure reading without diagnosis', 'Abnormalities of heartbeat', and 'Intestinal obstruction' were not found for the registry-based analysis. Chaining symptoms together in trajectories identified two groups of patients with lower median survival (<90 days) following the trajectories 'Cough→Jaundice→Intestinal obstruction' and 'Pain→Jaundice→Abnormal results of function studies'. These results provide a comprehensive comparison of the two types of pancreatic cancer symptom trajectories, which in combination can leverage the full potential of the health data and ultimately provide a fuller picture for detection of early risk factors for pancreatic cancer.

Cancer stem cells (CSCs) undergo epithelial-mesenchymal transition (EMT) to drive metastatic dissemination in experimental cancer models. However, tumour cells undergoing EMT have not been observed disseminating into the tissue surrounding human tumour specimens, leaving the relevance to human cancer uncertain. We have previously identified both EpCAM and CD24 as CSC markers that, alongside the mesenchymal marker Vimentin, identify EMT CSCs in human oral cancer cell lines. This afforded the opportunity to investigate whether the combination of these three markers can identify disseminating EMT CSCs in actual human tumours. Examining disseminating tumour cells in over 12,000 imaging fields from 74 human oral tumours, we see a significant enrichment of EpCAM, CD24 and Vimentin co-stained cells disseminating beyond the tumour body in metastatic specimens. Through training an artificial neural network, these predict metastasis with high accuracy (cross-validated accuracy of 87-89%). In this study, we have observed single disseminating EMT CSCs in human oral cancer specimens, and these are highly predictive of metastatic disease.