Small-Molecule Inhibitors: Disrupting enzyme fluidity
A combination of X-ray crystallography, NMR, and mass spectrometry has revealed how diverse small-molecule inhibitors bind Bruton's tyrosine kinase and alter the conformation of this enzyme.
The switching of enzymes between active and inactive states, a process known as enzyme regulation, is crucial in cell biology, and the breakdown of the process has been implicated in many diseases. A number of small-molecule inhibitors work by blocking enzyme function, but efforts to evaluate the efficacy of such inhibitors have been hampered by the lack of a detailed understanding of how they work. For example, some small-molecule inhibitors work by making localized changes to the shape of the enzyme at the site where they bind, whereas others work by inducing changes in another part of the enzyme, a phenomenon known as allostery.
A clearer picture of allostery requires detailed knowledge of enzyme function and the underlying protein dynamics (Henzler-Wildman and Kern, 2007). Now, in eLife, Amy Andreotti (Iowa State University), Thomas Wales (Northeastern University) and colleagues – Raji Joseph, Neha Amatya, Bruce Fulton and John Engen – report on the effects of five different small-molecule inhibitors on an enzyme called Bruton's tyrosine kinase (BTK; Joseph et al., 2020).
BTK is a kinase that regulates the immune responses of B- and T-cells, and blocking its activity can help suppress inflammatory responses and treat lymphomas and leukemias (Kim, 2019). High-resolution snapshots of the active and inactive states of BTK have been previously obtained using X-ray crystallography (Marcotte et al., 2010; Kuglstatter et al., 2011; Xing and Huang, 2014). Similar to other kinases, an important feature in BTK is a switch called a 'Glu-Lys switch' (Taylor et al., 1993). When the critical glutamate (Glu) in the switch is positioned close to a specific lysine (Lys) in the catalytic site, the enzyme is more active. When the enzyme is inactive, it adopts a different shape where the same glutamate is further from the lysine.
While X-ray crystallography can provide information on the active and inactive conformations of enzymes at high resolution, additional techniques are needed to understand how enzymes and small-molecule inhibitors interact in solution, so Joseph et al. combined X-ray crystallography with nuclear magnetic resonance (NMR) and amide hydrogen/deuterium exchange mass spectrometry (HDXMS). NMR provides a global overview of conformation, including the transitions between the active and inactive state, while HDXMS localizes conformational changes at a peptide level.
The experiments revealed that BTK exists in an ensemble of conformations, encompassing the inactive and active states of the enzyme (Figure 1). Joseph et al. then explored how five different small-molecule inhibitors (ibrutinib, dasatinib, GDC-0853, CGI1746 and CC-292) interacted with BTK, and found that each inhibitor resulted in varying ratios of inactive and active conformations. These results establish that BTK changes the likelihood of being in a specific conformation within its ensemble, rather than operating as a discrete on/off switch, which is consistent with the idea that proteins exist in several conformations of varying activity (Onuchic and Wolynes, 2004). This work also supports the view that small-molecule inhibitors may favor certain conformations in an ensemble over others (Boehr et al., 2009; Kar et al., 2010). Joseph et al. also examined a mutation in BTK that confers B-cells with resistance to one of the inhibitors: the cancer drug ibrutinib. They found that this mutation disrupts the inactive conformation of BTK, making the enzyme more active and leading to more aggressive lymphomas that can evade the drug.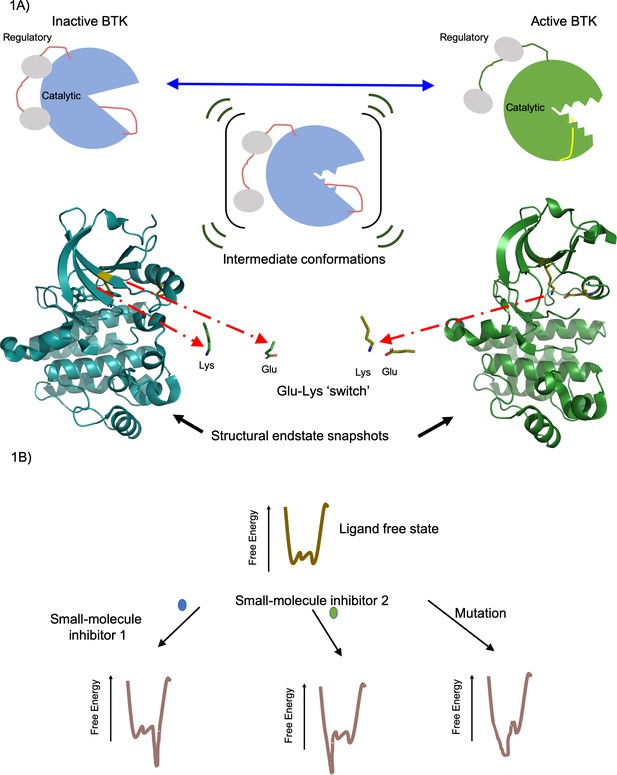 This work underscores the limitations of using structural snapshots from X-ray crystallography or cryo-electron microscopy alone to map small-molecule interaction sites, or to describe allosteric effects. It also highlights how combining NMR and HDXMS with static structural data will lead to more complete descriptions of drug-enzyme interactions. More generally, combining structural, dynamic and computational approaches will help researchers to design inhibitor drugs that are not rendered ineffective by disease-resistant mutations.
Article and author information
Author details
© 2021, Anand
This article is distributed under the terms of the Creative Commons Attribution License, which permits unrestricted use and redistribution provided that the original author and source are credited.
768

Page views

75

Downloads

0

Citations
Article citation count generated by polling the highest count across the following sources: Crossref, PubMed Central, Scopus.
A two-part list of links to download the article, or parts of the article, in various formats.
Downloads
(link to download the article as PDF)
Open citations
(links to open the citations from this article in various online reference manager services)
Cite this article
(links to download the citations from this article in formats compatible with various reference manager tools)
Ganesh Srinivasan Anand
Small-Molecule Inhibitors: Disrupting enzyme fluidity
eLife 10:e65221.
https://doi.org/10.7554/eLife.65221
Further reading
Structural Biology and Molecular Biophysics

Bruton's tyrosine kinase (BTK) is targeted in the treatment of B-cell disorders including leukemias and lymphomas. Currently approved BTK inhibitors, including Ibrutinib, a first-in-class covalent inhibitor of BTK, bind directly to the kinase active site. While effective at blocking the catalytic activity of BTK, consequences of drug binding on the global conformation of full-length BTK are unknown. Here, we uncover a range of conformational effects in full-length BTK induced by a panel of active site inhibitors, including large-scale shifts in the conformational equilibria of the regulatory domains. Additionally, we find that a remote Ibrutinib resistance mutation, T316A in the BTK SH2 domain, drives spurious BTK activity by destabilizing the compact autoinhibitory conformation of full-length BTK, shifting the conformational ensemble away from the autoinhibited form. Future development of BTK inhibitors will need to consider long-range allosteric consequences of inhibitor binding, including the emerging application of these BTK inhibitors in treating COVID-19.

Cell Biology
Structural Biology and Molecular Biophysics

The Endosomal Sorting Complexes Required for Transport (ESCRT) machinery mediates the membrane fission step that completes cytokinetic abscission and separates dividing cells. Filaments composed of ESCRT-III subunits constrict membranes of the intercellular bridge midbody to the abscission point. These filaments also bind and recruit cofactors whose activities help execute abscission and/or delay abscission timing in response to mitotic errors via the NoCut/Abscission checkpoint. We previously showed that the ESCRT-III subunit IST1 binds the cysteine protease CAPN7 (Calpain-7) and that CAPN7 is required for both efficient abscission and NoCut checkpoint maintenance (Wenzel et al., 2022). Here, we report biochemical and crystallographic studies showing that the tandem MIT domains of CAPN7 bind simultaneously to two distinct IST1 MIT interaction motifs. Structure-guided point mutations in either CAPN7 MIT domain disrupted IST1 binding in vitro and in cells, and depletion/rescue experiments showed that the CAPN7-IST1 interaction is required for: 1) CAPN7 recruitment to midbodies, 2) efficient abscission, and 3) NoCut checkpoint arrest. CAPN7 proteolytic activity is also required for abscission and checkpoint maintenance. Hence, IST1 recruits CAPN7 to midbodies, where its proteolytic activity is required to regulate and complete abscission.

Biochemistry and Chemical Biology
Structural Biology and Molecular Biophysics

The seventh pandemic of the diarrheal cholera disease, which began in 1960, is caused by the Gram-negative bacterium Vibrio cholerae. Its environmental persistence provoking recurring sudden outbreaks is enabled by V. cholerae's rapid adaption to changing environments involving sensory proteins like ToxR and ToxS. Located at the inner membrane, ToxR and ToxS react to environmental stimuli like bile acid, thereby inducing survival strategies e.g. bile resistance and virulence regulation. The presented crystal structure of the sensory domains of ToxR and ToxS in combination with multiple bile acid interaction studies, reveals that a bile binding pocket of ToxS is only properly folded upon binding to ToxR. Our data proposes an interdependent functionality between ToxR transcriptional activity and ToxS sensory function. These findings support the previously suggested link between ToxRS and VtrAC-like co-component systems. Besides VtrAC, ToxRS is now the only experimentally determined structure within this recently defined superfamily, further emphasizing its significance. In-depth analysis of the ToxRS complex reveals its remarkable conservation across various Vibrio species, underlining the significance of conserved residues in the ToxS barrel and the more diverse ToxR sensory domain. Unravelling the intricate mechanisms governing ToxRS's environmental sensing capabilities, provides a promising tool for disruption of this vital interaction, ultimately inhibiting Vibrio's survival and virulence. Our findings hold far-reaching implications for all Vibrio strains that rely on the ToxRS system as a shared sensory cornerstone for adapting to their surroundings.