Animal Behaviour: The elusive perspective of a food thief
Eurasian jays fail to take into account the point of view and desire of other jays when hiding food they can eat later.
How often do you think about what somebody else might know and want? The process of attributing mental states to others is called 'theory of mind', and is crucial for humans to successfully navigate social interactions (FeldmanHall and Shenhav, 2019). This ability not only allows us to predict one specific mental state (such as hunger), but also to integrate several so we can form a more complete picture of a person's perspectives, desires, and knowledge. For example, it allows us to anticipate which snack someone might choose based on their cravings and what foods they can see in front of them.
For decades, researchers have been trying to find out whether non-human animals possess social cognitive skills resembling theory of mind (Premack and Woodruff, 1978; for a recent review: Krupenye and Call, 2019). While many studies have focused on whether animals attribute a specific mental state to members of the same species, very little is known about their ability to integrate multiple mental states. Now, in eLife, Nicola Clayton and colleagues from institutions in the United Kingdom, the United States, Croatia and Italy – with Piero Amodio as first author – report experiments investigating whether Eurasian jays are able to comprehend more than one mental state at a time (Amodio et al., 2021b).
Eurasian jays belong to the corvid family, which also contains ravens, crows, and magpies. Corvids have relatively big brains and remarkable intelligence, which may have evolved independently despite matching the cognitive levels of primates (Osvath et al., 2014). Like many other corvids, Eurasian jays conceal and cover food items to retrieve them later. However, this caching behaviour is sometimes observed by other jays who might decide to swoop in and steal the hidden food. The resulting dynamics between caching and pilfering resemble an arms race that appears to require complex social skills. Indeed, previous research suggests that jays can interpret other jays' visual perspectives and desires. For example, jays preferred to cache out of view when observed by another bird (visual perspective; Legg and Clayton, 2014), and males fed their mating partners mostly food types they had not eaten recently (desire; Ostojić et al., 2013).
Amodio et al. designed two experiments to test whether a jay deciding what food to cache where can integrate the visual perspective and desire of an onlooking jay who might steal the food. In both experiments, a 'cacher' and an 'observer' were placed in adjacent aviaries. The observer was fed either macadamia nuts or peanuts in view of the cacher. This causes the observer to lose interest in the type of nut it has just eaten, and instead desire the other type of nut.
In Experiment 1, the cacher was given either the same nut the observer had just eaten, or a different type of nut that is more desired by the observer (Figure 1A). The cacher could then hide the nuts in one of two locations: a tray that the observer could see, or one that was being concealed by an opaque barrier. Amodio et al. hypothesized that if the cacher could integrate the desire and visual perspective of the observer, it would prefer to cache out of view when the nut it received was different (and therefore more desired) to the one the observer had already consumed.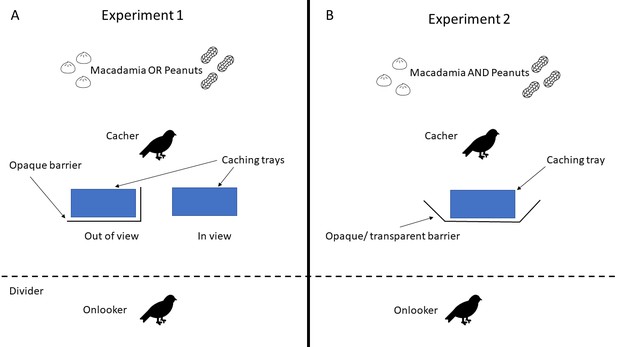 In Experiment 2, the cacher was given both types of nuts at the same time, but they were offered a single tray to store them. In some trials, the tray was behind an opaque barrier, where the observer could not see the nuts, while in others it was behind a transparent barrier (Figure 1B). If the jays can integrate the mental state of onlookers, they should prefer to cache the nut type already fed to the observer when the barrier is transparent, and the more desired nut when the barrier is opaque.
Surprisingly, the jays had no clear preferences in either experiment, which challenges previous findings. Therefore, Amodio et al. followed up with three experiments that followed the methodology used in earlier studies that investigated sensitivity to visual perspective and desire independently (Legg and Clayton, 2014; Ostojić et al., 2017). Again, the jays showed no clear preference for caching locations or food type. Thus, Amodio et al. failed to obtain evidence that jays can integrate the visual perspective and desire of onlookers, and also found that the birds were unable to respond to just one of these mental states, contrary to past results. The experiments were performed in the same lab and with the same individuals as the preceding studies, so how is it possible that the outcomes are different?
One possible explanation is that ageing and learning effects altered the birds' behaviour. Indeed, some jays kept the food and cached it later in their home aviaries, indicating that they may have been less motivated to cache in the 'risky' experimental setting when a 'safe' caching environment could soon become available. However, it remains unclear how future-oriented jays are when caching their food (Amodio et al., 2021a).
Other explanations for these discrepant findings reflect common issues in comparative psychology (Stevens, 2017). The tendency to publish mostly positive findings, while leaving negative result unpublished, poses a serious threat to objectivity and discourages high-risk experiments. The field also struggles with replicability due to small sample sizes, inconsistent methodologies, and ambiguous definitions (Farrar and Ostojić, 2019). The work of Amodio et al. serves as a good example for future research, which should cover multiple lines of evidence to critically examine the rigor of experiments comparing the cognitive abilities of different species.
Article and author information
Author details
© 2021, Zeiträg and Jacobs
This article is distributed under the terms of the Creative Commons Attribution License, which permits unrestricted use and redistribution provided that the original author and source are credited.
429

Page views

28

Downloads

0

Citations
Article citation count generated by polling the highest count across the following sources: Crossref, PubMed Central, Scopus.
A two-part list of links to download the article, or parts of the article, in various formats.
Downloads
(link to download the article as PDF)
Open citations
(links to open the citations from this article in various online reference manager services)
Cite this article
(links to download the citations from this article in formats compatible with various reference manager tools)
Claudia Zeiträg
Ivo Jacobs
Animal Behaviour: The elusive perspective of a food thief
eLife 10:e74048.
https://doi.org/10.7554/eLife.74048
Further reading
Eurasian jays have been reported to protect their caches by responding to cues about either the visual perspective or current desire of an observing conspecific, similarly to other corvids. Here, we used established paradigms to test whether these birds can – like humans – integrate multiple cues about different mental states and perform an optimal response accordingly. Across five experiments, which also include replications of previous work, we found little evidence that our jays adjusted their caching behaviour in line with the visual perspective and current desire of another agent, neither by integrating these social cues nor by responding to only one type of cue independently. These results raise questions about the reliability of the previously reported effects and highlight several key issues affecting reliability in comparative cognition research.

Ecology

Microbiology and Infectious Disease

Urbanization is rapidly altering Earth's environments, demanding investigation of the impacts on resident wildlife. Here, we show that urban populations of coyotes (Canis latrans), crested anole lizards (Anolis cristatellus), and white-crowned sparrows (Zonotrichia leucophrys) acquire gut microbiota constituents found in humans, including gut bacterial lineages associated with urbanization in humans. Comparisons of urban and rural wildlife and human populations revealed significant convergence of gut microbiota among urban populations relative to rural populations. All bacterial lineages overrepresented in urban wildlife relative to rural wildlife and differentially abundant between urban and rural humans were also overrepresented in urban humans relative to rural humans. Remarkably, the bacterial lineage most overrepresented in urban anoles was a Bacteroides sequence variant that was also the most significantly overrepresented in urban human populations. These results indicate parallel effects of urbanization on human and wildlife gut microbiota and suggest spillover of bacteria from humans into wildlife in cities.

Climate warming is releasing carbon from soils around the world, constituting a positive climate feedback. Warming is also causing species to expand their ranges into new ecosystems. Yet, in most ecosystems, whether range expanding species will amplify or buffer expected soil carbon loss is unknown. Here, we used two whole-community transplant experiments and a follow-up glasshouse experiment to determine whether the establishment of herbaceous lowland plants in alpine ecosystems influences soil carbon content under warming. We found that warming (transplantation to low elevation) led to a negligible decrease in alpine soil carbon content, but its effects became significant and 52% ± 31% (mean ± 95% confidence intervals) larger after lowland plants were introduced at low density into the ecosystem. We present evidence that decreases in soil carbon content likely occurred via lowland plants increasing rates of root exudation, soil microbial respiration, and CO2 release under warming. Our findings suggest that warming-induced range expansions of herbaceous plants have the potential to alter climate feedbacks from this system, and that plant range expansions among herbaceous communities may be an overlooked mediator of warming effects on carbon dynamics.