Ecosystem Services: Putting interactions on the map
A method called functional connectivity mapping helps model some of the complex interactions between multiple ecosystem services.
Ecosystem services are defined as "the benefits that humans derive from nature" (MEA, 2005); they link biophysical reality with human well-being. More generally, they can be thought of as the resources and conditions offered by ecosystems that improve human life, ranging from water supplies, food, and materials to recreation, enjoyment of an area, or opportunities to exercise. Human intervention and management can affect the supply of these ecosystem services, for example, by ensuring the supply lasts for a long time, or by consuming it quickly and unsustainably.
Now, imagine a hypothetical landscape with large and small forests, rivers, streams, crop areas, livestock areas, towns, and areas of secondary vegetation (vegetation that grows after disturbances, both human and nature inflicted, such as a flood or a forest being cut down). The land in this area can supply several ecosystem services at different levels simultaneously. To manage this region sustainably, it is important to know how the different ecosystems services interact with each other to determine the best ways to use the land.
Previous work (e.g., Agudelo et al., 2020) recognizes that the reality of ecosystem services is complex, and there may even be a lack of consensus on what constitutes an ecosystem service. However, the connections or interactions between ecosystem services seem clearer, and can be divided into four groups: trade-offs (two ecosystem services show opposing trends), synergy (one ecosystem service increases the benefits of another), bundling or clustering (ecosystem services that appear in regular patterns), and flow (the interaction that describes how supplies flow from the ecosystem to its beneficiaries; Bennett et al., 2009; Hughes et al., 2007; Raudsepp-Hearne et al., 2010; Lee and Lautenbach, 2016).
Modelling and mapping the interactions among multiple ecosystem services should improve the understanding of the benefits that ecosystems can provide to humans. Unfortunately, it is not currently possible to characterize the interactions between ecosystem services in enough detail for decision-makers to make changes to ecosystems with confidence. On the other hand, while some tools have been developed to support decision-making about ecosystem services in specific areas, most of these approaches lack the complexity required to fully answer the questions of when, where, and how nature contributes to ecosystem services (Akçakaya et al., 2016).
Landscape connectivity theory attempts to describe "the degree to which the landscape facilitates movement among resource patches" (Taylor et al., 1993). Now, in eLife, Rachel Field and Lael Parrott, of the University of British Columbia, report an approach to better characterize the interactions between ecosystem services that builds on landscape connectivity theory and existing ecosystem services mapping and modelling (Field and Parrott, 2022). Their methods allow scientists to move away from a static vision of ecosystem services mapping, and measure trade-offs and flow.
The novelty of Field and Parrott's approach relies on it being replicable in different landscape types with different land-uses by exploiting existing information on the supply of individual ecosystem services. The new method also incorporates landscape connectivity theory, allowing a closer analysis of how resources move between ecosystem services, which cannot be addressed with traditional mapping methods. The characterization of flows specifically, is deepened by going beyond the notion of ecosystem services supply areas, which are static, allowing the identification of corridors through which ecosystem services supplies move, and identifying which ecosystem services depend on each other (Figure 1).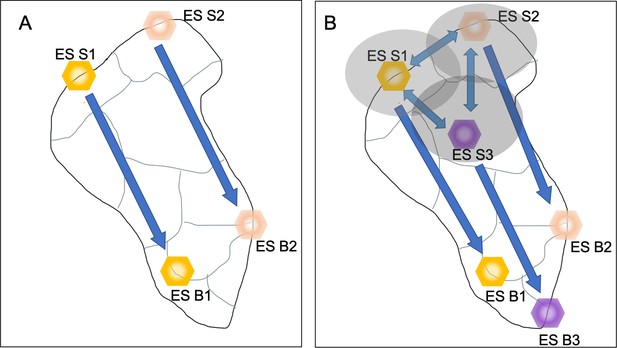 By providing spatial information on the connectivity between ecosystem services, Field and Parrott's method enables local and regional environmental planning and management that takes full consideration of the complex and multiscale interactions between ecological processes, land use, land cover, and ecosystem service supply.
Despite these significant advances, future research into mapping ecosystem services still has challenges to face. First, while Field and Parrott incorporate three ecosystem services into their analysis, this is not enough to model real ecosystems, which usually have more than three services. Therefore, it will important to develop methods to incorporate the connectivity of multiple ecosystem services. Second, it will be necessary to overcome the static vision of ecosystem services supply areas, moving on to a more dynamic vision that takes the connections between different ecosystem services into account. Further, Field and Parrott's approach relies heavily on existing information, but how can their methods be applied to scenarios in which the spatial information about ecosystem services is scarce? Finally, the new methodology allows scientists to measure flows and trade-offs, but it will be important to also measure bundles/clusters and synergies to get a full picture of ecosystem services supply.
Book

Improving the rigour and usefulness of scenarios and models through ongoing evaluation and refinement

In: Ferrier S, Ninan KN, Leadley P, Alkemade R, Acosta LA, Akçakaya HR, editors. IPBES, 2016. Methodological Assessment of Scenarios and Models of Biodiversity and Ecosystem Services. Secretariat of the Intergovernmental Science-Policy Platform on Biodiversity and Ecosystem Services. IPBES. pp. 323–369.

Book

Ecosystems and Human Well-Being: Current State and Trends

Island Press.
Article and author information
Author details
© 2022, Augusto Ruiz Agudelo and Cortes Gómez
This article is distributed under the terms of the Creative Commons Attribution License, which permits unrestricted use and redistribution provided that the original author and source are credited.
238

Page views

21

Downloads

0

Citations
Article citation count generated by polling the highest count across the following sources: Crossref, PubMed Central, Scopus.
A two-part list of links to download the article, or parts of the article, in various formats.
Downloads
(link to download the article as PDF)
Open citations
(links to open the citations from this article in various online reference manager services)
Cite this article
(links to download the citations from this article in formats compatible with various reference manager tools)
César Augusto Ruiz Agudelo
Ángela María Cortes Gómez
Ecosystem Services: Putting interactions on the map
eLife 11:e76801.
https://doi.org/10.7554/eLife.76801
Further reading
Sustainably managing multifunctional landscapes for production of multiple ecosystem services (ES) requires thorough understanding of the interactions between ES and the ecological processes that drive them. We build upon landscape connectivity theory to present a spatial approach for assessing functional connections between multiple ES at the landscape scale, and take a closer look at the concept of ES interactions by explicitly representing the mechanisms behind the relationships between ES. We demonstrate application of the approach using existing ES supply mapping data for plant agriculture, waterflow regulation, and landscape aesthetics and map the functional connectivity between them. We find that, when weights of all linkages were amalgamated, areas of high-value connectivity are revealed that are not present on any individual ES supply area or pairwise link maps, which suggests that the spatial focus of planning for optimal service provisioning may shift when functional relationships between several ES are considered. From water flow supply areas, our modeling maps several functional connections that operate over both short and long distances, which highlights the importance of managing ES flows both locally and across jurisdictions. We also found that different land use and land cover types than those associated with ES supply areas may be serving as critical corridors connecting interdependent ES. By providing spatial information on ES connectivity, our approach enables local and regional environmental planning and management to take full consideration of the complex, multi-scale interactions between ecological processes, land use and land cover, and ecosystem service supply on a landscape.

The biodiversity of tundra areas in northern high latitudes is threatened by invasion of forests under global warming. However, poorly understood nonlinear responses of the treeline ecotone mean the timing and extent of tundra losses are unclear, but policymakers need such information to optimize conservation efforts. Our individual-based model LAVESI, developed for the Siberian tundra-taiga ecotone, can help improve our understanding. Consequently, we simulated treeline migration trajectories until the end of the millennium, causing a loss of tundra area when advancing north. Our simulations reveal that the treeline follows climate warming with a severe, century-long time lag, which is overcompensated by infilling of stands in the long run even when temperatures cool again. Our simulations reveal that only under ambitious mitigation strategies (relative concentration pathway 2.6) will ∼30% of original tundra areas remain in the north but separated into two disjunct refugia.

Ecology

Evolutionary Biology

Many animals rely on complex signals that target multiple senses to attract mates and repel rivals. These multimodal displays can however also attract unintended receivers, which can be an important driver of signal complexity. Despite being taxonomically widespread, we often lack insight into how multimodal signals evolve from unimodal signals and in particular what roles unintended eavesdroppers play. Here, we assess whether the physical movements of parasite defense behavior increase the complexity and attractiveness of an acoustic sexual signal in the little torrent frog (Amolops torrentis). Calling males of this species often display limb movements in order to defend against blood-sucking parasites such as frog-biting midges that eavesdrop on their acoustic signal. Through mate choice tests we show that some of these midge-evoked movements influence female preference for acoustic signals. Our data suggest that midge-induced movements may be incorporated into a sexual display, targeting both hearing and vision in the intended receiver. Females may play an important role in incorporating these multiple components because they prefer signals which combine multiple modalities. Our results thus help to understand the relationship between natural and sexual selection pressure operating on signalers and how in turn this may influence multimodal signal evolution.