Pre-submission webinar: eLife Innovation Sprint 2020
Find out more about the participants, format, project submission process and more for this 2-day event to advance research communication and culture.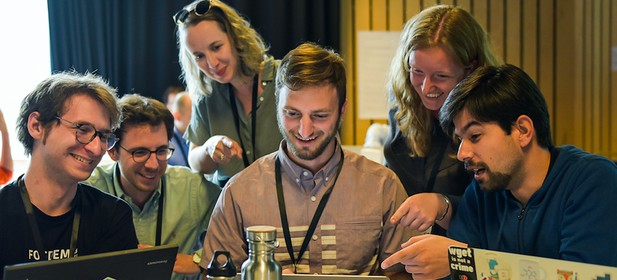 The eLife Innovation Sprint is a collaborative event bringing together 70 developers, designers, technologists, researchers, data scientists and more to design open technological solutions to redefine the ways we do and share research . The 2020 Sprint takes place September 2–3 in Cambridge, UK.

Reflecting on the feedback we've received and our learnings from the past two years, we've made some changes to the format of the event, with the hope to bring the community closer together, and towards our shared vision.
The call for projects is open between March 18 and April 13. We invite all open innovators interested in participating in this exciting event to join us at our upcoming webinar, where we will give more details on the new format, project proposal submission and general application processes, and answer your questions.
Please register to join the webinar. If you cannot join us in real-time but have questions that you would like to ask, please put your questions on this open agenda before the webinar.
The webinar is hosted on GoToMeeting. It is recorded, and the recording will be uploaded to YouTube and available for viewing (with automatic closed-captioning) within a week after the webinar; a link will be posted on this page and on the agenda. The notes from the webinar will be available immediately after the call and will remain accessible indefinitely.
#
We welcome comments, questions and feedback. Please annotate publicly on the article or contact us at innovation [at] elifesciences [dot] org.
Do you have an idea or innovation to share? Send a short outline for a Labs blogpost to innovation [at] elifesciences [dot] org.
For the latest in innovation, eLife Labs and new open-source tools, sign up for our technology and innovation newsletter. You can also follow @eLifeInnovation on Twitter.