Reddit IAmA: Beatrice Demarchi on the use of freshwater mussel shells by craftsmen in prehistoric Europe
eLife author Beatrice Demarchi will answer questions related to her team's discovery from 6,000 years ago.
Beatrice Demarchi is a biomolecular archaeologist at the University of Turin, Italy, with a deep interest in palaeo-biogeochemistry and reconstructing the human past. Her research focuses on ancient proteins: the way in which they break down over time and the information they can provide, including the age and biological origin of archaeological and palaeontological remains.
In a recent eLife paper (''Palaeoshellomics' reveals the use of freshwater mother-of-pearl in prehistory'), Beatrice and her colleagues reported the discovery that mother-of-pearl from freshwater shells was used by craftsmen in prehistoric Europe, some 6,000 years ago. Using a combined approach, which they named palaeoshellomics, they extracted and analysed proteins from pearl-like ornaments called 'double-buttons', made between 4200 and 3800 BC and found at archeological sites in Denmark, Germany and Romania.
Their results help settle a debate in archeology about the origin of shells used to make double-buttons in prehistoric Europe: while ancient people often crafted ornaments from marine shells, their analysis suggests instead that mother-of-pearl from freshwater shells was valued and used by groups throughout Europe, even those living in coastal areas. You can read more about the findings in a plain-language summary of their eLife paper.
It's hoped that their palaeoshellomics technique will now be used to help identify the origins of shells from other archeological and palaeontological sites.
Beatrice will be answering questions about the article and their research more broadly at 3pm GMT (10am EDT), June 19 on Reddit's r/IAmA platform.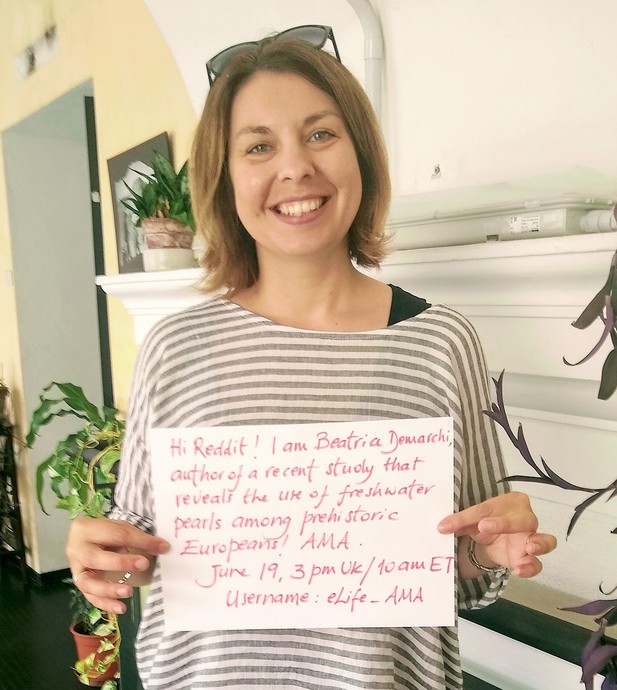 For the latest in published research plus papers available in PDF shortly after acceptance sign up for our weekly email alerts. You can also follow @eLife on Twitter.