On Tuesday, September 17, eLife Community Ambassadors invite researchers from all around the world to share pictures of themselves with the plastic waste that they have generated that day.
The Environmental Initiative aims to raise awareness about the sheer amount of plastic waste generated in laboratories around the world, and to spark debate on how this can be reduced.
The group will lead the initiative by posting pictures of themselves with their plastic waste, together with an extrapolated amount of waste that would be generated in a year, on Twitter. These would be accompanied by the #LabWasteDay hashtag. They invite other scientists to contribute their own pictures and captions, as well as ideas on how waste generation in scientific labs can be reduced.
To contribute, everyone is invited to:
Take a picture of themselves holding the plastic waste generated in a single day – similar to the examples provided below.
Add a caption stating the weight of the plastic waste generated, as well as the amount of waste that would be generated (when extrapolated to a year - 261 working days)
Post the picture on Twitter or other social media on September 17, including #LabWasteDay and #sustainablescience within the text of their post
Include ideas or perspectives on how waste generation in the lab can be reduced
Follow the conversations related to the hashtag for the rest of the day and beyond.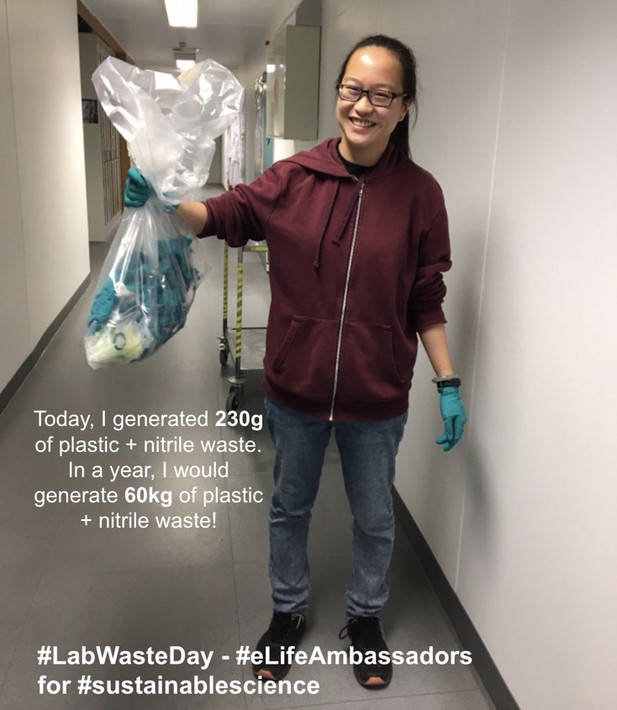 List of contributors:
Samantha Seah, EMBL Heidelberg, Germany
Arpita Kulkarni, Harvard University, USA
Anzela Niraula, University of Washington, USA
Bente Benedict, Netherlands Cancer Institute, The Netherlands
Francesco Baschieri, Gustave Roussy Institute, France
Galina Limorenko, École Polytechnique Fédérale Lausanne, Switzerland
Julie Teresa Shapiro, Institut National de la Santé et Recherche Médicale, France
Lotte de Winde, University College London, UK
Melanie Krause, MRC Laboratory for Molecular Cell Biology, United Kingdom
Mischa Olson, Cornell University, USA
Nele Haelterman, Baylor College of Medicine, USA
Paraskevi Kritsiligkou, German National Cancer Research Center, Germany
Rita Mateus, University of Geneva, Switzerland
Sarah Hainer, University of Pittsburgh, USA
Sarvenaz Sarabipour, Johns Hopkins University, USA
Stephane McKenna, University College Dublin, Ireland
Sveta Chakrabarti, Indian Institute of Science, India
#
For the latest developments in this year's Ambassador programme and other opportunities for early-career researchers, sign up to the eLife Early-Career Community newsletter and follow @eLifeCommunity on Twitter.