eLife is pleased to announce Damian Pattinson as its new Executive Director.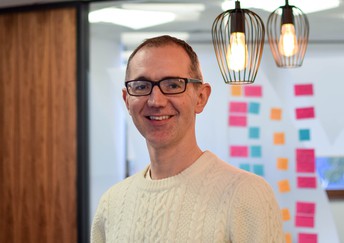 Originally a neuroscientist, Dr Pattinson joins eLife with 12 years' experience in research communication, including positions at BMJ Publishing Group, Public Library of Science (PLOS) and, most recently, the preprint platform Research Square. He will formally begin his role with eLife on January 27, taking over from founding Executive Director Mark Patterson, who retired at the end of 2019.
eLife was started in 2011 by leading private funders of research to challenge the status quo in science publishing. In the eight years since its founding, eLife has published over 7,500 articles, including research papers and magazine content, established in-house product, innovation and technology teams to help deliver open-source solutions for sharing and using new results, and is working with the community to improve the culture of research.
Toby Coppel, Chair of eLife's Board of Directors and Partner at Mosaic Ventures, says: "Given Damian's extensive and varied experience, we are confident that he will be a terrific Executive Director for eLife and will build on the leadership that Mark has provided over the past eight years. During the search process, Damian impressed us with his vision for eLife, actionable ideas and collaborative spirit. We look forward to working with him and beginning another exciting phase in eLife's development."
Together with eLife Editor-in-Chief Michael (Mike) Eisen, Pattinson will be responsible for leading the organisation's mission to transform research communication. "I am delighted to have been chosen for this role," Pattinson says. "I've been a fan of eLife since its inception and feel that the organisation is in a great position to drive change in scholarly publishing. I know first hand that how you share your findings is as important as how you do your research, and I look forward to working with eLife's community of researchers from all backgrounds and career stages on solutions to support them in all aspects of their work."
Reporting to the Board of Directors, Pattinson will head up the multidisciplinary team of eLife staff based in Cambridge, UK.
Jennifer Gibson, eLife Head of External Relations, says: "The team in Cambridge is excited to work with Damian. He speaks our language – on everything from software development and publishing automation to peer-review innovation and research culture. With his leadership in our next phase, we know eLife's potential to transform science publishing will resound even more deeply. We look forward to welcoming him later this month."
Pattinson says his first step as Executive Director will be to begin executing eLife's vision for publishing research outputs first and reviewing afterwards. "This is the direction that we as an organisation want to take, and I feel that my previous experience stands me in great stead to work alongside Mike and the entire eLife community to drive us forward in support of this goal."
Eisen adds: "I am incredibly excited for the opportunity to work with Damian. He brings a wealth of experience in publishing and publishing technology and has a track record of bringing complex ideas to fruition. But most importantly, he has the appetite for change and unflappable spirit needed to realise the transformation of science communication that eLife exists to bring about."
eLife is a non-profit organisation inspired by research funders and led by scientists. Our mission is to help scientists accelerate discovery by operating a platform for research communication that encourages and recognises the most responsible behaviours in science. We publish important research in all areas of the life and biomedical sciences, which is selected and evaluated by working scientists as part of eLife's consultative peer-review process and made freely available online without delay. eLife also invests in innovation through open-source tool development to accelerate research communication and discovery. Our work is guided by the communities we serve. eLife is supported by the Howard Hughes Medical Institute, the Max Planck Society, the Wellcome Trust and the Knut and Alice Wallenberg Foundation. Learn more at https://elifesciences.org/about.