eLife and Dryad have long supported making research publicly accessible and reusable. Over the last nine years, Dryad has increasingly curated and published datasets supporting eLife publications. As the open science landscape continues to evolve, with a growing emphasis on best practices and making all research components openly available, both organisations acknowledge that the workflows need to be simplified. Working with eJournalPress, eLife and Dryad are pleased to announce Dryad's first platform-based integration, allowing authors to submit datasets to Dryad seamlessly through eLife's submission process.
As authors submit research to eLife, they will be prompted about data availability during the full submission. Authors are welcome to deposit their data to any suitable disciplinary repository and, if data do not yet have a home, authors will have the opportunity to upload their data to Dryad.

By clicking on the button to submit data, relevant metadata from the manuscript submission will auto populate into Dryad's form. Authors will be able to edit metadata, add additional metadata specific to the dataset, upload data (up to 300GB) to be curated, and upload any software or supplemental information that will be published at Zenodo.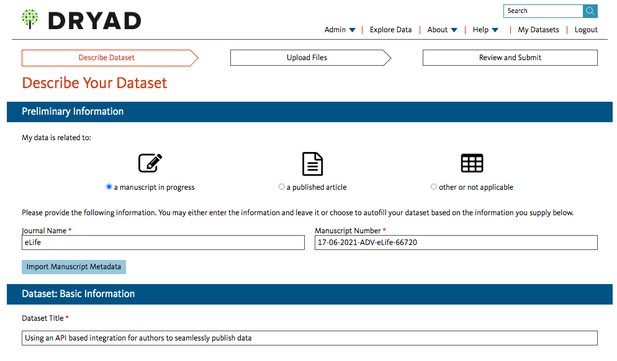 After finishing the dataset submission, authors will be automatically brought back into the eJournalPress platform with the dataset DOI and citation filled in. If authors choose to keep their data private during the peer-review process, the access URL will be included here as well. Dryad will status-call eLife to understand when the related manuscript has been accepted and then automatically release the dataset to be curated and published.

Removing barriers to publishing includes removing outstanding costs, and eLife will continue to support its authors in publishing their data by covering the costs of data submissions to Dryad. We are pleased to better support our joint and growing research communities in making open access article and data publishing workflows more accessible, and see this work as an important step towards improving the reusability and reproducibility of research.
This announcement has been crossposted at Dryad news and views, at https://blog.datadryad.org/2021/06/23/announcing-dryad-elifes-seamless-data-publishing-integration.
#
Questions and comments are welcome. Please annotate publicly on the article or contact us at hello [at] elifesciences [dot] org.
For the latest updates from eLife, sign up to receive our bi-monthly newsletter. You can also follow @eLife on Twitter.