By Brianne Kent, Chair of the Early-Career Advisory Group (ECAG)
Staying true to its commitment to build a platform and community that supports early-career researchers (ECRs), eLife launched the Early-Career Advisory Group (ECAG) in 2014. I was pleased to be one of the fourteen graduate students, postdocs and newly independent group leaders invited to join, because I am passionate about open science, transforming publishing and changing incentives in research. Now, as the Chair of the ECAG, I am proud that the group could offer the unique perspective of ECRs to eLife as its developed as a journal, and encourage greater reform both in scientific publishing and in academic culture more broadly.
Last August, we were pleased to welcome five new members. Straight away, Prachee Avasthi, Margarita Calvo, Laurent Gatto, Vinodh Ilangovan and Benjamin Schwessinger started working hard to advance several initiatives that support junior researchers. Prachee Avasthi has since left the group to join the eLife Board of Directors as the first ever ECR board member.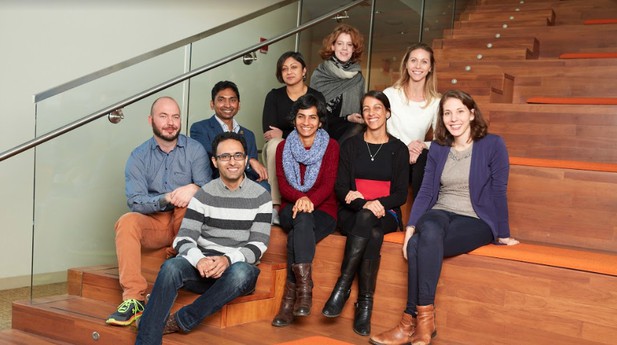 In the past 12 months, the ECAG has built momentum on a range of initiatives including the #ECRWednesday webinar series, ECR reviewer pool and ECR travel grants. The webinars have covered topics such as Brexit, preprints, wider career options for researchers, and some of the unique challenges facing bioinformaticians and physician-scientists. Also, inspired by discussions with the Broad Institute's scientific publishing working group, the webinar in May explored different ways that researchers can share their science without waiting for articles to appear in journals. Upcoming webinars will discuss women in science and the challenges facing scientists who are also parents; both of which have a great lineup of speakers and are sure to be as informative as our previous webinars. You can catch up with the recordings of all our #ECRWednesday webinar here.
We have continued to grow the early-career reviewer pool, which was launched back in 2016 and now has over 576 members. We also set up an open database of ECRs willing to participate in peer review that can be used by any journal, with the hope it will encourage the inclusion of early-career researchers in the review process. We are also currently experimenting with a policy to include one ECR in the peer review of every article being considered in the Evolutionary Biology stream of eLife. If successful, this strategy may be implemented in other subject areas as well.
In an attempt to support ECRs to attend conferences, the ECR travel grants have continued to recognise exceptional ECR authors that have published their research in eLife. We have already had two rounds of ECR travel grants this year, receiving over a hundred applications. The 14 outstanding grantees were ultimately selected by eLife editors and attended meetings to share their research and forge connections with other scientists in their fields.
In addition to these ongoing initiatives, this year the ECAG launched the eLife Ambassador Program and the Reproducibility Workshops. The eLife Ambassador Program recruited over 200 researchers from around the world to help expand the reach of ECAG initiatives. The Ambassadors have taken on ten specific causes including reproducibility, open access, peer review, preprints, career development and diversity. Each sub-group has an assigned ECAG member to help facilitate the projects, with Emmanuelle Vire overseeing the program. Steven Burgess is curating the ecrLife blog, which aims to highlight the Ambassador's initiatives that improve the way science is performed and communicated.
The eLife Ambassadors have also helped Benjamin Schwessinger and his team launch Reproducibility Workshops in collaboration with Addgene, Protocols.io and Code Ocean. The first workshop was held last weekend at Plant Biology 2018, hosted by the American Society of Plant Biology. It aimed to offer a reproducibility toolkit, sharing information about best practice for data management, electronic lab notebooks, bioinformatic tools, data analysis/visualization, and the sharing of data, wet lab protocols and reagents.
As we reflect on the growing momentum of these ECAG initiatives, we are excited to bring on new perspectives and energy as we recruit new members. Our current election had 135 exceptional candidates nominated, and from that, 20 candidates were shortlisted. ECAG members and the eLife Ambassadors have voted and the results will be announced next week. We are looking forward to welcoming five new members this summer.
Finally, we are sad to see some of our ECAG members leave the group and wish them the best of luck in their future endeavors. We are particularly thankful for the energy and commitment that Jeanne Salje and Sonia Sen brought to eLife. Jeanne and Sonia were inaugural ECAG members and really helped guide ECAG activities over the past 4 years.
We welcome comments, questions and feedback. Please annotate publicly on the article or contact us at hello [at] elifesciences [dot] org.
Interested in finding out more about opportunities, events and issues that are important for early-career researchers? Sign up to the eLife Early-Career Community newsletter or follow @eLifeCommunity on Twitter.