In the second round of funding this year eLife Senior Editors have chosen seven applicants to receive travel grants. Dave Anderson, Duygu Özpolat, Fernando Sanchez -Valdez, Luis Alarcon-Martinez, Rose Cooper, Stephane Verger and Stephanie Moon will soon be presenting their research at scientific meetings with eLife's support.
In this round we received 70 applications of a very high standard, from across the life sciences disciplines, from basic science to translational research. Shortlisted candidates were judged by Senior Editors Detlef Weigel, Diethard Tautz, Huda Zoghbi, Marianne Bronner and Prabhat Jha.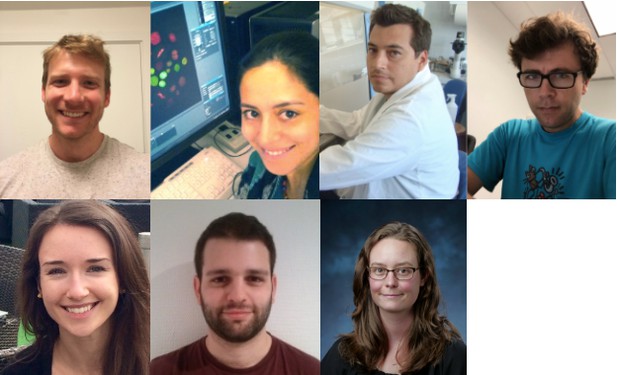 Dave Anderson from University of British Columbia (Canada) will present his research in protein biochemistry. At the Science of early life meeting at the McMaster University in Hamilton, Canada, he will talk about his analysis of the expansion of the functional 'universe' of proteins.

Duygu Özpolat from the Marine Biological Laboratory at the University of Chicago (USA) will travel to the Society for Developmental Biology Annual Meeting in Portland (USA), to introduce the technique for live-imaging the embryos and larvae of a marine segmented worm Platynereis dumerilii, and she will explain how it helps to determine the embryonic origins of the stem cells in its highly regenerative 'growth zone'.

Fernando Sanchez-Valdez of Instituto de Patología Experimental (Argentina), will travel to a meeting on Molecular advances and parasite strategies in host infection in Les Embiez Island, France. He will present his discovery of a dormancy state in Trypanosoma cruzi, a Chagas disease agent, that is highly resistant to extended drug exposure and can re-establish infection after treatment.

Luis Alarcon-Martinez from University of Montreal Hospital Research Centre (Canada) will present novel histological methods, genetic tools, and minimally invasive two-photon microscopy that allowed him to monitor retinal pericytes and capillaries in the mouse retina. At the conference of the European Association for Vision and Eye Research in Nice, France, he will share his results on pericyte-dependent vascular dysfunction in several models of neurodegeneration, and potential for vision preserving interventions at pericyte level.

Rose Cooper, as a Postdoctoral Researcher at Boston College (USA), will travel to the Memory Disorders Research Society Annual Conference in Toronto, Canada. She will talk about how neural networks support the specific composition and precision of episodic memory retrieval, reporting on her investigation into these processes with a novel memory paradigm using 360-degree panorama scenes.

Stéphane Verger of French National Institute for Agricultural Research in Lyon (France), investigates tensile stress patterns and cell to cell adhesion in plants. He will travel to the 9th International Plant Biomechanics Conference in Montreal, Canada, to talk about his work on how adhesion and tension are coupled to control plant shape.

Stephanie Moon from University of Colorado, Boulder (USA) will travel to the Gordon Research Conference and Seminar on Post-transcriptional gene regulation in Newry (USA). She will present her research into the behaviour of messenger RNA molecules, which accumulate in RNA-protein granules during the stress response in cells, which she investigates using the new approach of nascent chain tracking.

We congratulate all grantees and invite early-career authors on eLife papers to apply for further travel awards available from eLife. The application deadline of the next funding round falls on September 2. Please review the terms and conditions of the program carefully before applying.
We welcome comments, questions and feedback. Please annotate publicly on the article or contact us at hello [at] elifesciences [dot] org.

Interested in finding out more about opportunities, events and issues that are important for early-career researchers? Sign up to the eLife Early-Career Community newsletter or follow @eLifeCommunity on Twitter.