eLife Latest: Our thanks to Eve Marder
After serving eLife with distinction as a Deputy Editor, we thank Eve Marder for her contributions.
Earlier this month, we announced that Tim Behrens had been promoted to become one of eLife's Deputy Editors, taking over from Eve Marder, who has stepped down after being a Deputy Editor since April 2015. Before then, Eve was one of eLife's founding Senior Editors. Although Eve will be a big loss to eLife, we are delighted that she will continue to be a source of support and advice, and she will continue to contribute to her popular Living Science column.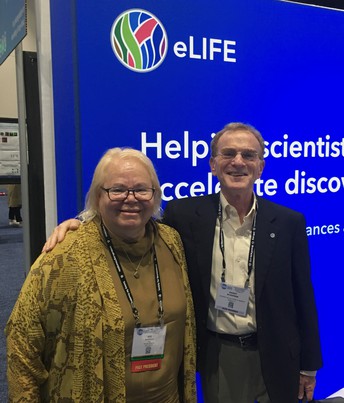 Randy Schekman, eLife's founding Editor-in-Chief, notes that: "Eve was a charter member of our group of Senior Editors and it quickly became apparent that she was the key to our success in neuroscience. Her passion and devotion to eLife as a Deputy Editor has left a mark that has made neuroscience our most popular subject for submissions and publication of the finest work in this area. Eve stood out among all the members of the board in her essays and her help in recruiting the finest team of editors."
Meanwhile, Eve's successor, Tim Behrens, offers these observations: "Eve has been the heart and soul of neuroscience at eLife since the journal's inception. Her tireless energy, her persuasiveness, her generosity, and her extraordinary knowledge of the field have given a cohesion and drive to the neuroscience team. At the centre of this is Eve's idea of what a journal run by scientists for scientists should be. She is always on the authors' side against the critical reviewer or an overly keen editor; always more concerned about accuracy than novelty; always interested in the paper that makes you think or smile. We will try our hardest to take this spirit forward as Eve steps down, and when we are unsure what she would suggest, we will still be able to consult her. In the broadest terms, however, we know her advice is always to be clear and, whenever possible, to be kind."
#
Questions and comments are welcome. Please annotate publicly on the article or contact us at hello [at] elifesciences [dot] org.
For the latest editorial updates and other news from eLife, sign up to receive our bi-monthly newsletter. You can also follow @eLife on Twitter.