eLife has joined a cross-publisher collaboration to help provide a more accurate and transparent view of the outcomes of funded research.
Since the launch of eLife in 2012, we have collected and presented funding information for each published article so that readers can see which organisations have funded the work, as well as the specific authors who have benefited from this funding. However, as every publisher has collected funding information in different ways, there has been no way to develop a single view of outputs by funder.
This problem is being addressed by FundRef – a cross-publisher collaborative project that was introduced in 2013, and which has taken on the curation of a growing list of over 6,000 research funders worldwide. Most participating publishers incorporate the FundRef list into their submission process so that clear and consistent data on funding may flow forward -- into the published article, and beyond. Details are then delivered back to FundRef via CrossRef (which issues DOIs), where details on research outputs by funder are consolidated.
As a result, funders can track the outcomes of the research they fund, publishers can analyse funding behind what they and others publish, researchers can more readily acknowledge financial support, and the larger public gains greater transparency into the results of R&D funding.
At eLife, we have submitted information to FundRef for our entire archive of close to 600 research articles published since our launch in 2012, and will continue to do so going forward. Incorporating Fundref into our submission process has simplified several things, including how to indicate who is the funder as opposed to what is a grant reference. By using a defined list of funders, all other information can be added as a grant reference and the funder has a clean, machine-readable entry in a defined database (eg Howard Hughes Medical Institute Early Career Award - Howard Hughes Medical Institute is the funder and Early Career Award is a grant reference; Alberta Innovates Technology Futures New Faculty Award 201000076 - Alberta Innovates Technology is the funder and Futures New Faculty Award 201000076 is the grant reference). The details are also available for the author to proof.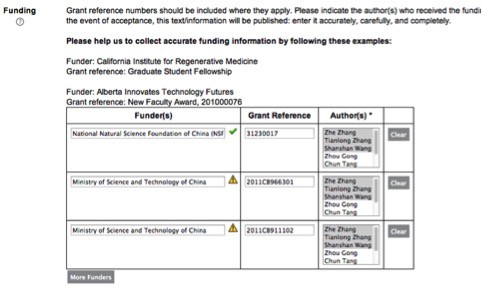 Funding input fields in the eLife submission system
eLife strongly values the collection and presentation of structured, accurate details for every piece of content information as part of the publishing process. This development is just one example of how we work to ensure that content published in eLife is as open, discoverable, and as useful as possible to support further work. We are pleased to be participating in FundRef.
Questions and comments may be added through the comment section, below, or addressed to eLife Head of production operations, Melissa Harrison (m.harrison@elifesciences.org).