By Sophie Lane, Sense about Science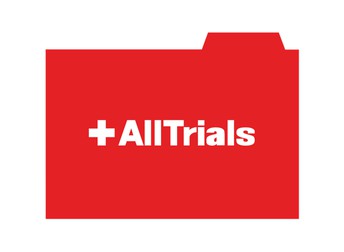 We are pleased that eLife is once again supporting AllTrials, the global movement for all clinical trials to be registered and the results from them reported.
eLife readers may already know that the AllTrials campaign has been joined by 95,000 individuals and 750 organisations, including doctors' associations, universities, publishers, funders and patient groups. What readers might not know is that the majority of the organisations that have joined AllTrials are patient groups. The hundreds of patient support and advocacy groups in the campaign range from tiny local support groups to the largest patient alliances in the world. Between them, they represent the voices of more than 600 million patients worldwide.
It is this aspect of the campaign that has led to our greatest achievements. Patients and the public adding their voice on an issue that was, until relatively recently, only discussed at academic conferences and in journal editorials is what put AllTrials onto agendas at the highest levels. It is what persuaded Members of the European Parliament to include laws on reporting results in the new EU Clinical Trials Regulation and the US government to ask the Food and Drug Administration to strengthen its rules for US clinical trials.
In 2016 a high-level UN panel called on governments around the world to introduce laws to ensure clinical trial results are publicly reported, and in 2017 this led to the World Health Organization (WHO) declaring for the first time that it considers public sharing of the results to be an ethical obligation on all clinical trial researchers.
Since then, the WHO has persuaded 21 of the world's largest non-commercial funders of clinical research, including Wellcome, the Bill and Melinda Gates Foundation, Medecins Sans Frontieres and the Indian Medical Research Council, to commit to a new policy to only fund researchers who have published clinical trial results before.
The US government recently strengthened and clarified its law on registering trials and reporting results. This is echoed by the US federal funder of clinical trials, the National Institutes of Health, which has pledged to ensure that all the results of all the trials it funds are reported. The EU agreed a new Clinical Trials Regulation which will turn the rules into law and put the power to sanction those who break the law into the hands of national authorities.
Nevertheless, the results for around half of all clinical trials are still not being reported. Information on what was done and what was found in clinical trials could be lost forever to doctors and researchers, leading to bad treatment decisions, missed opportunities for good medicine, and trials being repeated. This wastes funds and time and, in the case of clinical research, it can lead to patient harm. It means opportunities to explore new areas and to progress the evidence base are missed.
We must fix this. Past trials, still largely excluded from current laws and policies, are vital – not only to understand the medicines we use today and prevent wasted research, but because they are the benchmark for assessing whether to license or prescribe proposed new treatments. As researchers and software retire, past trials need to be recovered urgently, in academia and corporations, alongside new systems to govern future trials. This requires an approach based on accountability for reporting. Major trial institutes and funders must start tracking their trials.
There are some that are happy to run the clock out on the drive for publication of past trials. High-level words are an aid, not a lever for change, and these early days of culture change are fragile. For the first time though, we have the real possibility of fixing missing trials. It will be challenging but we know what the challenges are and the levers that work.
We made great strides last year in the UK, working with the House of Commons Science and Technology committee to hold organisations running clinical trials to account. When university and hospital trusts were called to the UK parliament to answer questions on why they were not following the rules on reporting results, we saw how effective the questioning from politicians was. Those who watched the parliamentary session saw the pressure the university representatives were put under. As the politicians asked direct questions about specific unreported trials, the university representatives were forced to give a detailed explanation for every missing result. They universally told the politicians that they are now planning to report the trials very soon. It was an effective way to focus minds.
Academic clinical trial researchers have been allowed to fall behind companies in reporting results. Research and the data from our clinical trial tracking tools are now routinely showing that the majority of company-sponsored clinical trials are complying with reporting laws and rules, but the majority of academic institute-sponsored trials are not.
The House of Commons Science and Technology committee was armed with information from the EU TrialsTracker website, a tool developed by the EBMDataLab at the University of Oxford, which displays information from the EU's register of clinical trials about which have reported results according to the rules and which have not. It also displays ranked lists of the companies, research institutes and universities responsible for the most or least numbers of unreported trials in Europe. (There's also the FDAAATrialsTracker, which does the same for trials that should be adhering to the US law.) Everyone can access and use information from these websites to identify whether or not their institution is doing well, and/or to see whether or not the results from a trial they are interested in were reported.
We think that putting rule breakers under this kind of scrutiny will get missing results reported. We have seen the impact that 'people power' has had before and we're convinced this is what's needed to get institutes to change.
Everyone can be a part of making this culture change happen. If you're a researcher, you can ask your institute whether they have reported all clinical trials. If you're a staff member or alumnus, or you've volunteered for a clinical trial run by a university or hospital – no matter your relationship, you can put institutes under the same scrutiny that the SciTech committee did. AllTrials has put together a set of instructions for using the EUTrialsTracker to identify the clinical trials an institution is responsible for. Suggestions for what researchers should write to their institutes are available on the AllTrials website at https://www.alltrials.net/ask-your-institution.
Already we have heard from researchers who have asked their institute about missing clinical trial results and, as we predicted, we are finding that the institutes are conscious for the first time that they had been neglecting their duty.
Even one person asking can make a difference. Imagine if thousands of people did it? eLife's support will allow us to engage more researchers in holding their organisations accountable for missing clinical trial results, to disseminate the instructions for contacting their institutes, and to work with more groups around the world, especially patient groups, who want to hold local institutes to account for missing results.
For more information about AllTrials, visit https://www.alltrials.net.
#
We welcome comments/questions from researchers as well as other journals. Please annotate publicly on the article or contact us at hello [at] elifesciences [dot] org.
For the latest in published research sign up for our weekly email alerts. You can also follow @eLife on Twitter.