Early-Career Advisory Group: Applications open to join in 2019
We're looking to elect early-career researchers to six vacancies opening in August 2019.
The Early-Career Advisory Group (ECAG) influences and supports eLife's work to catalyse broad reform in the evaluation and communication of science. In particular, they represent the needs and aspirations of researchers at the early stages in their careers for a research culture that is healthy for science and for scientists.
We have six vacancies opening in 2019 for talented graduate students, medical students, postdocs and junior PIs from around the world to join the group.
From holding the monthly #ECRWednesday webinars, to informing editorial policy at eLife, to leading the Community Ambassadors Programme, and contributing to innovative technology thinking, the ECAG directly influences the future shape of scientific enterprise.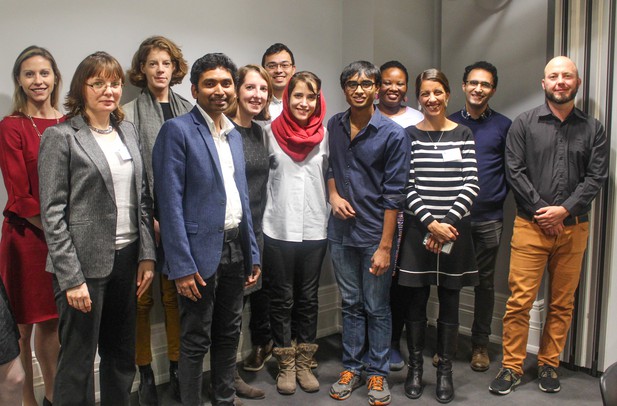 Emmanuelle Vire, University College London, UK, an outgoing member of the group, has shared her experiences of working on the ECAG in a recent interview. You can find out more about the current members of the group here.
If you're passionate about improving the quality of the early-career experience in the life sciences, biomedicine and related fields – please apply to join. We're particularly interested to include more researchers based in Asia, Africa and Latin America.
Applications for six new members to join the eLife ECAG, for two-year terms starting on August 1, 2019, are now invited. Candidates will be shortlisted based on their ability to increase the diversity of perspectives in the group, and their potential to contribute to changing the scholarly culture for the better. Details on eligibility, responsibilities, and the election process are available below.
The deadline for applications is 23:59 (UK time) on June 12, 2019.
Members of the eLife ECAG are scientists who:
Are conducting research in the life or biological sciences or related field, as a graduate student, medical student, postdoctoral fellow, or junior investigator.
Have no more than five years' active experience in an independent position.
"Active experience" is intended to exclude time away for parental leave, health leave, or other reasons unrelated to research. An independent position is defined here as having secured funding to support a research group, e.g. in a Group Leader or Assistant Professor position.
Individuals meeting the criteria set above may apply through this form. During the process, they will be asked to confirm their status as early-career researchers according to the definition above.
Nominees will be asked to provide a short (~200-word) statement that describes their vision for how different approaches to research communication might improve the career development of early-stage researchers, why they are enthusiastic to join, and how they would contribute to the work of the ECAG.
eLife staff and the ECAG will review applications for eligibility and shortlist the candidates according to their potential to help advance the work of the group, their enthusiasm, and contribution to balance and diversity within the ECAG (with respect to gender, career stage, geography and research focus).
Current members of the ECAG and the eLife Community Ambassadors, as representatives of the wider early-career community, vote for new ECAG members.
The role of the ECAG is to influence and support eLife's work to catalyse broad reform in journal publishing and research communication and, in particular, to represent the needs and aspirations of researchers at early stages in their careers. Members provide input in a number of ways:
Offering ideas and advice to the editors and staff on new and ongoing efforts at eLife with the potential to help early-career scientists
Providing direct support for ongoing programs, such as monthly webinars and the Community Ambassadors
Leading efforts to reach out to early-stage colleagues to gather their feedback
Participating in online or in-person events about issues of concern to early-stage researchers
Attending monthly calls and an annual in-person meeting
Incoming members of the ECAG will serve 2-year terms, starting on August 1, with the possibility of renewal. ECAG members must meet the eligibility criteria (career stage and profession) at all times, and are expected to step down if their status as an early-career researcher changes. ECAG members no longer satisfying eligibility criteria step-down at the end of the working year, or at the end of their term of service, whichever is earlier.
We welcome comments, questions and feedback. Please annotate publicly on the article or contact us at hello [at] elifesciences [dot] org.
Interested in finding out more about opportunities, events and issues that are important for early-career researchers? Sign up to the eLife Early-Career Community newsletter or follow @eLifeCommunity on Twitter.