Following a call for applications earlier this year, five early-career researchers from around the world will be joining the eLife Early-Career Advisory Group (ECAG) this month. The five new ECAG members are: Lara Urban (New Zealand), Lana Sinapayen (Japan), Facundo Romani (Argentina), Elizabeth Ochola (Kenya) and Aalok Varma (India). The aim of ECAG is to help eLife reform research communication and to promote a research culture that is healthy for science and for scientists.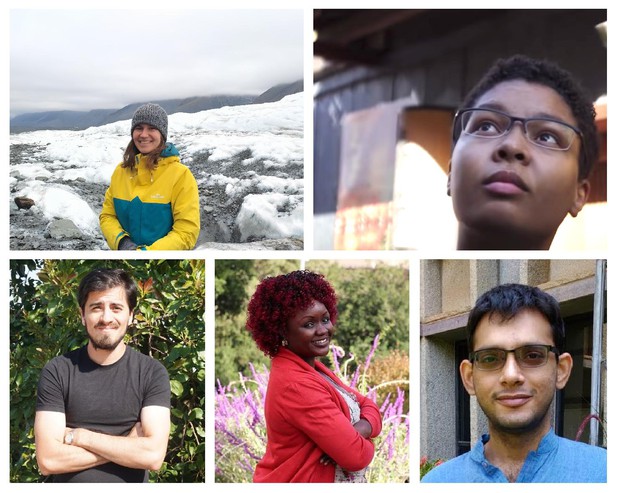 Lara Urban: Research Fellow at University of Otago, New Zealand
Lara sees supporting junior researchers as an essential part of her scientific career, whether as a student representative at multiple institutes, as a mentor, or as a leader of scientific organisations and societies. She hopes to see major change in research culture, ranging from greater inclusiveness and openness in the scientific community, to a fair and transparent peer-review system. Lara studies how statistical genomics can benefit nature conservation and be incorporated into the management of critically endangered species.
Lana Sinapayen: Associate Researcher at Sony Computer Science Labs, Japan
Lana is the creator of the open science micro-publication platform Mimosa, and a member of the newly created Diversity, Equity and Inclusion committee of the ALife community. Lana's priority is to foster greater collaboration, by exploring initiatives for reciprocal mentoring and skill-sharing, beyond laboratories' artificial limits and competition-based thinking. Her research interests include computational neuroscience and astrobiology.
Facundo Romani: Postdoctoral Researcher at CONICET, Argentina
As a Latino working in his home country (Argentina), Facundo knows well the limitations and difficulties of pursuing science and publishing it in developing countries. He is interested in exploring more inclusive criteria to increase the visibility of scientific works made around the globe without compromising the perception of "quality" or "originality", and offer scientists from developing countries more feasible opportunities to publish. Facundo is a plant molecular biologist and works on the evolution of transcription factors.
Elizabeth Ochola: Research Scientist at Kenya Medical Research Institute, Kenya
Elizabeth is passionate about equity and diversity, which she has been pursuing with organizations such as the Ontario Pharmacy Evidence Network (OPEN) Citizens' Council, the Canadian Pharmacists Scope, and the Journal of Health Care, where she serves on the editorial board. As a new ECAG member, she is primarily interested in supporting eLife to set up ambitious diversity objectives with regard to the gender and ethnic diversity of the editorial board and review committees by encouraging the journal to be responsive to the needs of the communities they serve. Elizabeth's research examines the impact of Neglected Tropical Diseases on the health and wellbeing of marginalized communities in sub-Saharan Africa.
Aalok Varma: Graduate Student at the National Centre for Biological Sciences (NCBS), India
Formerly an eLife Community Ambassador, Aalok contributed to a meta-research project assessing the reporting quality and accessibility of images in published research articles, and worked on innovations to improve readability of scientific literature. He looks forward to working with other ECAG members and eLife editors to promote wide-ranging systemic change in academia. By joining the group, Aalok hopes to empower other early-career researchers to participate more visibly in all aspects of the scientific community. In his research, he uses zebrafish as a model system to study the development and function of the cerebellum, with a particular focus on Purkinje neuron physiology.
New ECAG members are elected by current members, along with recent eLife Ambassadors and members of eLife's early-career reviewers pool, based on a shortlist created by the eLife team and ECAG to ensure applications meet requirements and our goals for diverse representation. This year, there were 366 applications and 23 candidates were shortlisted.
As part of ECAG, Lara, Lana, Facundo, Elizabeth and Aalok will join the eLife editors and executive staff in supporting our transition to a "publish, then review" model of research communication, representing the voices of early-career researchers as we work to address bias in the publishing process, increase equity, diversity and inclusion in eLife's communities, and work towards greater openness and integrity in the way science is done and shared.
#
We welcome comments, questions and feedback. Please annotate publicly on the article or contact us at hello [at] elifesciences [dot] org.
Interested in finding out more about opportunities, events and issues that are important for early-career researchers? Sign up to the eLife Early-Career Community newsletter or follow @eLifeCommunity on Twitter.