In June we shared an open invitation for early-career researchers to nominate themselves in the eLife Early-Career Advisory Group (ECAG) elections. After careful consideration, current members of the group drew up a shortlist of 20 candidates from the initial 135 nominations. The ECAG and the eLife Ambassadors then voted for the final candidates at the start of this month.
The six new members selected will further improve the group's diversity and bring new perspectives and energy to continue the initiatives already underway. They will also launch new programmes of work with the aim of changing the way scientific publishing affects early-stage scientists.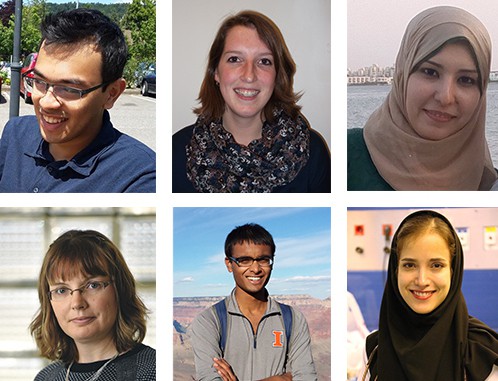 Three graduate students joining the ECAG this August are:
Hedyeh Ebrahimi, medical student at Tehran University of Medical Sciences, Iran
Hedyeh was once advised by a Nobel laureate in Medicine to meet her country's scientific needs and use all of the available resources for growth. She does so with passion and after graduating with MD-MPH in early 2019, she wishes to use her knowledge, especially in statistics and health policy, beyond basic research – in cancer treatment and prevention. She also hopes to help talented individuals who have the passion to participate in global efforts to enact change, but may face barriers such as borders.
Dina Alsharkawy, researcher at Botany Department in the Faculty of Science, Suez Canal University, Egypt
In addition to her work researching the conservation of medicinal plant species, teaching plant ecology and biodiversity and acting as an editor for the Catrina Journal, Dina is passionate about promoting women in science. You can hear more from Dina in this week's #ECRWednesday webinar.
In her nomination Dina said: "I have faith that communication can create a wide network in the scientific environment, which will lead to multidisciplinary international work. It's my dream that science must be without borders and should be enjoyed. To make it so, we need to get in touch and know more about each other's work, through communications and direct interactions."
Shyam Saladi, National Science Foundation Graduate Fellow at the California Institute of Technology, USA
Shyam is excited about the potential of computational tools to increase the efficiency and accessibility of scientific literature. He sees an opportunity in using technology to level the playing field a bit more between early-career and senior researchers when it comes to publishing.
Postdoctoral researchers joining the group are:
Lotte de Winde, postdoc at the Stromal Immunology Lab at MRC Laboratory for Molecular Cell Biology at University College London, UK
Lotte has been an eLife Ambassador since January this year. She's actively involved in a number of projects related to science funding, including a publicly available list of travel grant opportunities for early-career scientists and the development of a best practice showcase document highlighting the policies that effectively support diversity in science.
Devang Mehta, postdoc at University of Alberta, Canada
Interested in better recognition for all contributors to scientific research articles, Devang commented on the subject in a medium post last year. He's also passionate about raising the profile of preprints.
Devang said in his nomination: "The greater use of preprints in biology overall will enable granting agencies to consider them as published work in their evaluations, relieving a lot of the pressure ECRs feel today."
Lastly, the independent researcher joining is:
Tracey Weissgerber, Assistant Professor, Mayo Clinic, USA; Group Leader, QUEST – Quality | Ethics | Open Science | Translation, Charité - Universitätsmedizin Berlin and Berlin Institute of Health, Germany
Tracey's meta-research aims to improve the quality of data visualization, statistical analysis and statistical reporting in the basic biomedical sciences. This year in her role as an eLife Ambassador, she established a meta-research team, where members work together to propose, complete and publish a meta-research study. She hopes to help the ECAG to systematically examine the challenges facing early-career scientists, develop creative evidence-based solutions and disseminate the findings to the wider scientific community.
In the coming weeks we hope to learn and share more about each new member's passion for change as they take their positions. For now we welcome the new members to the ECAG and are excited for the impact they'll have in this role.
We welcome comments, questions and feedback. Please annotate publicly on the article or contact us at hello [at] elifesciences [dot] org.
Interested in finding out more about opportunities, events and issues that are important for early-career researchers? Sign up to the eLife Early-Career Community newsletter or follow @eLifeCommunity on Twitter.