By Melissa Dodd (Head of Production Operations) & Jennifer McLennan (Communications)
With every step at eLife we try to keep in mind these things: 1) the needs of our users, 2) the need for a fresh approach, and 3) looking to the most reliable online sources for inspiration. With the design of theeLiferesearch article PDF, these factors have inspired some interesting departures from traditional scientific publishing practice.
This post introduces our inaugural PDF, featuring the firsteLifemanuscript to go open, by Alegadoet al. (For the full text of the article, visit the lab's Web site at http://kinglab.berkeley.edu/publications).
1.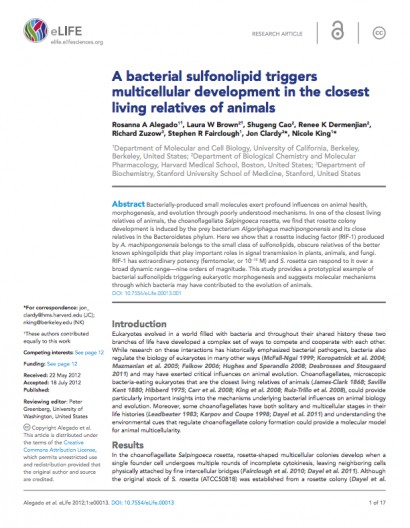 The first big difference you'll note is the one-column text presentation. We asked our editors (plus any volunteers we could recruit) what they preferred: the two-column design that's standard for biomedical journals, or the single-column layout. The majority chose the one-column format, whether they were printingorreading on screen.
This aspect is particularly exciting for us, as the feedback group really put their weight behind it. As we move forward, however – with this and much else – we'll be keeping an eye on our readers to see how they react and refine our approach as needed. Stay tuned.
2.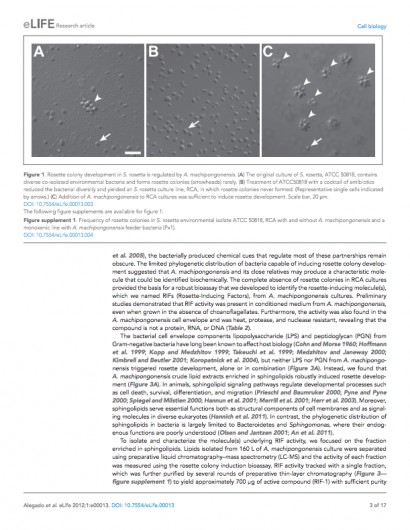 The white space on the left-hand side of each page (the "gutter") allows us to use the one-column format and maintain readability (by limiting the number of words per line). The gutter is a great space to creatively accommodate figures and tables, as well as additional information on the first page. Plus, the space was popular with much of the survey group, who saw it as a place to take notes – on screen and in print-offs.
That's the design side.eLifearticles in PDF also reflect other unique aspects of our approach.
3.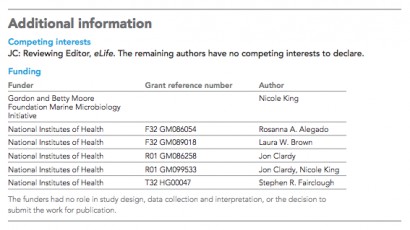 For example, eLife works hard to collect relevant metadata from authors in the submission process and to publish this in an accessible format. A lot of work has gone into producing very granular XML that can be repurposed and mined – such as funding data associated with each report. This information will be indicated on the PDF, along with plenty of active links to dig in more deeply. (Read more about our approach to gathering data in another recent blog post).
We'd like to thank the eLife editors, their colleagues and their students for helping to inform our approach. We look forward to working with you on refinements, as needed.
As ever, we invite thoughts on what we're up to. Feel free to comment here, or write to j.mclennan@elifesciences.org. Right about now, Melissa Dodd, eLife's founding head of production, is leaving for a year's maternity leave. Melissa, we wish you and yours all the very best.
We'd also like to welcome Siân Roderick (s.roderick@elifesciences.org) who is taking over the helm at production operations in Melissa's absence.