Note added Dec 1, 2020: eLife's policies on reviewing preprints have changed since this article was published. In particular, it is no longer possible for authors opting into our Preprint Review service to bypass our usual editorial assessment and proceed directly to peer review. You can read about our current policies in the eLife Author Guide, and about plans for the future in this Editorial [Peer Review: Implementing a "publish, then review" model of publishing].
In May, eLife launched Preprint Review – a system for posting peer reviews of preprints on bioRxiv. By opting for Preprint Review, an author can have reviews of their preprint posted on bioRxiv and, at the same time, be considered for publication in eLife.
Since launch, more than 300 authors have opted in to use the service and we have posted more than 100 sets of peer reviews on bioRxiv. Of the 158 submissions with a decision after review, 36% were invited for revisions, with an estimated acceptance rate of 32%. The reviews for another 50 submissions on which decisions have been taken will be posted in the near future.
Preprints with reviews on bioRxiv include:
When reading preprints on bioRxiv, look out for the blue "Peer Reviews" label to the right of the screen: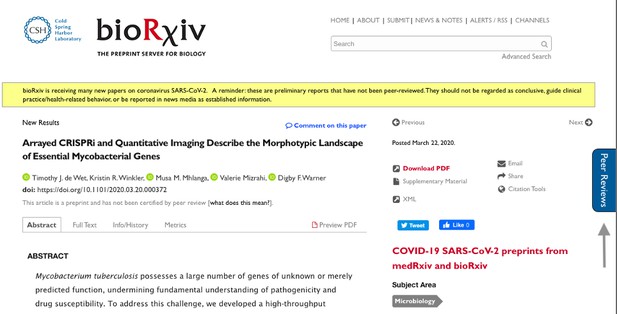 You can also follow @PreprintReview for updates.
We hope you will consider Preprint Review for your next submission to eLife. For those who are still unfamiliar with the service, we've compiled some answers to frequently asked questions about Preprint Review below.
Preprint Review is a service offered by eLife. Authors submitting to the journal can choose to opt in and have their peer reviews posted publicly alongside their preprint on bioRxiv, whilst being considered for publication in eLife. An open form of peer review, the service helps authors get the feedback they need quickly and efficiently, whilst adding useful context for readers.
How does Preprint Review work?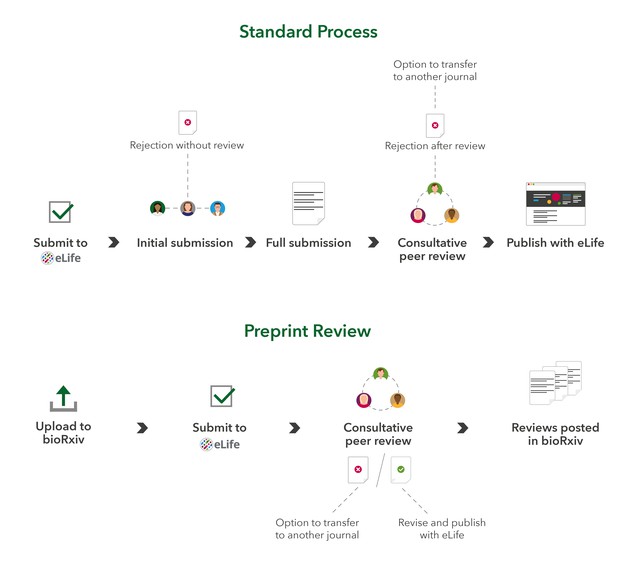 Subject to some restrictions (described below), Preprint Review submissions undergo the same peer-review process as regular submissions: Senior Editors identify an appropriate Reviewing Editor to oversee the peer-review process. Once the reviews have been submitted, the reviewers and editors consult with each other and come to a decision about the suitability of the submission for eLife. Independent of the publishing decision by eLife, we prepare a separate Preprint Review to appear alongside the preprint on bioRxiv. The Preprint Review, which is based on the original peer reviews and the consultation between the editors and reviewers, contains an assessment of the research reported in the preprint, feedback for the authors on how to improve the preprint, and guidance for readers on how to interpret it. It does not include comments on the suitability of the paper for eLife.
Reviews are posted for all submissions that go through the Preprint Review process, including those that are not considered further for publication by eLife. The Preprint Review is sent to the authors in advance of posting so that they have time to prepare a response, if desired, which eLife can post on the authors' behalf. Although authors cannot change their minds about having the reviews posted to bioRxiv, they can, of course, revise the preprint in response to the reviews. If the submission is not accepted by eLife, they can include the Preprint Reviews in a submission to another journal.
What are the restrictions?
Preprint Review is available for new submissions of Research Articles, Short Reports and Tools and Resources. The service is not available for Feature Articles, Review Articles, Research Advances or Scientific Correspondence. Preprint Review is not available for manuscripts considered by eLife previously, and we will decline peer review if the submission is clearly inappropriate for publication. We also may decline to peer review a preprint for reasons of overall capacity, and our ability to find available appropriate editors and reviewers in a reasonable period of time. We cannot review every Preprint Review submission, but we aim to review a substantial number of submissions that we do not expect from the outset to be published in eLife, in the hope that the reviews will be useful to the community.
How does Preprint Review compare with other review services?
eLife's Preprint Review is a complementary service to other review services that are on offer to authors. Review Commons provides independent peer review before submission to a journal, and a preprint is encouraged but not required. eLife's Preprint Review requires a preprint and then offers our usual consultative peer-review process. ASAPbio recently published a comparison review of available services which includes eLife's Preprint Review, Review Commons, Peer Community In and others.
Why is Preprint Review only available for preprints posted to bioRxiv?
Initially Preprint Review is only available to authors who have posted their preprint to bioRxiv, but we will extend this to medRxiv in the future. For the latest updates on Preprint Review, we recommend following us on Twitter or signing up to our alerts.
#
Questions and comments are welcome. Please annotate publicly on the article or contact us at hello [at] elifesciences [dot] org.
For the latest updates on Preprint Review and other news from eLife, sign up to receive our bi-monthly newsletter. You can also follow @PreprintReview on Twitter.