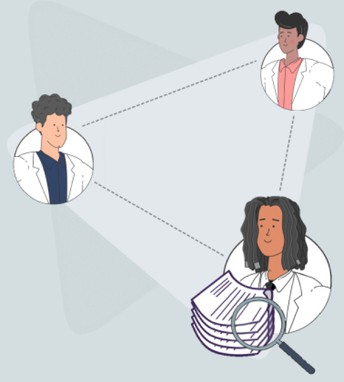 Academic publishing has undergone significant change over the last decade. Open access is becoming the norm and there is growing uptake of preprints. But peer review remains largely unchanged since its adoption in the 1970s. Traditional peer review can slow science and drive inequity. In an open research ecosystem, is there a better way to conduct peer review?

Join the panellists to explore three innovations addressing the limitations of traditional peer review, the communities that make them possible, and how you can get involved.

Join Sciety, PeerRef and PREreview on Thursday, December 8 at 3pm GMT to chat about overcoming the barriers of closed review.
The workshop will have closed captions provided by otter.ai. Please email events@elifesciences.org if you have any further accessibility requirements.

eLife is committed to providing a safe and welcoming experience for everyone. Please take a few minutes to familiarise yourself with our Code of Conduct – all event attendees are expected to abide by it.

Lamis Yahia Mohamed Elkheir is a pharmaceutical chemistry lecturer at the faculty of Pharmacy, University of Khartoum, Sudan. She is currently completing her doctoral studies in a joint program between the University of Khartoum and the University of Tours, France. She is mostly interested in the development of more effective ways to manage Neglected Tropical Diseases which are imposing a huge burden in her community. Earlier this year, Lamis was selected by eLife to take part in its Community Ambassadors training program. She was then elected to be a member of eLife Early-Career Advisory Group. With her newly found passion for open science, she is hoping to play an effective role in helping early-career researchers in her community to better understand and implement all aspects of open science in their work. She hopes to eventually aid in creating a healthier research environment in Sudan and African countries in general.

Elliott Lumb, PhD, is the founder of PeerRef, a journal-independent peer-review platform. In 2018, Elliott completed a PhD in medicinal chemistry at Monash University, Australia, and the University of Nottingham, UK. Following this, he held several roles at the high-growth publisher, Frontiers. He managed a team of commissioning specialists and then moved to the Strategy and Planning team. Elliott launched PeerRef in 2021.


Daniela Saderi, PhD, is the Co-Founder and Director of PREreview, an open project with the mission to bring more equity and transparency to the evaluation of research content, giving systematically excluded researchers better ways to find, train, and contribute to peer review. Daniela holds a PhD in Neuroscience from Oregon Health & Science University, US, during which she studied mechanisms of auditory processing in mammals. She is also a former Mozilla Fellow for Science 2018/2019.

Shane Alsop is the eLife Community Manager – Outreach. He has worked with scientists, researchers and funders in a variety of roles at prominent non-profit, native open-access organisations. He is now keen to understand how Sciety – an application that enables researchers to efficiently discover, openly curate and evaluate relevant preprints – can become part of researchers' daily workflow for preprint aggregation and curation.

#
We welcome comments, questions and feedback. Please annotate publicly on the article or contact us at hello [at] elifesciences [dot] org.
Interested in our full selection of webinars, on topics such as preprints, finding funding and more? Take a look at the collection of past reports and recordings.