Diversity in soil microbial communities is essential for stabilising important ecosystem functions, shows a study published today in eLife.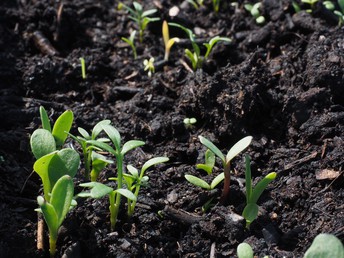 The findings emphasise the need to protect soil biodiversity to allow for the effective provision of ecosystem functions, such as the processes that drive productivity in our plants and crops.
Biodiversity is rapidly declining in soils that are intensively managed, and one quarter of soils across the world are now degraded. Previous experiments with plants have shown that species diversity in plant communities can support multiple ecosystem functions at the same time, while plant diversity loss can destabilise this. But despite the global degradation of soils, it remains unclear whether the loss of soil microbial diversity can destabilise ecosystem functioning in a similar way to plants.
"We need to better understand the consequences of soil biodiversity loss, as there is a growing consensus that soil microbes play key roles in supporting food production, nutrient cycling and other important ecosystem services," says author Cameron Wagg, who was a Research Scientist at the University of Zürich, Switzerland, at the time the study was carried out, and is now at Agriculture and Agri-Food Canada. Wagg is a co-first author of the study alongside Yann Hautier, from Utrecht University, the Netherlands, and Sarah Pellkofer, from the University of Zürich and Agroscope, Switzerland.
Wagg and colleagues explored how soil fungal and bacterial communities contribute to the stability of four key ecosystem functions over time. These functions include the production of plant biomass, the diversity of plants, the breakdown of leaf litter, and the ability of soil to take in carbon, the main component of soil organic matter.
The team studied replicas of soil–plant ecosystems, established in self-contained experimental systems, over a period of 55 weeks. They decreased soil diversity in these ecosystems by filtering out soil organisms, based on size, to study the effects of diversity on stabilising the four main functions. "This reduction of soil organisms was designed to reflect the impact of land-management practices, such as soil tillage, that physically damage these organisms depending on their size, and therefore also disrupt the structure of soil microbial communities," Wagg says.
The team found that microbial diversity loss destabilised all four ecosystem functions over time. This pattern was particularly strong in the plant–soil ecosystems with reduced microbial richness where over 50% of microbial diversity was lost. The loss destablised the ability of the soil to function because greater diversity is needed to maintain asynchrony among microbial communities – whereby different soil fungi and bacteria support different ecosystem functions at different times.
"To our knowledge, our results demonstrate for the first time that the maintenance of greater soil microbial diversity supports individual ecosystem functions as well as stabilises multiple ecosystem functions simultaneously," says Marcel van der Heijden, senior author of the study and Professor for Agroecology at the University of Zürich and Agroscope. "But our result is concerning as soil biodiversity is being lost in many parts of the world due to human activities and increasing intensity in land use, compounded by the effects of climate change. This suggests that greater efforts are needed to conserve soil biodiversity and thereby promote ecosystem sustainability."