This week, we're pleased to launch our new submission wizard. The tool guides authors smoothly through submitting their work for initial assessment by our board of Senior Editors.
This is the first stage in what will eventually be an open-source application that will support our unique editorial process from submission to acceptance.
Time for science, not admin
We have worked hard to ensure that the new submission process is both intuitive and efficient for authors. Designed to save time form-filling, authors can simply upload a PDF of their manuscript and the wizard makes use of eLife ScienceBeam's open-source extraction technology to lift the manuscript title, abstract and author list directly from the PDF.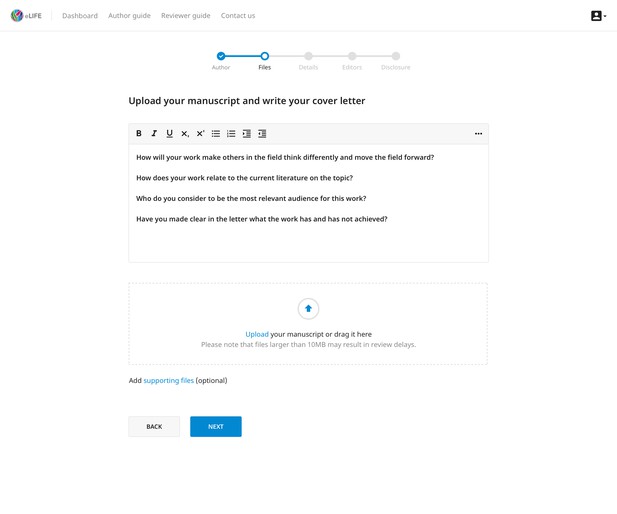 Submit in a way that suits you
The new tool has been designed with both desktop and mobiles in mind, giving you greater flexibility at every stage of the process. It's ready when you are, should you start an application in one place and pick it back up a few days later.
This first release is a small part of much larger plan for our submission and peer review system. By launching this small piece we hope to gather important feedback from authors using the wizard that will help us to shape future stages of the project.
A community effort to improve publishing
Back in September 2017, we announced our intention to work in partnership with the Collaborative Knowledge Foundation (Coko) to build an open-source solution for the submission and peer review of manuscripts.
The partnership has quickly grown into a community, with other organisations such as University of California Press and EuropePMC committing their efforts to the project. All share a common goal: to contribute to the commoditisation of infrastructure that will improve the ways in which new research is presented and disseminated. We're excited to see the progress the community has made so far and for authors to now start using the tool.
Why not give it a try with your next submission and tell us what you think?
Related links:
We welcome comments/questions from researchers as well as other journals. Please annotate publicly on the article or contact us at hello [at] elifesciences [dot] org.
For the latest in published research sign up for our weekly email alerts. You can also follow @eLife on Twitter.