The aim of this webinar, hosted on behalf of the eLife Community Ambassadors and Open Science Champions, was to introduce the topic of public engagement and to enable early-career researchers (ECRs) to understand the importance of effectively advocating, communicating and engaging not only with their fellow researchers, but with the wider public. The speakers discussed the many different forms of practising public engagement, the challenges and barriers to adopting these, and tips and resources to use to overcome them.
This webinar event consisted of two speaker presentations and a Q&A session.

Emma Dorris, PhD – Public and Patient Involvement (PPI) Project Officer at UCD Research, and Programme Manager for the national PPI Ignite Network at UCD, Dublin, Ireland. Emma is also an eLife Community Ambassador alumni.


She discussed her role in contributing to the change in culture, particularly in health and social care research, to be more collaborative and more impactful by actively working with the community as a common practice for research. Dr Dorris described how engaged research is about increasing research relevance and cooperating with relevant members of society to enable careful and deliberate study design, and how this makes a significant impact to research. The UCD resource Spectrum of Public Engagement 'Avocado', presented by Emma, clearly outlines the many forms of public involvement; from informing or consulting to involving and partnering with the public for shared decision making. Through the research journey, Emma describes how public engagement applies to each and every researcher, how to engage, and finally how to raise awareness within your institutions and disciplines.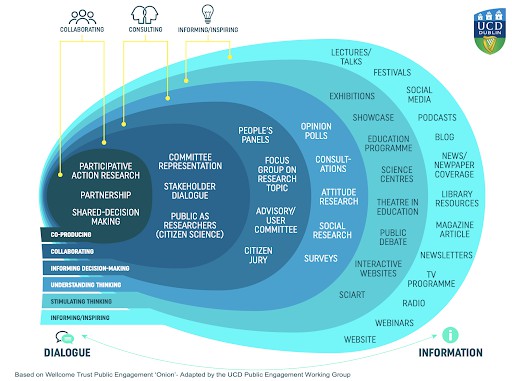 Estelle Raveloartiana, PhD – Agroecologist and Postdoctoral Researcher at the Sustainable Agricultural Systems and Engineering Lab, School of Engineering, Westlake University, China.
Her research has aimed to discover how land-use change affects plant diversity in Madagascar. Estelle emphasises the importance of conducting ethical research through considering and consulting with local communities. She is also Coordinator of the Knowledge Transfer project. Estelle gave an overview of her experiences in her PhD and postdoctoral projects and the impact of introducing community engagement practices. She also talked about the projects and initiatives she has contributed to, including Diversity Turn, and that she now coordinates, such as the Knowledge Transfer project. Through this global project Dr Raveloartiana aims to understand the best ways to communicate with farmers and identify effective knowledge transfer tools. Through her presentation she outlines how she has committed to do ethical research, the challenges to achieving this, and importantly the solutions of collaboration and inclusion in all aspects of research. These include research preparation and design, data collection, result communication and research publication.
The webinar was followed by a Q&A session and discussion, moderated by eLife Community Manager Ailís O'Carroll. Participants asked how they can start on their journey of public engagement with their research, as well as how to make this involvement and engagement as sustainable and as equitable as possible.
####
We welcome comments, questions and feedback. Please annotate publicly on the article or contact us at hello [at] elifesciences [dot] org.
Interested in our full selection of webinars on topics such as preprints, finding funding and more? Take a look at the collection of past reports and recordings.