The eLife Community Ambassadors programme was set up by the Early-Career Advisory Group (ECAG) to help channel and support the passion of early-career researchers (ECRs) in driving change towards open science, greater integrity and equity in the wider scientific enterprise. This year we welcome 128 eLife Community Ambassadors from all over the globe to the third edition of the programme. They represent a great diversity of perspectives, as well as 51 countries, 44 research disciplines, and over 120 different universities, institutes, labs and research communities.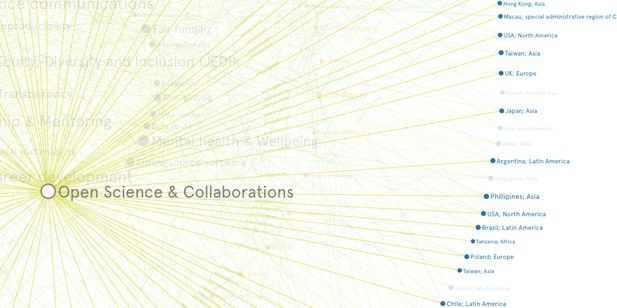 Each Ambassador represents various overlapping communities: their local geographical research community, their research discipline community, the community concerned with a certain aspect of research culture, and other communities they identify with that are not included in the graph. Each Ambassador's unique life experiences and community insights are crucial to the success of this programme and to future improvements to research culture across the globe. We will encourage them to voice their communities' unique challenges and broaden each other's perspectives. This way they can bridge gaps that exist across researchers today and drive innovative change together.
"We want a research culture that is focused on talent without bias, that is supported by more resources – like fellowships and funding for international students, and one that is more kind and sympathetic to the mishappenings that is life. Now I feel empowered to finally work together to make change…" – Ruchika Bajaj, eLife Ambassador for 2022
Channelling passion into impact
A common topic of discussion for many ECRs all over the world is how to transform their passion for change across areas of research culture into impact. Researchers' training can be limited with regards to developing skills that empower effective collaboration, as are opportunities to connect with scholars beyond boundaries such as discipline or geography. The programme seeks to equip ECRs with these skills, alongside a strong network of like-minded colleagues to support them in creating change.
This year, based on feedback from former Ambassadors, we are starting the programme with eight months of learning and community building for the participants. The Ambassadors will use this time to help hone their skills and confidence before we encourage them to take on opportunities for activism. With training on open science, equity, diversity and inclusion (EDI), science communication, leadership, research reproducibility, advocacy and influencing skills, and lots more, Ambassadors will have a unique opportunity for professional and personal development. We hope this will enable them to make the most impact possible, when they join and form initiatives aiming to change research culture later and in adopting new approaches in their own research practice.
The community building will enable individual Ambassadors to build crucial relationships with others, explore different perspectives on how science is done elsewhere, and identify common interests. We've seen previously that exchange of different experiences, views and ideas about research culture enables Ambassadors to change their own practices and innovate solutions for wider change. Building a strong network embeds the principles of openness, integrity and inclusion that eLife wishes to see grow across the scientific community and it's a key to the success of the programme.
"We wish for the eLife Community Ambassadors to be an exemplar community of equity and inclusion, not just diversity. One that gives a sense of belonging and safety to openly share and discuss ideas and activities. We hope that will increase confidence and result in mutual support for their change-making endeavours." – Ailís O'Carroll, eLife Community Manager
In the second phase of the programme, the activism phase, starting later this year, the Ambassadors will use their training, awareness and networks to delve into their key areas of concern with research culture. We will support the formation of groups focused on these areas, such as research reproducibility, fair funding and open-access publishing. The Ambassador groups will each raise awareness, research the gaps and barriers to change, create resources, run events and create communities to address each initiative. The eLife community will support the development of these initiatives and encourage each Ambassador to engage with their colleagues locally.
Ambassadors from the previous two cohorts of the programme continue to drive change, innovate solutions and advocate responsible behaviours across science. Read more about their continued efforts here. We look forward to what the new Ambassadors' creativity will bring.
"The programme enables us to collaborate with scientists from around the world to promote and contribute to best practices in research. The impact of the programme on our community lasts beyond its duration – I was able to continue building global collaborations between eLife and other initiatives (e.g., FENS-ENCODS, isiCNI Imbizo, IWD Wikipedia editathon) to promote and empower underrepresented groups and those with less resources. I wish the new cohort of the Ambassadors all the best for collectively accelerating changes in research practices, learning together, and building invaluable friendships!" – Tai-Ying Lee, Ambassador alumni
Africa
Ali Mussa, Omdurman Islamic University, Sudan
Andrew Abagai Ali, Rhodes University, South Africa
Ashraf Mahmoud, Kilimanjaro Christian Medical University College KCMUCo, Tanzania
Biirah Judith, Kyambogo University , Uganda
Deodatus Mabula, Catholic University of Health and Allied Sciences-Bugando, Tanzania
Dorotea Malimi, Muhimbili university of health and allied sciences, Tanzania
Emmanuel Boakye, Kwame Nkrumah University of Science and Technology, Ghana
Ethos Okorie, Almadu Bello University Teaching Hospital, Nigeria
Frida Kaywanga, Muhimbili University of Health and Allied Sciences -MUHAS, Tanzania
Ifeoluwa Oyeyemi, University of Medical Sciences, Ondo City, Nigeria
James Seutra Kaba, Kwame Nkrumah University of science and technology, Ghana
Joyous Mbuthia, Kenyatta University, Kenya
Lamis Yahia Mohamed Elkheir, University of Khartoum, Sudan (Sudan/ France)
Morufu Olalekan Raimi, Niger Delta University, Nigeria
Obadia Shadrack, The University of Dodoma, Tanzania
Prudence Masanga, Nelson Mandela African Institute of Science and Technology (NM-AIST), Tanzania
Rachida Namoune, University Hassiba Benbouali of Chlef, Algeria
Raziah Quallatein Mwawanga, University of Bradford, UK/ Tanzania
Roseline Dzekem Dine, Rinda Ubuzima, Rwanda
Salem Mohamed, Zagazig University, Egypt
Samuel Eziuzor, Rhema University, Nigeria (Nigeria/ Germany)
Sumaya Kambal, National University-Sudan, Sudan
Swaliho Dauda Sheriff, Njala University, Sierra Leone
Europe
Ana Paula Mendonça, University of Padova, Italy
Arojit Mitra, INSERM, Bordeaux University, France
Béryl Laplace-Builhé, IGFL-ENS-Lyon, France
Christoph Miehl, Max Planck Institute for Brain Research, Germany
Christos Gkogkas, Foundation for Research and Technology Hellas (FORTH), Greece
Clarissa Whitmire, Max Delbrück Center for Molecular Medicine, Germany
Inês Hahn, University of Manchester, UK
Inge Wortel, Radboud University, The Netherlands
Ioanna Pandi, Foundation of Research and Technology-Hellas (FORTH), Greece
Jyh-Miin Lin, University of Cambridge, UK (UK/Taiwan)
Lei Zhang, University of Vienna, Austria
Margarida Viola, UMC Utrecht, The Netherlands
Marioara Chiritoiu-Butnaru, Institute of Biochemistry of the Romanian Academy, Romania
Nalaka Wijekoon, Maastricht University, Netherlands
Nazia Nasir, University of Leeds, UK
Nicole Vissers, University College London, UK
Paris Stefaboudis, University of Oxford, UK
Roberto Maffulli, Italian Institute of Technology, Italy
Tanya Soliman, Queen Mary University London, UK
Tarryn Balsdon, École normale supérieure, France
Tomasz Kościółek, Jagiellonian University, Poland
Yahaya A. Yabo, University of Luxembourg, Luxembourg
Central and Eastern Asia
Aakriti Hariprakash, Institute for Stem Cell Science and Regenerative Medicine (DBT-inStem), India
Akina Shrestha, Kathmandu University School of Medical Sciences, Nepal
Asma Minhas, Sahiwal Medical College, Pakistan
Baicheng Huang, National Research Center for Veterinary Medicine, China
Bhavya Dharmaraaj, National Centre for Biological Sciences, India
Chayasith Uttamapinant, Vidyasirimedhi Institute of Science and Technology, Thailand
Cheng-Hsun Ho, Academia Sinica, Taiwan
Chenhui Wang, ShanghaiTech University, China
Chi Kuan, Academia Sinica, Taiwan
Devanshi Gupta, Centre for DNA Fingerprinting and Diagnostics (CDFD), India
Ellora Chua, Yale-NUS College, Singapore
Fatma Betul Dincaslan, National University of Singapore, Singapore
Giovanni Sala, Fujita Health University, Japan
Hasan Ucar, The University of Tokyo, Japan
Joshua Liu, University of Macau, Macau (Special Administrative Region of China)
Kazuya Horibe, Osaka University, Japan
Lukas Schmitt, RIKEN Center for Brain Science, Japan
Manoj Kumar, CSIR-Institute of Genomics & Integrative Biology, India
Mohamed Najeeb Sikkander Mohamed Yoonus Imran, General Sir John Kotelawala Defence University, Sri Lanka
Muhammad Noman, National Institute for Genomics & Advanced Biotechnology, Pakistan
Muhammad Shahzad Iqbal, University of Central Punjab, Pakistan
Navpreet Kaur, Punjab Agricultural University , India
Pallavi Raj Sharma, Indian Institute of Science, India
Pei Ying Ng, National University of Singapore, Singapore
Rahul Sharma, Indian Institute of Science Education and Research, India
Rio Sugimura, University of Hong Kong, Hong Kong
Sajidha Mohammed, University of Calicut, India
Sheena Ramazanu, National University of Singapore, Singapore
Sherif Rashad, Tohoku University, Japan
Vivia Khosasih, Academia Sinica, Taiwan
Yuhang Wang, DP Technology, China
North America
Andrian Gajigan, University of Hawaii at Manoa, USA
Ankita Arora, University of Colorado Anschutz Medical Campus, USA
Anuj Sharma, Princeton University, USA
Brian Spulock, University of North Carolina at Chapel Hill, USA
Dhana Friedrich, Harvard Medical School, USA
Dinesh Natesan, University of California, Santa Barbara, USA
Emily Dennis, Princeton University, Janelia, USA
Evan Brown, University of Virginia, USA
Kanika Khanna, UC Berkeley, USA
Nick Pokorzynski, Yale University, USA
Ruchika Bajaj, University of California San Francisco, USA
Sandhya Prabhakaran, Moffitt Cancer Center, USA
Sana Nasim, Harvard Medical School, USA
Sejal Davla, McGill University, Canada
Shawn Hallett, University of Michigan, USA
Shraddha Shah, University of Rochester, USA
Suhaila Rahman, Washington University School of Medicine, USA
Sukrit Singh, Memorial Sloan Kettering Cancer Center, USA
Verena Claudia Haage, Columbia University Irving Medical Center, USA
Yuliya Voskobiynyk, Gladstone Institutes/UCSF, USA
Western Asia
Adviti Naik, Qatar Biomedical Research Institute, Qatar
Ahmad AlHyasat, University of Jordan, Jordan
Ahmet Özen, Eskişehir Osmangazi University, Turkey
Eda Şamiloğlu, Izmir Biomedicine and Genome Institute, Turkey
Hazem Daou, American University of Beirut, Lebanon
Khaled Sagheer, National Community College for Medical and Applied Sciences, Yemen
Ramia Al Bakain, The University of Jordan, Jordan
Saleh Omairi, Wasit University, Iraq
Tala Noun, American University of Beirut, Lebanon
Oceania
Christina Straub, Institute of Environmental Science and Research, New Zealand
Debnath Ghosal, University of Melbourne, Australia
Morgan Freney, University of Queensland, Australia
Osvaldo Contreras, The Victor Chang Cardiac Research Institute and the University of New South Wales, Australia
Rafiatu Azumah, The University of Adelaide, Australia
Ritika Saxena, Murdoch Childrens' Research Institute, Australia
Simone Li, University of Queensland, Australia (Denmark/ Australia)
Srijan Shrestha, The University of Adelaide, Australia
Szymon Drobniak, UNSW, Australia (Australia, Poland)
Zinat Mohammadpour, University of Adelaide, Australia
Latin America
Christian Molina-Aguilar, Universidad Nacional Autónoma de México, UNAM, Mexico
David Ramírez, Universidad de Concepción, Chile
Juan Salvador Calanni, Universidad de Buenos Aires, Argentina
Julieth Irene Murillo Silva, Universidad Javeriana-Cali, Colombia
Karen Castillo, Centro Interdisciplinario de Neurociencia de Valparaiso and Centro de Investigacion de Estudios Avanzados del Maule, Chile
María Eugenia Segretin, CONICET-UBA, Argentina
María Sol Ruiz, CONICET-UBA, Argentina
Martina Radice, CONICET, Argentina
Matías Capella, Instituto de Agrobiotecnología del Litoral, Argentina
Mila Ferraz de Oliveira Martins, Universidade Federal de Lavras, Brazil
Paul Rosas Santiago,Universidad Nacional Autónoma de México, UNAM, Mexico
Renato Augusto Corrêa dos Santos, University of São Paulo, Brazil
Valentina Gascue, Universidad de la República, Uruguay
"Early-career researchers are literally the future of science. Connecting like-minded individuals at this stage in their careers, and fostering the sense of an international interdependent community among them offers the hope that the future of research will be all about openness and collaboration." – Damian Pattinson, eLife's Executive Director
####
We welcome comments, questions and feedback. Please annotate publicly on the article or contact us at community[at]elifesciences[dot]org