We are pleased to continue to offer our travel grant programme in 2019. Last year we supported 22 outstanding scientists to attend conferences in different parts of the world, to reach new audiences and get recognition for their research. Early-career researchers who have published their research with eLife (or have a manuscript accepted for publication)
are invited to apply for funding of up to $1,000 to help present their work at a meeting of their choice.

All 2018 grantees reported that the networking opportunities resulting from this exposure helped them improve their work and develop new collaborations.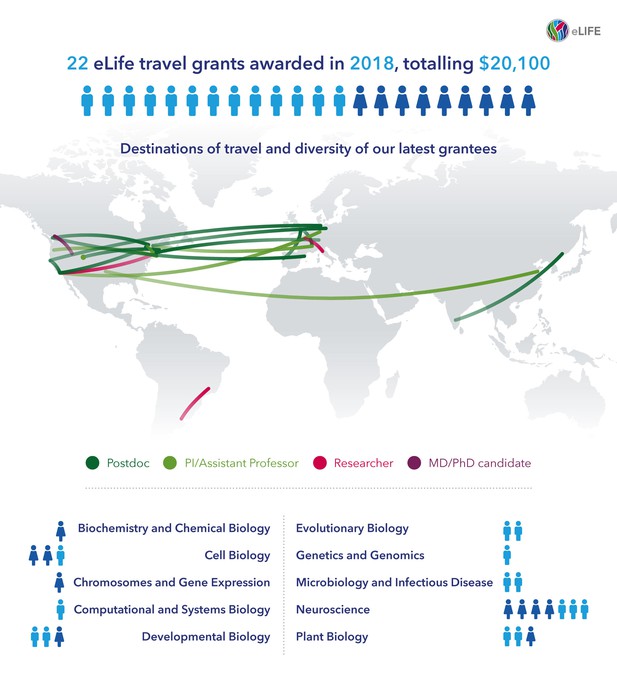 While we received 165 applications last year, 77 of those were not eligible under the programme's terms. With 22 grants awarded, this meant a 29% success rate for eligible candidates.

Reflecting on the results of the programme in 2018, we've updated our terms and conditions. This year, for the first time, graduate students may be eligible for our grants. We also clarify that confirmed talks take priority over posters in the judging process, and enabling grants (those for people who otherwise wouldn't be able to travel) take precedence over others – that is if we receive a great number of otherwise similar applications.

For those wishing to apply, it's crucial to pay attention to the terms and conditions. Below we show the reasons for rejecting ineligible applications in 2018:
| | |
| --- | --- |
| Reason for rejection | Number of applications |
| Not an author published in eLife | 35 |
| No confirmed presentation/poster | 24 |
| Amount requested >$1,000  | 8 |
| Event happened in the past (that is before the grant deadline) | 8 |
| Ineligible career stage | 2 |
By reporting the success rates, and highlighting some of the common mistakes made previously, we hope to encourage more authors to read the terms carefully to help them put forward stronger applications.

Now, early-career authors who have had an abstract of high scientific merit already accepted for an oral presentation or a poster at their chosen meeting are invited to apply for the 2019 scheme.

We especially welcome applications from researchers requiring international travel to their meeting of choice.

Application deadlines for 2019 are at midnight on March 3, June 2, and September 1. You can apply for funding of up to $1,000 to support your costs of travelling to and participating in a conference.
We welcome comments, questions and feedback. Please annotate publicly on the article or contact us at hello [at] elifesciences [dot] org.
Interested in finding out more about opportunities, events and issues that are important for early-career researchers? Sign up to the eLife Early-Career Community newsletter or follow @eLifeCommunity on Twitter.