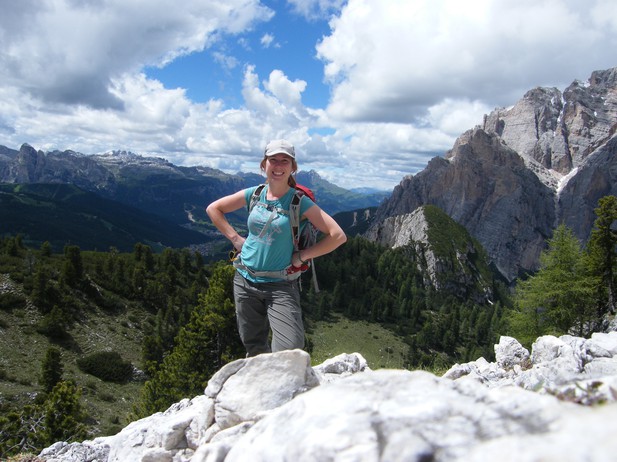 What inspired you to work on banded mongooses?
I've always been interested in animals and during my time at university I became increasingly intrigued about the reasons why animals cooperate – it seemed like a giant puzzle that still hadn't been solved since Darwin was stumped by it. Banded mongooses gave me the perfect opportunity to pursue that interest while also getting me out into the field and frolicking around in Uganda.
What did you enjoy most about your research?
The fieldwork. Uganda is such an amazing country and the Banded Mongoose Research Project is lucky to have a stunning field site in Queen Elizabeth National Park. I loved getting to know all the mongooses, driving around the bush, and getting to know the Ugandan way of life.
You balanced your research with a number of educational, environmental and humanitarian projects. How important do you think extracurricular activities are for the careers of researchers?
I think it depends on what you want to do. I have never been satisfied focusing on one thing – I find it very difficult to not get excited by something new every day. I feel like extracurricular activities are undervalued in academia as they are overshadowed by the pressure to publish, but a well-rounded researcher can provide new and unique insights into every situation.
Why did you decide to become a teacher?
I left my research career with a dream to become a humanitarian worker. However, I discovered that to make that move I would have to volunteer for a couple of years before I became employable. Becoming a teacher felt like a great way to gain some transferable skills while also being quite a lot of fun!
What does your teacher training involve?
I am doing my training with Teach First, which is an organisation that places trainee teachers in schools that serve low-income communities in England and Wales. I spent six weeks last summer at the Teach First Summer Institute. That involved a lot of tutorials and sessions focused on learning theory, relearning all of the science content that I had forgotten from school, and figuring out some strategies for behaviour management. The summer training finished with an incredibly inspiring five-day conference in Leeds, which brought together 4000 people who had a common mission to improve education in the UK. I started teaching full-time in September and though there has been some training during the year it is mostly trial-and-error learning on the job. This has been a massive challenge and an interesting learning curve!
Have you found it easy to move from research into teaching?
I wouldn't say that it has been easy. I put myself into a completely new environment where I needed a completely new set of skills. It has been very difficult at times but it is so rewarding I wouldn't change it for the world.
Which of your research skills do you draw on the most to help you teach?
I think the most important thing is the insight into how science works that I can share with my students. Quite a lot of them come from very impoverished backgrounds and don't know much about how the world works outside of their local community.
Do you talk about your research experiences with your students?
Yes, definitely. I occasionally mention the mongooses in class and the students joke about them. I even ran lessons on mongooses to most of my classes earlier in the year! It is great to be able to share anecdotes about performing fieldwork in a place where being chased by an elephant was a daily danger – I think that helps to raise students' aspirations and give them an insight into what being a scientist can be like.
What was your day like yesterday?
I cycled to school around 7.30am and got my lessons ready for the day. I've started to teach my year 7s [11-12 year olds] about acids and alkalis so I had some practical equipment to set up – they get so excited about chemical reactions! I taught four lessons which all went really well, especially one lesson where I managed to teach my year 9s [13-14 year olds] how to calculate the acceleration of a trolley. After school I ran my Lego Robots club and then I went home, ate some dinner and went to an aerial class where I learnt to stand on a trapeze with one leg – it is important to unwind properly after a full day teaching.
What are the most rewarding aspects of teaching?
It feels amazing when my students have that look on their faces which means that all the pieces of the puzzle have just fallen into place for them and they suddenly understand the big picture of what we are learning. Also, they often lack confidence and it is great to be a part of their successes when they do well. One of my favourite days was one where I promised a class that I would phone the parents of anyone who got their target grade in a test – most of them did and I spent an hour phoning 20 parents. One of the parents was so happy they nearly cried!
What have you found most challenging?
Learning how to communicate science to children from a completely different background to me – I think when I started they couldn't understand much of what I was saying. I had to learn to really listen to the students and be able to ask them the right questions that would help me to find out what they did or didn't know already. After being surrounded by academic scientists for 10 years I have had to completely change the way that I communicate!
How long do you plan on staying in teaching?
I'm not sure. The Teach First program is two years and then I will wait to see how I feel. My original plan was to do it for a couple of years and then switch to developmental/humanitarian work but I am open to changing my mind. I have a feeling that I might end up not wanting to leave my students…
Did your research experiences inspire you to make humanitarian work your career goal?
Definitely. Working in Uganda for six years really opened my eyes to the problems that exist in the developing world and inspired me to play a part in improving the lives of those who are worse off than myself.
Why did you decide to leave research?
During our Unpackage Me campaign [a project set up by Jenni and another researcher to raise awareness of the problems associated with plastic packaging] I really enjoyed the feeling that I was having a positive and tangible impact on the world around me. Though I was really enjoying my research, I realised that not having any tangible positive impact on the world meant that it wasn't satisfying for me anymore. So after a long and difficult thinking process I decided to leave in search of something a bit different.
As well as still being involved in Unpackage Me, you also help out with a charity called Legs4Africa, which distributes prosthetic legs to sub-Saharan Africa. What inspired you to get involved?
Legs4Africa was set up by a friend of mine. I mentioned to him that I wanted some charity experience and he said that they needed someone to go to The Gambia for them for a month to meet the recipients of the legs, meet staff in the prosthetics units and organise future volunteer efforts. I booked a ticket the next day! I still try to help out when I can, proof-reading their website, helping out at fund-raising events, and they always need a helping hand shifting the legs around!
How do you balance your project work with teaching?
Teaching has definitely taken over my life this year! With Teach First you get thrown in at the deep end and have to teach full time while also learning how to be a teacher and doing all of the essays that are required for a PGCE [Postgraduate Certificate in Education: the qualification required to teach in state-funded schools in England, Wales and Northern Ireland]. I have tried to integrate the projects into school though. I speak to students about the problems with plastic and I'm running a little project between the school and Legs4Africa, where we have arranged for some students to decorate some prosthetic legs that hopefully will be part of an exhibit in Bristol later this year.
What do you do in your free time?
I like to get outside. I am very fond of long walks in the countryside – especially now that my days are so hectic. I am also a bit of a thrill seeker and like to go hang gliding and climbing (and have just started to learn trapeze and silks).
What advice would you give to early career researchers who want to go into teaching?
Get a few days experience in a school to try it out before you go for it – school can be very different to what you remember from when you were young! It is a difficult job so it requires a lot of perseverance but don't be scared – it is definitely worth it!
What is the best piece of career advice you've been given?
Do what you enjoy and you will find a job that suits you. And don't ever listen to anyone who says that your dreams are impossible – even if you want a one in a million job you could be that one in a million!
2015 – present: Science Teacher, Bedminster Down School
2015 – present: Field Operations Assistant, Legs4Africa
2014 – present: Director, Unpackage Me
2013 – 2015: Associate Research Fellow, University of Exeter
2009 – 2014: PhD in Conflict and Cooperation in Vertebrate Societies, University of Exeter
2005 – 2008: BSc (Hons.) in Biological Sciences, Zoology and Evolutionary Biology, University of Edinburgh