Tim Kietzmann is a postdoctoral fellow at the MRC Cognition and Brain Science unit in Cambridge, UK. His first child, Juno, was born in 2015, during a postdoc in Germany. Tim moved to his current position in Cambridge in 2016, and his second child, Enno, was born in 2017.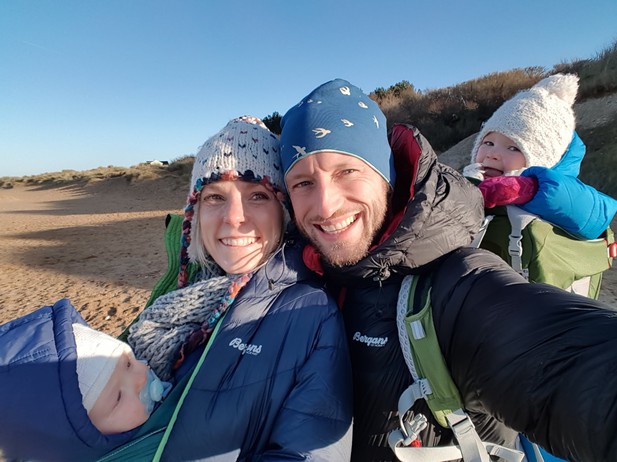 How did you become both a parent and a scientist?
My love for science started with joining an interdisciplinary BSc program at the University of Osnabrück in Germany, where I was trained as a cognitive scientist. At the time, in 2003, this was the only German program to jointly teach the many different ways in which scientists approach one of the greatest mysteries of our time: the human brain.
I decided to next move to Edinburgh for an MSc program in AI and computer vision, sold all my furniture and gave up my shared apartment. All I owned at this point was my laptop, my phone, and a backpack full of clothes. Before leaving, I went on a trip to northern Sweden to visit a good friend of mine and to see the northern lights. This is where I met Julia, the love of my life, now fiancée and mother of our two wonderful children. I was all set to leave Osnabrück and Germany, but there she was, randomly placed next to me on a plane, and curiously living not far from where I had been for the past three years. As a result, I ended up staying in Osnabrück for the MSc program too, focusing academically on machine learning and neuroscience.
Towards the end of my MSc, I was offered a graduate student scholarship to work on whatever topic I chose (what a generous offer and what an opportunity!). I was still curious about other academic environments and systems, however, and wanted to move abroad. My then future PhD supervisor, Prof. Peter König at the University of Osnabrück, was very encouraging and together we asked Prof. Frank Tong at Vanderbilt University in Nashville, USA, to become my second PhD supervisor. I spent about a year in his lab in Nashville, Julia joined me there during that time.
After our return to Germany in 2012, Julia finished her training to become a teacher for children with special needs and I finished my PhD. We got engaged in Norway, about 350 km north of the Arctic Circle, on a trip to see the northern lights together. Then, while I worked as a postdoc to finish writing up a few ongoing projects, we received the wonderful news that we were expecting our daughter Juno. After her birth in 2015, we decided to take some time off in order to travel and to get to know our newborn baby. For a few unforgettable months, we lived in a campervan travelling up and down New Zealand's wild coasts.
In 2016, we moved to Cambridge, UK, where I currently work at the MRC Cognition and Brain Science unit as a postdoctoral fellow. Eight months ago, our son Enno was born into our little family; we could not be more thankful.
What support have you received as a parent from your country, institution, and friends and family?
Germany offers paid paternal leave for a total of 14 months split across both parents. For our daughter Juno, I took two months, while my fiancée Julia took 12. For our son Enno, my fiancée took 12 months, whereas I was not eligible, because my postdoc position is paid via a scholarship, which, frustratingly, does not count as "income" in the traditional sense. Amazingly, however, my two-year scholarship from the German Science Foundation (DFG) is extended an additional year for parent scientists.
My current institution does not offer any support, unfortunately. Part of the reason is, again, that I am paid via a scholarship, which does not allow us access to childcare facilities of the university. Having recently moved abroad also means that we do not have a strong network of old friends and family to rely upon for help if things do not go according to plan. This becomes especially obvious when the children (or we) are ill (which is not too uncommon ever since my daughter started nursery).
What other support have you received?
In most cases, including my own, it seems that to make a career in science work relies heavily on one partner 'playing along' so that the other can follow their passion and dream job. Overall, my scientific career – with times in the US and now the UK – has only been possible because my partner was flexible, sacrificing her career so that I could chase that dream of being a scientist. For this, I will be forever grateful.
What for you has been the most difficult aspect of balancing parenthood and science?
Time. Working successfully in my field requires being in the lab, ideally at times where the other lab members are there too. This competes directly with my time with the children (if I want to see them awake). Leaving work early means I get less done, and limits potential times for meetings and talks. Working late evenings allows me to catch up a bit of what is lost (yet, the sleep rhythm of our tiny son begs to differ). Plus, I recently started supervising two graduate students. Trying to be a good mentor and supervisor requires significant time too, and puts further pressure onto my own work.
Has anything else made it difficult for you to balance parenthood and science?
The expectation that young scientists will relocate time and again is a problem. I am in the overly lucky position that my fiancée covers the children so that I can focus on my work, but things like access to daycare (with times spent on waiting lists exceeding a year easily) and a single income put a natural limit on how often and where we will be able to move.
What single change would improve your life as a scientist and a parent?
Affordable and accessible day care would be a game changer. The prices for nurseries in Cambridge are so high that we can only afford a few sessions for my daughter. Having two very young children at home most of the time is an exhausting job, especially coupled with the sleepless baby-nights and the fact that we cannot rely on a support network due to the large geographic distance to our families and old friends.
What advice would you give to other scientist parents (or scientists who are thinking of having children)?
Children will be the best thing that ever happens to us: they put everything else into perspective. My advice: if you want children, have children. There is no time better than any other. If you think: "I need to finish this project/my PhD first, because it will become less crazy afterwards", it may never happen. At least for me, the transition from PhD to postdoc did not change anything about my day-to-day work.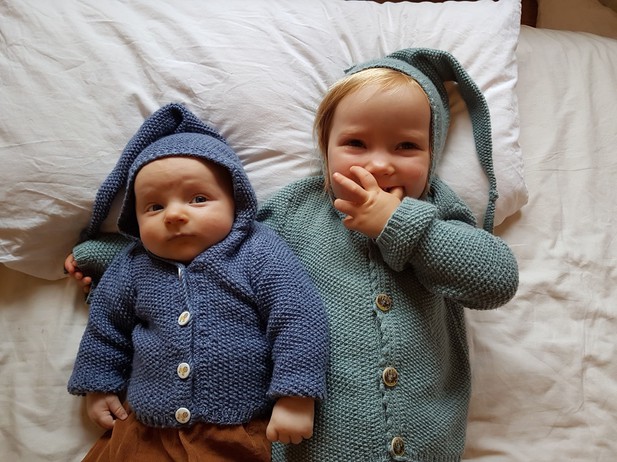 What advantages are there to being a scientist and a parent?
The flexibility in working hours that can come with being a scientist is a major advantage. If your child is sick, you can (in theory) work from home. If I want to spend time with my children while they're awake, I go home early and work in the evening. Yet, with great power comes great responsibility. Parent scientists know the feeling of constant justification all too well. This can be self-inflicted – "why am I at work and not at home with my children?", or it can result from the expectations of others – "you have flexible hours, so I can call you any time of the day?". The misinterpretation that not having fixed working hours means not having to work at all is far too common. Moreover, the effective home-office with little children around is an illusion (at least in our case).
How do you think the challenges of being a parent scientist compare with those of other professionals who are also parents?
One major challenge that I face is trying to be the best father, partner and scientist that I can be, while having to accept that these are mutually exclusive.
However, by far the biggest challenge for parent scientists is the family-toxic combination posed by having almost no job security beyond a few years (at least as a postdoc), and knowing that you will likely have to relocate your family internationally to further your career. This is not ideal with small children, and far less ideal when they are older and going to school.
Another element that can be quite harmful for pre-tenure scientist parents is that hiring committees judge scientists based on their measurable outputs. In a system where few reach job security by becoming a professor or a group leader, scientist parents face extra challenges compared to their peers without children. My friends in the industry may not climb the hierarchy in their company when devoting time to their families, but they do typically have a secure, open-ended job, which postdoctoral scientists can only dream of.