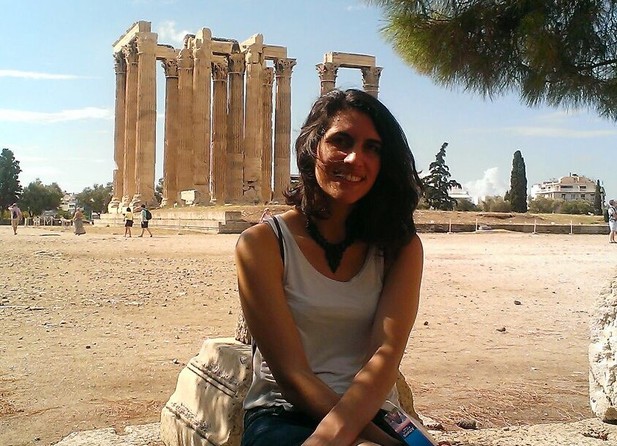 What first interested you in science?
It was only in high school that I started to realise that I liked science better than other subjects. This was partly because I had a biology teacher who was very enthusiastic – it was kind of contagious.
Why did you choose to pursue a PhD?
Most of my teachers at university were doing research, so in lectures they would talk about what they were doing in the lab and encourage us to pursue a research career. Some of them recruited students to conduct projects in their free time. I took part in one of these projects, assisting a PhD student in a neuroscience project. After this initial lab experience I realised that I really like designing experiments to answer research questions.
Why did you decide to leave research after your PhD?
It was a last minute decision. During the PhD, I only considered staying in research and my supervisor always encouraged me to do a postdoc. While I was waiting to hear back from some postdoc interviews I finally got to stop doing experiments and sit down to write my thesis. This period allowed me to find the time to reflect back on the previous years. I got a postdoc offer eventually and the project was really exciting. However, I had found the last year of my PhD very intense and didn't have the motivation to dedicate another four or five years exclusively to research. In parallel, while I was submitting my publication and finishing the thesis writing, I realised that I very much enjoy writing and reading about science. So I felt like I couldn't accept the postdoc offer.
How did you start looking for other career options?
Although I decided not to do a postdoc, I still wanted to be in touch with academia and continue to learn about the latest research. After realising that I liked science communication, I started looking for editor positions because it was something I'd been exposed to as part of publishing my research, and I always found the peer review process and how editors make decisions interesting.
How did you come across your first role (as an Assistant Editor at BioMed Central) and what was the application process like?
I started looking for entry roles as an editor in companies that I was familiar with from my PhD, because they own journals related to my area of expertise. The application to BioMed Central was just like any other standard job application initially – I applied with a CV and cover letter explaining my motivations to pursue an editorial role in that company. I was then invited for an interview, which included several tests. I had a manuscript test, where I needed to assess whether I would publish that manuscript or not based on the scope of the journal, a short copy-editing test, and a time-management test where they would assess what tasks you would prioritise in a typical working day.
Did you have much writing or editing experience before you applied for the job?
Not really, I didn't have any previous formal editorial experience. To begin with, I got some practice through applying for jobs for several months because most journals ask you to write news and views articles and complete copy-editing tests via email before inviting you for an interview. To make up for my lack of editorial experience, I also started my own blog where I would highlight research articles and write posts directed to both scientists and the general public, so that in this way I could start acquiring relevant writing and editing skills.
After starting in my first role, I learnt that being an Assistant Editor in different companies can mean very different things. For instance, The BMC-series (BioMed Central) consists of over 60 biomedical journals, and the role of Assistant Editors there is mainly focused on addressing post peer-review issues in a portfolio of journals. I decided to move to BMJ Open because I liked the idea of working in a small team and managing the whole journal between a few editors. So now I handle manuscripts from submission to publication, and contribute to other aspects of the journal – promoting content through the social media channels, writing blog posts, managing post-publication queries, conducting statistical reports on the performance of the journal, and any other editorial matters
What does a typical working day at BMJ Open involve?
It varies depending on the day, but normally in the morning I try to answer any queries from reviewers or authors, which can take a while if there are any complicated issues or disagreements regarding a manuscript. Generally, I then start assessing new submissions that we have received that day and evaluate whether they are suitable for consideration by the journal. The other main task regarding manuscript handling is making decisions on all of the manuscripts that have come back from peer review.
So is most of your time spent on manuscript assessment and decision making?
I'd say at least 70%. The rest of the time you might be writing content for the journal or reporting on how the journal is doing, things like that. We also have side projects where each Assistant Editor tries to come up with ideas to improve how the journal is functioning. These can involve anything within the journal, from improving the peer review process to engaging with the editorial board.
Which part of your job do you enjoy the most?
What I enjoy the most is the communication part, from sending emails to writing blogs. If I see a manuscript that I think is really exciting, I always try to write a blog post or tweet about it.
And what do you find most challenging?
BMJ Open is a broad scope journal, so we get manuscripts from all clinical subjects. Sometimes you're assigned manuscripts that lie outside of your field of expertise, which can be a bit daunting, but we have advisors and editorial board members who you consult if you're in doubt.
What skills did you develop during your research career that you use regularly now?
I would say that analytical skills are quite important. When I assess a manuscript to see whether I'll send it for peer review, I check whether it's in scope for the journal and look at the methods to see whether they're sound. This is because I work for a journal that does not select research based on its impact and publishes all sound research, requiring manuscripts to have a detailed, replicable methodology. Before external peer review, I also check whether the sample size is acceptable and the study design is adequate to answer the research question proposed. Being critical is important too. When writing a paper everyone tries to put their research in a way that's appealing and convincing, but you need to question the conclusions. And you also need good communication skills because you want authors and reviewers to be satisfied even if you have to reject a paper, so you have to be able to explain and justify your decisions.
Do you find the work-life balance easier now than when you were a PhD student?
Yes I do, because now I have defined working hours, while before I'd regularly need to work long hours and on weekends. So now I have more free time. But on the other hand, it's quite challenging as an Editor to have to sit for eight hours reading and concentrating, and meet tight deadlines. Even though I was working longer hours during my PhD, I could have breaks in between experiments and manage my time with regard to self-imposed deadlines.
Have you found any ways to help you concentrate in one solid block?
I guess there's coffee! Also, because I feel fresher in the morning, I try to deal with any complicated issues then, and leave easier tasks for the afternoon.
What do you do in your free time?
I like cooking a lot, and also going out to the countryside. I'm also trying to learn how to play guitar and harmonica but it's going very slowly.
What is the best piece of career advice that you've been given?
I remember when I was looking for postdoc positions I asked one of my PhD mentors for advice. He told me that if I wasn't completely enthusiastic and motivated about a position, I should think about why – and then maybe not do it! It's straightforward advice but for me it was important.
That advice can be difficult to follow though – it can feel much easier to follow a standard career path rather than thinking about what you actually want to do.
I agree. I think in academia is very easy to forget about the world of possibilities outside, and also most people you will talk to are also academics, so you usually get advised to continue research, particularly if it has gone well so far. Also in my case, I felt that I didn't want to disappoint people that expected me to be a researcher.
Finally, what advice would you give to early-career researchers who are thinking of moving into editing or publishing?
I would just say keep trying! It can be very competitive, but if you have a clear motivation that it's what you want to do I think you should go for it. I remember going to a Naturejobs Career Expo in London where I had the opportunity to talk to some editors about how they transitioned from research to publishing. I felt quite discouraged after because they said that in certain journals you would need postdoctoral experience to be an editor. Also, I didn't have editing experience at the time and English was not my first language. However I learned that in many starting positions, if you have the right research experience, journals will provide the necessary editorial training for the role. So if you keep trying, doors will open.
2016 – present: Assistant Editor, BMJ Open
2016: Assistant Editor, BioMed Central
2011 – 2015: PhD in Oncology and Cancer Biology, University College London
2010 – 2011: MSc in Neuroscience and Behavioural Biology, Universidad Pablo de Olavide
2005 – 2010: BSc in Biotechnology, Universidad Pablo de Olavide