Daniel Fabian has been a postdoc at the University of Cambridge since 2014, studying the evolution and genetics of viruses and the immune system. Susanne Franssen is a postdoc at the Wellcome Sanger Institute, Cambridge, UK (since 2016), studying population genomics of the parasite Leishmania. Their first daughter was born in 2016 during Daniel's first and Susanne's second postdoc, for which Susanne took nine months of maternity leave.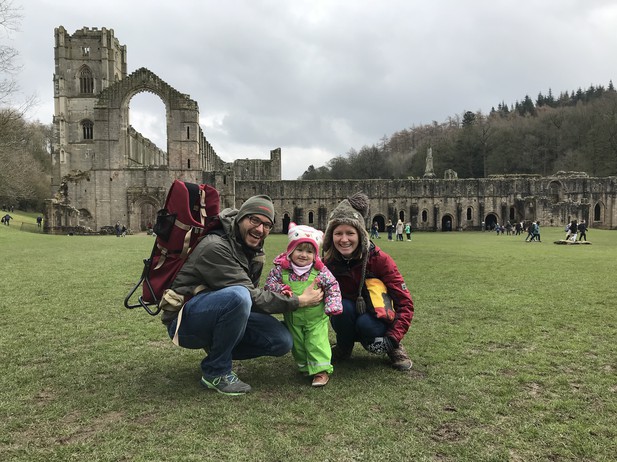 How has your life led you to become a scientist parent?
We are Susanne and Daniel and have a very cute almost 1.5-year old daughter called Clara (born November 2016). Both of us are currently working as postdocs in the field of evolutionary genetics in Cambridge, UK, and until our daughter was born, we were living the regular scientist's life as most researchers do: career-focused, working on weekends, and travelling a lot. We even had a 'five-year career plan', which now turned into a 'do the best you can' strategy. Still, this is the most rewarding time of our lives and we are very happy with how our family developed. To some degree, however, it has been a rocky road.
Susanne is from Germany, where she studied Bioinformatics in Frankfurt and did her PhD on thermal adaptation in seagrasses in Muenster, while Daniel is originally from Vienna, Austria, where he studied Biotechnology and did his PhD on the evolution of aging and life history traits in fruit flies. After finishing her PhD, Susanne started her first postdoc in population genomics in Vienna in 2012 and soon after that, we got together. As with many couples, our careers were not in sync, and Daniel moved to Cambridge for his first postdoc about 2 years later (in 2014). Thankfully, Susanne's boss at that time allowed her to work in the UK every two weeks, from autumn 2015, while she was also looking for her next postdoc position in Cambridge.
After a few unsuccessful interviews, Susanne was offered the postdoc of her choice in Cambridge, from a group at the Wellcome Sanger Institute. Early 2016, we found out that Susanne was pregnant. We were very happy about this great news; however, it was not the best time for us to have a baby. Susanne revealed the big news to her boss soon after she started, while still being in her probationary period. This was not ideal but her boss and group were exceptionally supportive and we are very grateful for this.
As Daniel's postdoc contract ran out two weeks after Clara was born, he changed his original plan of moving to another country for his second postdoc and tried to get a job in Cambridge instead. After multiple fellowship and job rejections, he was very glad to accept a temporary lectureship position, and in July 2017, he started a second postdoc in Cambridge.
After nine months of maternity leave, Susanne is also back at work. Our lives have lost some flexibility, so it is quite a relief that we are both working in computational genomics and do not have to do experiments in the lab anymore. We also stopped working until late at night, as Clara needs to be picked up from the nursery in the early evening, and we want to have time to play with our daughter before the – often tricky – endeavour of putting her to bed.
What support have you received as a parent from your country, institution, and friends and family?
We both received immense support from our families and employers. Susanne's parents immediately booked a next-day flight after they heard Clara was born, and Daniel's mother arrived about three days later. Also, our close relatives are visiting us regularly and love the new family member. Of course, with all family members living abroad, most everyday challenges have to be mastered by ourselves. Susanne's boss and the Sanger Institute in general were tremendously supportive too. During her maternity leave, Susanne received additional monetary support and the right to return to her job within one year. In addition, her contract was extended for the nine months she took for maternity leave, which is crucial for performing good research.
Susanne was even able to attend a conference in Spain while on leave, as we gratefully received funding for Daniel to join the travel to take care of Clara, who was six months at that time and mainly breastfeeding. Generally, the positive attitude towards children and the understanding of several colleagues in similar situations helped hugely. Moreover, the Sanger Institute has a deal with the onsite nursery Clara is attending, to allow tax-free payments for parents. We further received great medical care, child benefits and statutory maternity money from the state.
What for you has been the most difficult aspect of balancing parenthood and science?
After being parents for over a year now, the biggest issue so far is the endless pool of germs among the kids in the nursery (which are consequently passed onto us). Especially during colder months, Clara has been ill quite a few times and could not attend nursery, which means that either of us needs to take time off to stay at home with her (carer's leave is offered to some extent from the Sanger Institute). Having a flexible work environment that allows working from home is a great help too. We are definitely looking forward to Clara's adaptive immune system being properly primed and for summer to come.
What more could be done to improve the lives of scientist parents? And what single change would have the biggest impact on you?
We believe that long-term working contracts would definitely be a good improvement. It is very difficult to even plan to stay in the same country due to the nature of short-term contracts in academia. Reducing the nursery fees would probably make the biggest impact, though; as would working fewer hours when the children are still very young. This is, however, unaffordable, as nursery fees do not go down proportionally to the time the child spends there. Right now, we are paying about 50% of one salary per month to send Clara to the nursery five days a week. In addition to high rents, expensive groceries and average academic salaries, the financial burden is significant.
What advice would you give to other scientist parents or scientists who are thinking of having children?
It is great to have a plan that combines a scientific career with parenthood. However, if you wait for the perfect time to have a child, it may never come.
How do you think the challenges of being a scientist and a parent compare with the challenges faced by other professionals who are also parents?
We think scientists and professionals face pretty much the same challenges. The biggest difference is probably the job security. In academia, temporary contracts prevail until a late career stage, which constantly puts you under pressure to find the next position and to be able to pay the bills. Most non-scientists we know do not have to deal with this sort of stress. On the other hand, scientists usually have the advantage of having flexible working times and locations.
As parents working in evolutionary genetics, we found it very exciting to learn more about pregnancy and child development. Having a baby teaches you new skills and allows you to see life from a different perspective. It is fascinating to experience how a human being develops from 'out of nothing' into a strong character who learns new things on a daily basis. For us, the great miracle of life became even more astonishing.