Marta Garrido leads the Computational Cognitive Neuroscience Laboratory at the Queensland Brain Institute in Australia. She got her PhD in neuroscience at University College London (UCL) in 2008, before doing postdocs at the University of California, Los Angeles (2008-2009) and UCL (2009-2012). Marta's first child was born in 2014 when she was a semi-independent early career fellow at the University of Queensland. Her second child was born in 2017, when she was in her current role.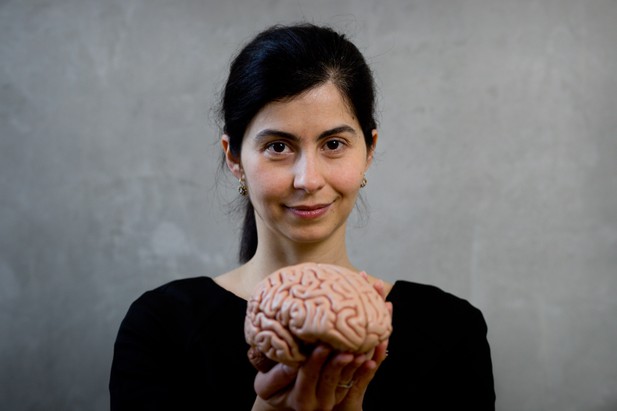 How has your life led you to becoming a scientist and a parent?
Both my father and brother trained as electrical engineers, so no surprises my first love was mathematics, and my second was physics. But I didn't really know what I wanted to do for a job, other than teaching. I loved learning, so I kept studying. As a physics undergraduate in Lisbon, I was inspired by Professor Eduardo Ducla-Soares who introduced me to non-invasive human neuroimaging. I fell in love with the brain – which other physical system could ever be more fascinating?! More than fifteen years have gone by and I'm still in love with the brain.
I decided to do a PhD in neuroscience at University College London with Professor Karl Friston, the most inspiring, generous, and humorous scientist I have ever met. I couldn't think of a more exciting place to live and work than London. Then, I fell in love once more, this time with my husband to be, an Australian born bioinformatician and mathematician. We amuse ourselves talking about statistics over dinner! Might not sound like too much fun (nor romantic) for most people but academics are slightly left field. Hopefully our children will turn out ok.
After a short stint doing postdocs at the University of California, Los Angeles and again in London we decided to move to The University of Queensland, in Australia. By then I had been awarded a semi-independent early career fellowship while still attached to a bigger lab. This is when we decided to have our first child.
Life after a child is transformed – we call it BC and AC, before and after child. Our second son came nearly three years later. By then I was leading my own lab. As a research fellow on parental leave, if I was not working, the work was on hold, but I was mostly only holding myself up. As a group leader, this was quite different. On the one hand, I was lucky to have a great team who moved the work along in my absence. On the other hand, I had lots more responsibilities that could not be completely delegated. Also, my team needed and expected guidance and feedback and I definitely felt the pressure of holding them up. This meant that I worked even more (and indulged less on motherhood) during my second parental leave then during my first.
What support have you received as a parent from your country, institution, and friends and family?
I was lucky to receive six months of fully paid parental leave for each child from my institution, which my husband and I were able to share since we work at the same place. (An incentive to share parental leave between parents might perhaps be the single most important factor in addressing gender disparity – but that's another story for another time). Also, the state of Queensland had a great scheme for academic carers, which provided grants for employing a research assistant to continue the work while the academic was on parental leave, and/or provide extra help in those hectic months after returning back to work while caring for a small child. In addition, there were travel grants for childcare support while the academic was at a conference away from home. I was very lucky to benefit from both funding schemes.
What for you has been the most difficult aspect of balancing parenthood and science?
Travelling has definitely been the hardest aspect of being a scientist parent. Living in Australia makes it that much harder to attend any international meetings. The academic carer grant schemes I mentioned before are definitely a big help, but it's nevertheless exhausting to travel to a conference with kids in tow. It's hard to juggle the demands of parenthood whilst networking over drinks and dinner.
What more could be done to improve the lives of scientist parents?
Childcare on campus, and more spots please! Our first son was booked in six months before being born and we were only given a full-time spot nearly two years later. I know of a couple who booked in their child way before the baby was even conceived! That's how competitive it gets. Again, academic carer grant schemes for parental leave cover and travel are another great help. Making this part of the budget at the departmental level would be easy to implement and probably not even that much of a big spend in the scheme of things.
What advice would you give to other scientist parents, or scientists who are thinking of having children?
"It takes a village to raise a child" – get help! If help from family and friends is not an option, then pay for help. Simplify. You don't need to be perfect every single day. Sleep deprivation is a form of torture – go to bed early, for delightful little monsters will be waking you up through the night and certainly by dawn. You and your partner are a team – work as one.
How do you think the challenges of being a scientist and a parent compare with the challenges faced by other professionals who are also parents?
I don't think it's too different to being a parent while running your own business or when what you do is so deeply engrained in your identity. The flexibility is a double-edged sword – you can make up time while the kids sleep (odds are my two kids won't nap simultaneously though!) but it's harder to really switch off. Just as well I love what I do (bar the admin and finance bits).
Is there anything else you'd like to tell us?
I was once told to wait for tenure before having a child – bad idea. Chasing tenure BC is definitely a good idea, but waiting for it isn't. It could just be too late. I could happily live with the idea of being a non-tenured scientist all my life, but having children is the greatest thing I will ever have done.