ComSciCon (short for Communicating Science Conference) consists of a yearly flagship workshop and a series of franchise events that teach communication skills to graduate students in all fields of science across the US. Rose Hendricks and Pinar Gurel explain the aims and goals of the project.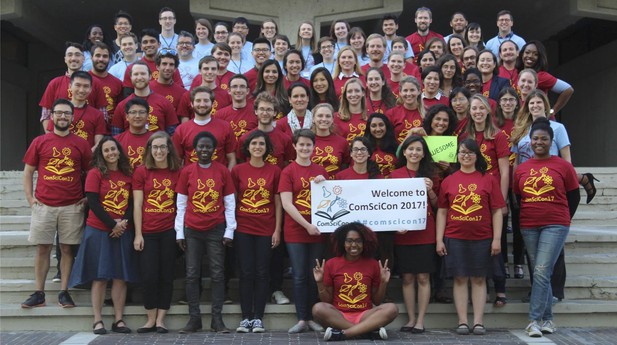 How is ComSciCon helping researchers to communicate their work to diverse audiences?
We aim to provide attendees with a range of viewpoints and advice on communicating to diverse audiences as well as hands-on experience to actually put ideas into practice. Almost every workshop includes a panel discussion that focuses on increasing diversity and inclusivity in science and science communication. In addition, we include workshop elements that require attendees to reflect on and practice techniques for communicating to different audiences. For example, participants might share their work with school teachers and collaborate on lesson plans; they might take part in mock interviews with a reporter in which they have to talk about their work for a public audience; or they might give a one-minute pop talk that describes their research topic to scientists in a wide range of fields.
What is ComSciCon's biggest achievement so far?
We are incredibly proud that we offer our programs free of charge to graduate students, providing full travel support to every graduate student accepted to our national workshop. By making participation in ComSciCon entirely free, we've been able to make our workshops as accessible as possible, working toward our long-term goal of greater diversity and inclusivity in science and science communication. We owe this achievement to the universities, professional societies, publishers, and other organizations that have generously supported us since the beginning.
What has been your biggest challenge?
A key challenge has been to keep pace with the topics and experiences that will be most interesting and beneficial to graduate students. We constantly change the elements of our workshops, making sure to integrate evolving and emerging areas of interest like science storytelling, new media like virtual reality, and more. We're able to adapt thanks to the dozens of graduate students who make up our organizing committees and bring diverse expertise in science and communication.
Like many young non-profits, another key challenge has been to raise funds. We wouldn't say we've totally overcome this challenge, but we've made great strides in ensuring long-term sustainability with the help of a coalition of diverse and generous sponsors committed to empowering early-career scientists by building their science communication skills.
What is your favourite piece of science communication advice?
It does not come as a surprise to most of our attendees, but we think it's fundamental to remember *why* it is important to consider how to communicate science. Scientists are, very appropriately, trained to focus on the content of their work and do the most rigorous research possible. But if a scientist cannot convince their colleagues that their work is reliable, that their findings are well supported, and that the implications of their work are important and meaningful to their audience, then the work has no impact at all. The same is true when communicating to students, decision makers, or the general public. Your success at communication is absolutely integral to the overall success of your work.
Why should we encourage early-career researchers to communicate their work widely?
Graduate students tend to make tremendous science communicators because they still remember what it was like to not know about many scientific ideas, and can therefore explain them in accessible and relatable ways. In addition, graduate students make up a substantial majority of all practicing research scientists in academia, and many of them will remain engaged in research (whether at universities or otherwise) and science communicators. By cultivating skills for communicating science early on, scientists are better equipped to engage in impactful communication throughout their careers – no matter what form those careers take.
How can readers learn more and support ComSciCon?
There are lots of ways to get involved! Please check out our website (comscicon.com), and follow us on Twitter (@ComSciCon). If you'd like to support ComSciCon, you can personally donate or reach out to us (info@comscicon.org) about sponsorship opportunities.