In 2019, the graduate school of Weill Cornell Medicine in New York were awarded the Initiative for Maximizing Student Development (IMSD) grant by the National Institute of Health. This initiative aims to increase the number of students from underrepresented backgrounds who complete their PhDs and remain in biomedical research. Here, we talk to Dr. Marcus Lambert, the Assistant Dean of Diversity at the graduate school, about the IMSD program and how Weill Cornell responded to the recent Black Lives Matter protests.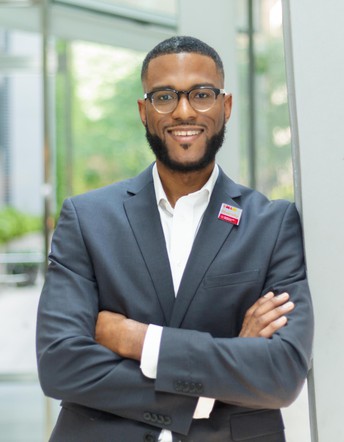 Where did the idea for the IMSD program come from?
The idea really came from observing the challenges that students who come from underrepresented groups in the United States face while completing their doctoral training. At Weill Cornell Graduate School, we conducted a self-assessment and found that most students, regardless of their background, completed their PhDs but not all students felt empowered to pursue a career in academia. We suspected this was in part due to the lack of role models and mentors from underrepresented groups, and that these students would benefit from the development of a stronger academic network and community. The aim of the IMSD program – which provides funding, mentorship and a strong community for four incoming students each year – is to ensure that students don't 'slip through the cracks', and instead complete their PhDs feeling like they can be a leader in biomedical research. If we intend to move the needle on diversity, we can't afford to lose any students from underrepresented groups.
How do you think the IMSD program compares to other initiatives at graduate schools in the United States?
In my opinion, a lot of graduate schools focus more on recruitment and diversifying the student body. And that's very important, but we can't lose sight of what happens when students and trainees actually arrive in graduate school, which is something we wanted to emphasize with the IMSD program. For example, we have an early start program where students on the IMSD program can enroll over the summer to do an eight-week intensive rotation, coupled with bi-weekly community-building and professional development activities. This gives them a chance to meet faculty, and to get adjusted to New York and life as a graduate student before the semester starts. Once the academic year begins, we focus a lot on mentorship and one-on-one advisement. In years three and four there is more emphasis on career development, and we match each student with a mentor in a career path they are interested in.
Why is mentorship so important, particularly for students from underrepresented backgrounds?
Mentorship is important for everyone. I think sometimes underrepresented students are viewed as needing more support because they may be lacking skills or be less prepared for academia. But these students bring a lot to science, are extremely talented and are destined to be successful with or without fellowships like the IMSD. We simply put in measures to ensure they reach their full potential, and mentorship is a big part of that. There's a common belief that your research advisor, or PI, is your only mentor: we wanted to show students that navigating graduate school really requires mentorship from a team of people, such as their peers and academic staff in addition to their PI. So far, we've found this team mentorship approach really works and allows us to catch a lot of issues early on, especially in the first year.
In your experience, what have academic institutes got right and wrong when tackling diversity and inclusion?
Most academic institutions value diversity and inclusion, and know it's important, but I still see scenarios where it seems to compete with excellence. I think we'll never truly achieve our greatest potential until we use diversity and inclusion to our advantage, and integrate it into the fabric of our curriculum, departments and academic structures.
Where do you think this perceived competition between diversity and excellence comes from?
For me, a prime example is this notion that, by encouraging the recruitment of individuals from underrepresented groups, we are taking away seats from other 'more talented' individuals. In reality, every person brings their own experience and viewpoints that can challenge the perspectives of a community, whether it's the student body or faculty. I hope we reach a point where we no longer need incentives for encouraging diversity, and instead, people truly believe that having a diverse range of voices and opinions is what brings excellence and innovation to the academic space.
How have conversations about diversity and inclusion in academia changed since the Black Lives Matter movement has risen to mainstream prominence?
Racial equity has always been part of the conversation, but you certainly didn't hear the terms institutional or structural racism as often. I think the Black Lives Matter protests and Twitter hashtags, such as #BlackInTheIvory, have been quite eye-opening for a lot of academics. For the first time, a lot of them are realizing the challenges some of their non-white colleagues are facing. Before, I think it was easy to say, "oh that happens on that campus, but not here, not in my lab". I think a lot of people are now noticing that this might actually be happening within their department, and acknowledging we have to do more to break down some of these barriers.
Do you think this will lead to long-term changes?
I don't think what this has sparked is going to go away. I'm seeing a number of global and national affinity groups emerging such as #BlackInNeuro and #BlackInGenetics, which definitely didn't exist when I was doing my training. I think they are helping to establish the longevity of this movement, and hold institutions accountable. As a result, I think leaders in academia will be paying closer attention to how diversity and inclusion is integrated into their programs, particularly anti-racism and anti-bias efforts.
How did you feel when you saw academic institutes releasing statements in response to the death of George Floyd and the Black Lives Matter protests?
Just speaking as an individual who happens to identify as Black – I think oftentimes when you see these sorts of statements, it's easy to see which institutions are not afraid to stand in solidarity and the ones which are just reacting in response to their students and staff. I know these statements are comforting for a lot of people but I think the leaders who really care, who were already pushing these issues before these events, will remain advocates after the news articles die down. The Dean of Weill Cornell Medicine, for example, Dr. Augustine Choi, has been a champion and outspoken supporter of programs that promote diversity and inclusion for many years. It's not just a moment in time for those leaders, and that's what I really appreciate.
And what plan of action did you and others working in the Office of Student Diversity at Weill Cornell decide to take?
The first thing we did was talk to our community – our students, our postdocs, our faculty and staff – to really understand and listen to their challenges. Then, like many institutions, we established a task force that focuses on social justice and anti-racism. To ensure that the task force remains a voice of the community, it includes student and faculty representatives from each of our graduate programs, as well as staff. We were already doing work in this area, but we now have the support and infrastructure to really change the culture and ensure we are living up to our policy of zero tolerance.
As the Assistant Dean of Diversity, what other initiatives are you involved with?
I direct a summer undergraduate program that gives college students the chance to do research on our campus. I also teach a course that explores the sociological literature surrounding inequities within the scientific workforce. One of the more challenging things I'm working on is helping to develop and enhance measures to support students who experience mistreatment, bias or harassment.
Prior to the events this summer, the graduate school proposed a committee made up of students and faculty to investigate and review these types of incidents. We don't want our committee to be seen as a sort of punitive measure, so we focus a lot on education and talking to both sides to help things come to a resolution. However, as you can imagine, some of the issues reported are not always clear-cut. And that's OK, but it's important that we track these incidences, taking note of any patterns of behavior where stronger action are needed. As institutions, I believe we are charged with upholding a positive and safe learning environment, and it's important we set standards for what is and isn't acceptable.
In your opinion, how can white researchers be better allies to Black and other minority students and colleagues?
If we really want to be true allies, beyond a form of showmanship or performative allyship, we have to understand our colleagues on more than a superficial level. Sometimes that means getting to know people outside the typical lab environment and learning to appreciate their perspective. I think building these connections is what really shapes the culture of academia. Being able to empathize across our differences is such an important step in achieving the level of equity we are striving for.
Marcus Lambert was interviewed by Julia Deathridge, Associate Features Editor, eLife.