FM is a biostatistician at the French Centre of International Cooperation in Agricultural Research for Development (Cirad), researching animal epidemiology, health risks and ecosystems. His twins were born in Spain in 2012 – the day of his PhD thesis submission. Following their birth, FM worked as a postdoc at the National Institute of Agricultural Research (INRA) Orléans, France, from 2013 to 2017.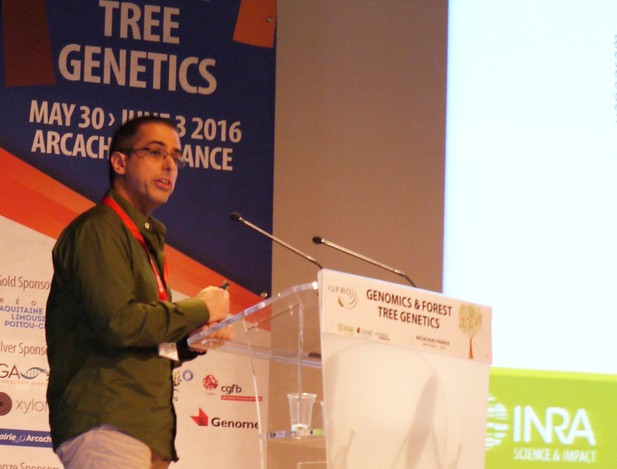 How has your life led you to become a scientist parent?
My wife and I had been living together for over 10 years, studying and working part-time, and living a modest life as a young couple without children. We left Uruguay, our birth country, in the middle of a catastrophic economic crisis to start a new adventure in Spain. After we've hit our 30s, we realised that we were probably never going to be 'established' and 'prepared' enough to become parents. But about a year later, we received the striking news that we would have twins, without known precedents in the family.
My twin girls were born the day I submitted my PhD dissertation in Statistics at the University of Valencia, Spain in 2012. This was lucky, as for the following few months, I was reduced to the shadow of someone who barely slept. I managed to prepare a decent thesis defense, got my PhD, and a few months later, secured a postdoc position in France. We moved to Orléans when the girls were just one year old.
It still took several months before we were able to enjoy our first straight night of sleep. But a year later, we were getting on much better and started to consider having another baby. At first, I was scared we would mess things up, just when we were about to see the light. But my wife wanted to experience having just one new-born at a time.
As is most often the case, she convinced me. I recognised that fear is not a good decision-making approach and that raising another human being was worth some personal and work sacrifices. Ultimately, it was the best thing I've achieved in my life. I also started to realise that I was probably never going to make that revolutionary scientific discovery of my childish fantasies. So, in comparison, a new life seemed a much more cost-effective contribution to the world.
We had a (single) boy. Fortunately, none of my fears materialised, and we are delighted with our large family. However, my contract came to an end, and despite my efforts, I was not able to get another position in research straight away. I had to face the possibility of unemployment or the need to leave academia. It was a difficult and stressful period, for which I blame – in part – my lack of 'competitiveness' in research.
But things did work out after all, and I got a permanent position in scientific research in 2017 at the French Centre of International Cooperation in Agricultural Research for Development, for which I'm really grateful. I only aspire to make modest but valuable contributions in my field and my working environment, while keeping a strong presence at home with those who need me most.
What support have you received as a parent from your country, institution, and friends and family?
The girls were born in Spain, which has an excellent health care system that covers everything with minimal bureaucracy involved, but the financial child support is weak. In France, however, the state-funded allowances for families with children are substantial, so that is possible to live on a single salary or with reduced working times.
The parental leaves, on the other hand, are ridiculous in either case. Especially with twins. Fathers only get a few days, but I was lucky enough to have worked under bosses who let me take the time I needed. It was not an institutional support though. We had little family close by, but our mothers came and helped for some periods. And we were also very lucky with our friends in Spain. Particularly two of them, who worked shifts at home to help us with the twins for several months. They are certainly part of the family now, and we will be eternally grateful to them.
What has been the most difficult aspect of balancing parenthood and science?
To keep meeting the expected standards of productivity. Science is very competitive, and there are lots of smart people out there who breathe and live for science – people in their 30s and 40s, who have travelled around the world, worked in several labs and have loads of papers published.
It is very difficult to be 'competitive' while trying to keep – what I consider – a healthy family life: spending time with the children, taking them to school, participating in their activities and sharing the house-related tasks equally with my wife. I always feel pressured to work at home or at least think about work, when I really should be with my family, physically and mentally. I also select carefully which conferences I attend, to minimise the burden on my wife.
What more could be done to improve the lives of scientist parents? And what single change would have the biggest impact on you?
I think we need to change the work-life balance in academia. We should stop seeing productivity as the ultimate goal that is worth sacrificing other aspects for – which are also important for our collective health as a society. For this to happen, we need actions from the institutions and governments. This includes to stop measuring a researcher's worth by the number of publications, impact factors etc.
Because, ultimately, this is linked to how science is funded. Is it really in the best interest of our society to have a few 'dream-teams' of super-productive, high-impact researchers, together with loads of 'regular' scientists striving to find a job, applying for research grants one after another without success? Wouldn't it be better to have fewer Nobel Prizes but a larger diversity and quantity of research groups with moderate but sufficient funding, more rooted in our local communities, who spend more time doing dissemination?
What advice would you give to other scientist parents or scientists who are thinking of having children?
Just keep in mind what your priorities are in life and act accordingly.
How do you think the challenges of being a scientist and a parent compare with the challenges faced by other professionals who are also parents?
I think academia is a particularly competitive job market and mobility is seen as an asset. These two things make it harder to balance family and work. But, it is, of course, the most fascinating activity in the world.
I think that competitiveness in the Anglo-Saxon countries is stronger than in the 'Latin' ones. I often hear opinions about how the system of permanent positions in southern countries turn people comfortable and lazy. I don't think I would have had the same flexibility I enjoyed in Spain and France. Maybe I would not even have 'survived' in such a system. Which saddens me, because while I don't aspire to belong to the top tier of researchers, I still believe that I am able to make some significant contributions that can help many people.
I also noticed that southern countries seem to follow suit with the Anglo-Saxon model of fewer permanent or stable positions and more competition. On the positive side, I'm glad to see that some conference organisers have started to make provisions for child care, which means that the 'cultural change' that we are in desperate need of is heading towards the right direction.