The Inclusion Group for Equity in Research in STEMM, also known as the TIGERS, was set up in 2019 to campaign for greater equality, diversity, inclusion and accessibility in scientific research in the UK. It has already persuaded the Science and Technology Select Committee in UK parliament to launch an investigation (as part of #MyScienceInquiry) into the impact science funding policies have on these issues. Here, TIGERS member Izzy Jayasinghe, a Senior Research Fellow and Principal Investigator at the University of Sheffield, talks about her experiences of being a trans woman of colour in science and how the TIGERS are working towards building a fairer funding system.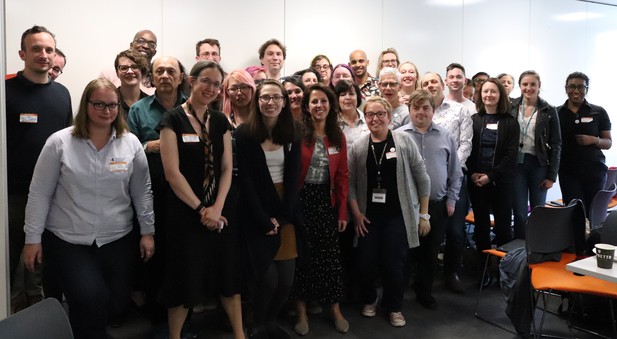 What motivated you to get involved with the TIGERS?
From listening to researchers talk candidly about their struggles, I realised that the way funding is allocated is affecting all of us and that I am also part of this system. I used to think (quite wrongly!) that advocating for equality, diversity, inclusion and accessibility as an academic would compromise your reputation within your research field. In lots of the institutes I have worked in, championing diversity and inclusion was often seen as a distraction, and many of my colleagues' contributions in this area continue to go entirely unrecognised. But the TIGERS completely changed my impression. Each and every TIGERS member is highly respected within their research disciplines and professional roles. They are all incredibly inspiring and just good human beings with strong values, like mutual respect, kindness, collegiality and fairness.
What impact do you hope the TIGERS can make to the academic community?
In an ideal world, we hope our work with the select committee and the inquiry leads to a fairer and more transparent funding system – not just how funding is allocated but also how it is reviewed and scored. The accessibility of the application process also needs to be improved. In the longer term we want to push for a culture that is more open, diverse and modern, that gives people a different view of what it means to be an academic in the 21st century.
Since #MyScienceInquiry, UK Research and Innovation (the body that oversees research funding in the UK) has released a summary report of how funding was allocated between 2014 and 2019. What were your initial thoughts when you saw this data?
It confirmed some of the inequities myself and other colleagues had seen over the years, but the numbers were more striking than we imagined. The difference in success rate between ethnic minority and white applicants was stark – on average white applicants were almost 59% more likely to receive a grant for a PI position compared to ethnic minorities and were awarded over £100,000 more in funding.
We also found that there was a lot of information missing from the report – there was no mention of the barriers women and other underrepresented groups face in the stages leading up to submitting an application. There was also no data on LGBTQI+ people or individuals who come from lower socioeconomic backgrounds because this data is not being collected at present, so there is no way to know how these groups fare in the funding system. The report is a great starting point, but more needs to be done.
Why do you think an inquiry like this has not been done before?
Like with any self-sustaining system, there is a lack of motivation to review a system that benefits a certain group of individuals. And although there's plenty of anecdotal evidence out there, without any concrete data it's difficult to push for an inquiry. What made this inquiry different was that Professor Rachel Oliver (from Cambridge University and founding leader of the TIGERS) was able to access data on government funding which had been requested by Professor Michaela Kendall (Aston University) using the Freedom of Information Act. This data showed some really striking statistics that Professor Rachel Oliver and colleagues were then able to present to the Science and Technology Committee to persuade them to initiate an inquiry.
What steps need to be taken to keep the inquiry moving forwards?
The general election last year created an unexpected hurdle, as all the inquiries were closed when parliament dissolved. We've written to the Science and Technology Committee, asking them to re-open the inquiry. In the meantime, we are trying to be a voice for individuals who have been marginalised in STEMM, especially those who find themselves at the intersection of multiple underrepresented groups, such as LGBTQI+ people of colour.
Do you think communicating directly with policymakers is the best way to promote cultural changes in academia?
Working with policymakers, like we did with #MyScienceInquiry, is definitely one approach, but I don't think it's enough. The inquiry will definitely review the problems, but then there has to be more education at the grassroots level: individual institutions, every line manager managing a researcher or an academic, postdoc, and graduate student needs to be educated in the value of equity. You can't change how funding is allocated and then just expect everyone to perform equally – the working environment of academics has to change as well. We hope that some of the other projects the TIGERS are running will contribute towards this culture change.
In addition to the inquiry, what other initiatives are the TIGERS working on?
We have started publishing documents outlining the barriers that women, LGBTQI+ and disabled researchers face during the funding process. We also try and raise awareness of issues around equality, diversity, inclusion and accessibility via our Twitter account, and actively engage with newspapers and media organizations that are disseminating misinformation. For example, last year The Sunday Times published a series of articles from a small group of academics who said that addressing trans people by their chosen pronoun was a threat to academic freedom. Myself and three others wrote a letter through TIGER in STEMM – which had 1,200 signatures – stating that this is simply not the case, it absolutely does not impact our academic freedom and that trans, non-binary and gender diverse people always have a place in STEMM.
During the course of your academic career how do you think attitudes towards diversity and inclusion have changed?
During the 15 years I have been in academia, attitudes towards women have definitely improved and I've seen an increase in the visibility of LGBTQI+ researchers. When I was a PhD student I saw a lot of things that would be a no-no these days. But I think this kind of behaviour is slowly being pushed out and people are more aware of each other's boundaries, rights and wellbeing. Faculties are becoming increasingly diverse, we just need to make sure that this diversity doesn't get filtered out as people move up the career ladder.
How have these attitudes impacted your own journey of being a trans woman in STEMM?
I initially came out in Auckland to two of my PhD friends, but ended up going back into the closet when I moved to Australia to do a postdoc, as I found the environment was not particularly friendly towards LGBTQI+ people. It took me many more years to really be out and confront my fears – I've seen some really appalling behaviours over the years which reinforced my decision to stay in the closet. I decided to transition gender when I came to Leeds for my previous position as a University Lecturer, and that was inspired largely by meeting and reading about other trans people in academia. This sort of tipped the scale for me, as before I thought I had to choose between my career and being myself.
What has the response from the academic community been like?
There's the normal day-to-day awkwardness you have to deal with, such as pronouns, being called your previous name – those kinds of things. But my colleagues have been great for the most part: when I decided to transition, I wrote an email telling them I was transitioning, and that I was happy to clarify anything they might not understand, or part ways if it was too awkward for them. Every single one of them replied saying 'good luck, see you on the other side.' My head of department has also been really understanding and supportive. Overall, the response has been positive and I feel very lucky.
How has transitioning impacted your academic career?
I thought I was going to have to go through this alone, get used to my new life and continue my job as before. But to my surprise, when I started speaking at conferences, particularly LGBTQI+ meetings, I found myself being invited to give more talks. Initially I didn't understand why, but now realise that even though it's 2020, being a trans woman of colour in academia is still a very rare thing and people want to learn from my experiences. Having my visibility inspire others has been a really positive journey, and actually impacted my own research and help me build collaborations.
What do you think about the way institutions currently try to encourage diversity and inclusion?
Most universities are starting to roll out unconscious bias training or become involved in initiatives like Athena SWAN, which gives awards to higher education institutes that are committed to addressing gender equality. However, I think the problem with a lot of these schemes is that they are based on a penalty system – if an institute has a poor Athena SWAN score this can impact their funding or reputation. This creates a culture of feeling obliged rather than wanting to actively tackle issues around diversity and inclusion.
How could universities and institutes improve their approach to diversity and inclusion?
There will never be a solution that everyone agrees with – some people like quotas, others prefer a penalty system. Overall, I think universities need to take more of a bottom-up approach and consult more with minority groups. If they listen, there's a lot that can be learned, but unfortunately this type of information rarely travels up the system. There's still a culture of victim-blaming, and history of silencing students or staff members who wish to report harassment. I know people whose careers have been destroyed by calling out bad behaviour. We really need to get to a place where everyone can speak their truth and this means we need more women, people of colour, people with disabilities, and LGBTQI+ people in leadership roles. But this a slow process, and if we want to see a change in our lifetime, we need to start pushing for it now.
Website: https://www.tigerinstemm.org/home
Twitter: @tigersinstemm