Douglas Garrett is the Leader of the Lifespan Neural Dynamics Group at the Max Planck UCL Centre for Computational Psychiatry and Ageing Research, Max-Planck Institute for Human Development, Berlin, Germany, where he is studying the cognitive neuroscience of aging. His twins were born in 2016 in Berlin for which he took six months parental leave.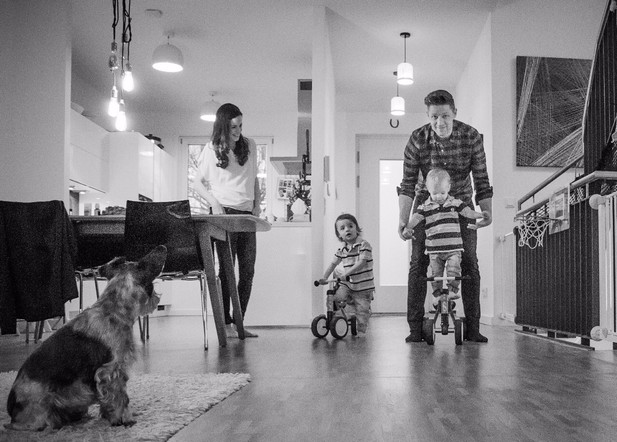 How has your life led you to become a scientist parent?
I was born into a large family with dozens of aunts and uncles and about 200 cousins. I went to high school in a small town of 8,000 inhabitants (Lacombe, Alberta, Canada) and was one of the few who went to college – almost every man in my family worked in the oilfield or in farming. I generally disliked science in high school and was more interested in becoming a professional athlete instead. After high school was over and reality struck that a career in athletics was not in the cards, I went to work in the oilfield in remote parts of western Canada. I quickly noticed that the divorce and addiction rates of workers in this profession were shockingly high, which inspired me to try to better understand the neural basis for why people behave as they do.
I thus quit the oilfield and proceeded to do my undergraduate degree in neuropsychology at the University of Victoria, Canada. I also spent three years doing research in a dual diagnosis unit (mental health and addiction) and on longitudinal aging. My interest in neuroscience expanded during this time, and I proceeded to do a PhD at the Rotman Research Institute, University of Toronto (under Dr Cheryl Grady) to study how the pervasive age-related loss of variability in brain signals affects cognition in older adults. In November 2011, I started a postdoc under the Max Planck UCL Initiative for Computational Psychiatry and Ageing Research in Berlin, Germany, where I also became a senior scientist two years later. In 2014, I started the Lifespan Neural Dynamics Group within the newly founded Max Planck UCL Centre for Computational Psychiatry and Ageing Research in Berlin (see www.douglasdgarrett.com).
My foray into fatherhood began in July 2016 with the birth of my non-identical twin boys, Parker and Oliver. Although having twins is always extraordinary, there are two sets of non-identical twins on my mother's side, so perhaps not completely surprising!
What support have you received as a parent from your country, institution, and friends and family?
My wife and I have been incredibly thankful for the level of social support from the German government and from the MPI for Human Development in Berlin. All parent couples receive up to 14 months of parental leave combined (usually with 2.5 months full pay and up to 67% of net pay for the remaining months). There are also additional fixed monthly child benefits for each child until they reach 25 years of age (as long as the child is in educational or vocational training). My wife's job was legally protected for up to three years, and when she chose to return to work, she was offered the option of a reduced-time position if needed. I took a full six months of parental leave, which would not have been possible in my native Canada. The Managing Director of the MPI for Human Development (MPIB), Prof Dr Ulman Lindenberger, was completely flexible with the timing of my leave, which was a blessing since our twins were born six weeks early. I can't imagine how difficult it would have been to handle the unexpected early birth of our boys in a country that lacks such parental supports.
A key source of support is the Kindergarten ("Kita") system in Germany, which is available to all children in Germany. Most of the associated costs are covered by the government after the child's first birthday, so parents can return to work without the heavy financial burden of childcare. Our boys love the Kita. They are nurtured as individuals, have plenty of opportunities to engage with other children in large outdoor playgrounds, and even eat organic food for lunch! The MPIB also provides monthly childcare subsidies for early-career researchers (PhD students and postdocs) and ongoing flexibility with working hours; it is a leader in supporting both mothers and fathers to take parental leave.
Such forward-thinking, inclusive, and comprehensive family support gave us time to learn and grow as parents and as a family, and also greatly offset the fact that we have no family in Europe. Our parents thankfully came to Berlin at certain periods to help when they could, but this was limited overall. Some wonderful Berlin friends sent along food from time to time, and a close family friend regularly walked our miniature Schnauzer Baley nearly every day. Every little bit helped.
What for you has been the most difficult aspect of balancing parenthood and science?
When my boys were born, the science or baby-related to-do list seemed endless, and science took a necessary backseat while we tried to stabilize the boys' weight and health in the first weeks after birth. When I returned to work full-time, the boys were still not sleeping well at night – we got about three hours of sleep per night over the first year. Thus, the most difficult aspect has been trying to do good science when one is not at their best. Coffee has definitely become the close friend I never needed in previous years.
What more could be done to improve the lives of scientist parents? And what single change would have the biggest impact on you?
It is baffling why other developed and financially stable countries don't model their family support programs after nations that put a hefty premium on them, such as Germany or Sweden. Removing daily financial stresses and allowing fathers to also take paid leave was absolutely key for my family. I can't imagine how difficult it would have been for my wife to deal with premature twins on her own from the beginning. In addition, the childcare system allowed my wife to return to her job in management and to continue growing her career. If I had to suggest a single change that may apply to other scientists, it would be that teaching and committee relief be given for the first two years of being a parent. This would help scientists to be more flexible while they navigate the beauty and steep learning curve of parenthood.
What advice would you give to other scientist parents or scientists who are thinking of having children?
If at all possible, especially for those without immediate family nearby, hire a nanny or a childminder to help offset the time you need for work – knowing you have a constant source of support makes everything so much easier. It's also important to take regular breaks to remain healthy and happy. Even an hour or two (of help) per day can make the difference between sanity and chaos, especially if you aren't sleeping well.
How do you think the advantages and challenges of being a scientist and a parent compare with the ones faced by other professionals who are also parents?
The obvious advantage of being a scientist is flexibility. Although demands are always heavy overall, various aspects of modern science can be done from any location and time of day. I have written countless emails and comments on manuscripts between 2:00 and 6:00am while feeding the boys. A rigid 9–5 job would make caring for new babies a much more difficult challenge.
Having children has been the single most remarkable, joyful, and challenging experience of my life. With the right supports in place, scientist parenthood can be a wonderful thing.