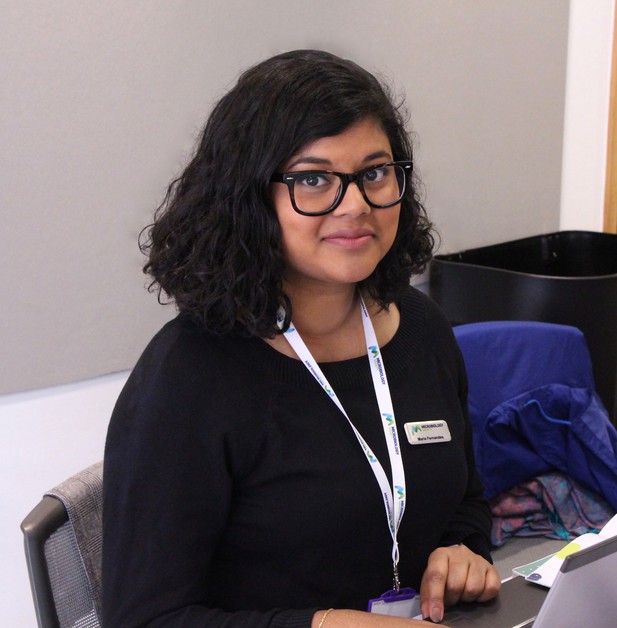 Did science fascinate you from a young age?
I've always been fascinated by how things work. My dad is an auto electrician and I was always in his workshop trying to make things. I also remember going to an open day at Royal Holloway with my mum when I was in primary school – the first time I saw a real lab.
Why did you choose to pursue a PhD?
I wasn't done learning but I didn't feel quite ready to go straight into a PhD, so I chose an MRes-PhD programme, which allowed me to learn more about different areas of biomedicine too. My project involved looking at the effects of blocking a particular receptor involved in pain sensing – TRPV1 – on core body temperature.
What was the highlight of your PhD?
Finishing it! Not enough is said about how the PhD is a real test of stamina. I enjoyed the research, working with my colleagues and presenting my data at conferences; but it was a very testing time personally and professionally. Nothing beats the feeling of accomplishment that comes after passing the viva, and it can take a long time for the significance to sink in.
During your PhD, you helped to coordinate a range of public engagement activities and to set up the KCL Pharmacology Society. What motivated you to get involved?
I like being busy, and I like meeting people. I co-founded the KCL Pharmacology Society with a then-undergraduate I met at a British Pharmacological Society conference because I thought there's so much to be gained from building a community around our shared interest in pharmacology. I also liked the idea of postgrads and undergrads getting together to help each other out.
Was it easy juggling those responsibilities with your research?
It was quite difficult! I definitely learned how to manage my time efficiently. Luckily I had an understanding supervisor, and no need for experiments with long time courses, so I managed to make it work – because I had to.
You started work as a Grants and Membership Officer at the Microbiology Society (then known as the Society for General Microbiology) in 2014. How did you hear about the job?
I found it late at night after months of looking for the right job. I was browsing the Royal Society of Biology Jobs board, and I was specifically looking for public engagement positions at learned societies or health charities. I hadn't even considered a grants job before but I thought 'why not?'
What were your main responsibilities in that role?
The majority of my week was spent managing the Society's grants programmes, as there are many different funds to contribute to the professional development of members. I also helped to look after Society Champions – special members who act to raise the profile of the Society in their local areas. Finally, I was responsible for the Society's careers provision for people aged 18 and over.
What are your current responsibilities as Professional Development Manager?
I lead on our professional development programme, which is in its pilot year. I still look after grants, and now also the Society's Early Career Microbiologists' Forum. We've started producing 'how to' guides on topics such as how to present a poster, and we've been looking at the training we can offer our members to support their professional development. I also spend a lot of time collaborating with other teams, such as our conferences team, to improve the professional development opportunities we already offer – like poster sessions at meetings.
What skills did you develop during your research career that you use regularly now?
Learning how to talk to different people – from children to professors and many in between. My vivas taught me a lot about how to think on my feet. Going to conferences also helped teach me how to network – it's a very important skill when so much work is dependent on collaboration. Finally, managing Pint of Science events taught me a lot about budgeting, marketing and how to make sure events run smoothly.
To give us a better idea of your working day, please tell us what you did yesterday.
I usually start the day with an hour or so of small admin tasks: when I arrived at work I dealt with my emails and signed off some payments for grants. I also finalised some plans for going up to Glasgow to join a member workshop next week. We're in the final stages of reviewing our grants programme, so I spent most of the day rewriting some terms and conditions and then I sent them out for review. I also worked on a briefing for a designer who will be making an infographic to publicise our grants schemes, and I sent off some final meeting minutes to one of my committees. Finally, we recently had a grant deadline, so I checked that I had enough appropriate reviewers for the applications.
Which part of your job do you find most rewarding?
I generally like meeting people and hearing their stories but I particularly love hearing about what some of our members can achieve with relatively small amounts of money – it's really inspiring. My favourite grant stories are from summer studentships, as I get to hear from the students and the supervisors about how much the student has progressed over the space of a just a few weeks.
And what do you find most challenging?
Late grant applications! I hate turning people away but the deadlines are there for a reason and it's so important to respect them – for the office, for the reviewers, and for your fellow applicants.
What professional achievement are you most proud of?
Not one in particular per se, but I am very happy that I have a job where I am able to use my own experiences (as a former PhD student looking for a non-academic job) to help others who are starting out in their careers. I'm proud of being part of an organisation that helps people on their way to making a difference.
How can early-career scientists take charge of their own professional development?
I think it all comes down to thinking about what you enjoy, what you're good at, and what you need to improve to get to where you want to be. Then having the confidence and being proactive enough to invest your time and efforts in improving your skillset. If you think you need to improve your written communication skills, start a blog, or tweet more!
Do you think there is enough support for professional development in academia?
I think it varies according to where you are located, and what your supervisor or manager is like. I don't think it should be like that at all! I think things are improving, with universities and support organisations offering more opportunities for academic scientists.
Do you find the work-life balance easier now than when you were a PhD student?
Infinitely easier! It took a long time to get used to having free time (I finished writing up whilst starting at the Society) but now I love being able to meet friends mid-week, or simply watching TV without the guilt of not working.
What do you do in your free time?
I make things. I think the thing I miss the most from my PhD is the surgery aspect of the experiments, and I now spend a lot of time crocheting and knitting. I've also started pottery recently and really enjoy how meditative it can be.
What is the best piece of career advice that you've been given?
Have confidence in your abilities.
Finally, what advice would you give to early-career researchers who would like a role similar to yours?
Focus on your communication and networking skills. In this job you need to be able to deal with lots of different people, and to present a professional front. Written communication is important as we predominantly deal with grants business over email. Having good people skills also helps you to maintain good relationships, which is really important in a membership organisation.
2016 – present: Professional Development Manager, Microbiology Society
2015 – 2016: Professional Development Officer, Society for General Microbiology
2014 – 2015: Grants and Membership Officer, Society for General Microbiology
2013 – 2014: Event Manager, Pint of Science; Public Engagement Intern, King's College London;
2012 – 2014: Outreach Committee member, British Pharmacological Society
2012 – 2013: Co-founder, KCL Pharmacology Society
2011 – 2014: Animal Welfare and Integrative Pharmacology Committee member, British Pharmacological Society
2011 – 2013: Young Pharmacologist Committee member, British Pharmacological Society
2010 – 2015: PhD in Pharmacology, King's College London
2009 – 2010: MRes Integrative Biomedicine, King's College London
2007 – 2008: Study Manager, Pfizer Global Research and Development
2005 – 2009: BSc (Hons) Pharmacology with an Extramural Year, King's College London