Fostering collaboration at MozFest
As Festival Lunch Partner, we facilitated activities and workshops on open science at MozFest 2017.
Blogpost by Naomi Penfold, Innovation Officer
eLife was a Festival Lunch Partner at MozFest 2017, where we hosted our first eLife Open Science Soapbox on October 29. The event was a great opportunity to engage with the open-source, open-science community and, alongside our discussion workshop on Blockchain for Research and Open Science Public Park installations, gave us a chance to explore ideas and topics of relevance to the open-science mission.
Taking place over the last weekend of October, MozFest is an annual festival of ideas, workshops and action towards a healthy internet that is open for all. Open science is an important topic at the event, attracting a strong cohort of project leads and contributors, from previous and current Mozilla Science fellows to newly interested members of the community.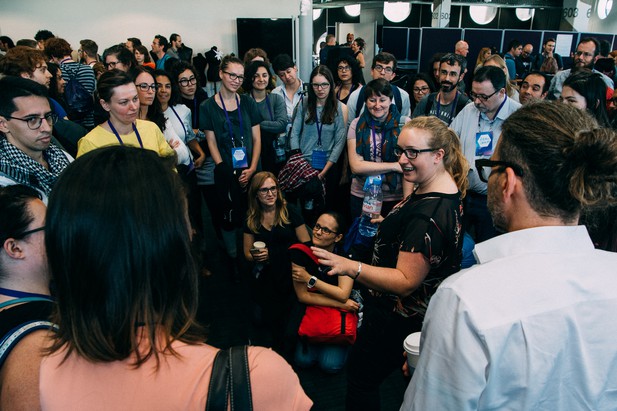 Our thanks go to the MozFest organisers, space wranglers, facilitators and attendees. Special thanks to the volunteers who facilitated the eLife Open Science Soapbox event, in particular Charlie Stone for note-taking and audiovisual support and Rudi Bonfiglioni for collating information for Mozilla Network Pulse.
This blog is cross-posted on Medium.
For the latest in innovation, eLife Labs and new open-source tools, sign up for our technology and innovation newsletter. You can also follow @eLifeInnovation on Twitter.
Do you have an idea or innovation to share on eLife Labs? Please send a short outline to innovation [at] elifesciences.org.