Dates: September 4 - 5, 2019
Times: 9am - 5:30pm each day
Location: Cambridge Junction — J2, Cambridge, UK
The eLife Innovation Sprint is a 2-day collaborative hackathon where developers, designers, researchers, technologists, science communicators, and everyone enthusiastic about open science come together to address challenges we face in science publishing.
What we're doing here is improving the approach to science itself, making it more open, more transparent, more inclusive. So take a moment to appreciate what this is, what this event is, what the people here are.
– Emanuil Tolev, Software Development Consultant and Sprint 2018 participant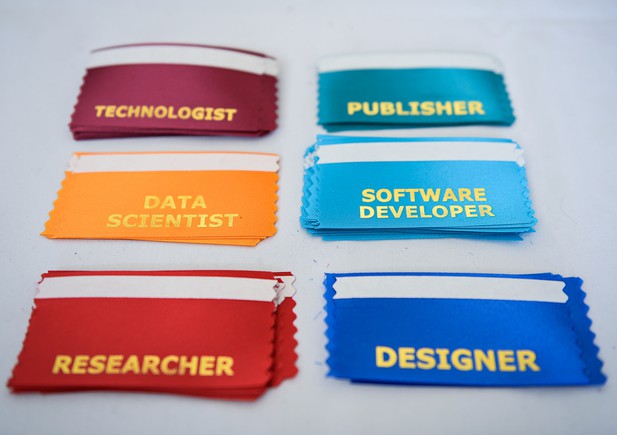 At the eLife Innovation Initiative, we have been working on products to improve researchers' experience in discovering, sharing, consuming and evaluating research. We believe strongly in creating open-source technologies, translating ideas into prototype products that can be tested by the wider community, and bringing together skilled developers, designers and others to push forward sustainable institutional changes to open science communication.
Many products and designs developed at the Sprint last year are being taken further: demos were launched, software tested and the collaborations and friendships formed continued to this day.
[I] am leaving here a lot more inspired and boosted than when I came and I really hope I can take some of this energy back to Springer Nature and actually make a change.
– Andreea Hrincu, UX Designer and Sprint 2018 participant
We invite you - no matter where you are, whether you are a coder, designer, researcher, or innovator - to join us in Cambridge, UK, and be a part of this creative, collaborative and global community, to make your impact, to explore what's possible.
By registering your interest, you will have the opportunity to shape the theme of the Sprint and will receive further information about the event in April, including how to participate.
We are committed to hosting an accessible and inclusive event — please let us know if you have any specific requirements to enable your participation.
Outputs from the Sprint will be openly available, using open-source licenses for code and software, and permissive licenses (such as CC-BY) for other content.
We welcome comments, questions and feedback. Please annotate publicly on the article or contact us at innovation [at] elifesciences [dot] org.
Do you have an idea or innovation to share? Send a short outline for a Labs blogpost to innovation [at] elifesciences [dot] org.
For the latest in innovation, eLife Labs and new open-source tools, sign up for our technology and innovation newsletter. You can also follow @eLifeInnovation on Twitter.