Snakebite deaths may have caused 1.2 million deaths in India over the past two decades, according to a new study published today in the open-access journal eLife.
The analysis provides regional and temporal information about snakebite deaths in India that will be crucial to achieving the World Health Organization (WHO)'s goal of halving the global number of snakebite deaths by 2030.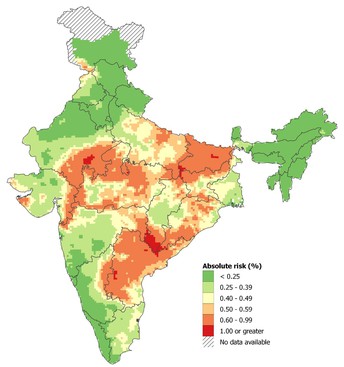 Between 81,000 and 138,000 people are thought to die each year from snakebites worldwide, according to the WHO. Around three times that many survive but are left with amputations and permanent disabilities. Many of these deaths and disabilities would be avoidable with targeted public health advice on avoiding snakebites and having timely access to safe and effective antivenoms.
"Achieving the WHO's goal will require substantial progress in India, which has approximately half of the world's snakebite-associated fatalities and disabilities," explains lead author Wilson Suraweera, Senior Research Analyst and Bio-statistician at the Centre for Global Health Research (CGHR), Unity Health Network, University of Toronto, Canada. "We wanted to provide the most complete picture of snakebite epidemiology in India to better understand the volume of untimely deaths, case-fatality patterns and important snakebite characteristics, while analysing 20 years of scientific data to drill down to regions on which public health measures should be focused."
The study used data from the Registrar General of India's (RGI) Million Death Study (MDS), which has data on more than 600,000 deaths from 2001–2014 for the whole of India. The team also looked at 88,000 snakebite injuries and 19,000 deaths collected from a systematic review of 78 published studies and government reporting from 2000–2019.
Overall, the number of deaths attributed to snakebites increased from around 55,000 in 2001 to around 61,000 in 2014. During that time, there was a 17% drop in the number of snakebite deaths in children aged 0–14 years, with a slower decline in adults aged 15–29 years and no decline in middle-aged adults (aged 30–69 years). Given that the overall rate has been relatively stable between 2001 and 2014, the authors estimate that 1.2 million deaths can be attributed to snakebites over the past two decades.
The average risk of an Indian dying prematurely from a snakebite before age 70 is estimated to be 1 in 250. However, this is higher in certain regions: around 70% of the snakebite deaths occurred in eight states that are home to around 55% of the Indian population. These are low altitude, rural areas that tend to be highly populated and more extensively and intensively farmed. The risk of dying prematurely from a snake bite before age 70 in these high-burden regions approached 1 in 100. The risk was also highest during the monsoon seasons between June and September (294 deaths a day), and lowest in February (78 deaths a day).
"Our nationally representative study highlights that there are regional hotspots of snakebite death risk in each state in India, which could be targeted with education about preventative measures, such as the importance of safe harvesting practices during farming, and could be the focus for distribution of effective anti-venom treatments," concludes senior author Prabhat Jha, University of Toronto Chair in Global Health and Epidemiology, and Executive Director of the CGHR, Unity Health Network, University of Toronto.
eLife is a non-profit organisation created by funders and led by researchers. Our mission is to accelerate discovery by operating a platform for research communication that encourages and recognises the most responsible behaviours. We work across three major areas: publishing, technology and research culture. We aim to publish work of the highest standards and importance in all areas of biology and medicine, including Epidemiology and Global Health, while exploring creative new ways to improve how research is assessed and published. We also invest in open-source technology innovation to modernise the infrastructure for science publishing and improve online tools for sharing, using and interacting with new results. eLife receives financial support and strategic guidance from the Howard Hughes Medical Institute, the Knut and Alice Wallenberg Foundation, the Max Planck Society and Wellcome. Learn more at https://elifesciences.org/about.
To read the latest Epidemiology and Global Health research published in eLife, visit https://elifesciences.org/subjects/epidemiology-global-health.