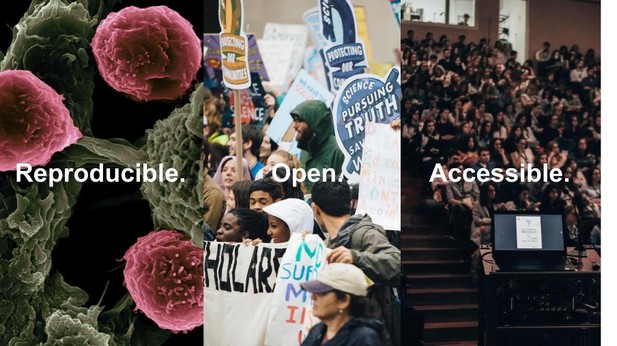 Over 120 early-career researchers from 51 countries are participating in eLife's Community Ambassadors programme, initially founded by the eLife Early-Career Advisory Group. In 2022, Ambassadors representing the global research community planned and committed to several ambitious projects to support reproducible science and to broaden accessibility and collaboration. Many of the projects are focused on advocating for improvements to research culture, as well as supporting researchers' career development and their mental wellbeing.
In the last 10 years, eLife has been committed to achieving its founding mission statement: to provide a "disruptive, refreshing new model for the publishing and dissemination of cutting-edge scientific research". By publishing reviews, finding consensus between reviewers and editors, and supporting preprints eLife has pioneered a new approach to science quality control and communication. These efforts are now culminating in a new publishing model that reflects a new role for publishers in reviewing preprints rather than acting as gatekeepers of research articles. Many members of our research community, in particular our early-career researchers (ECRs), have been demanding change in the publishing landscape towards a more inclusive and transparent model for a long time. Our eLife Ambassadors and their fellow Open Science Champions have promoted open science and the importance of transparent and accessible publishing throughout the programme.

"eLife Ambassadors are a part of a unique platform that promotes open science, public engagement, reforming peer review and influencing science policy and diplomacy to have a positive impact on the world.

"My goal for 2023 and beyond is to use these learnings and my abilities to create collaborative partnerships among worldwide forums to advance sustainability, transparency and reproducibility within science."

– Raimi Morufu Olalekan, eLife Ambassador, Niger Delta University, Nigeria

The reproducibility and open science initiatives
Towards the end of 2022, eLife Community Ambassadors took part in many exciting projects that promote open, responsible and reproducible science. One of these was the two-day Einstein Foundation Awards symposium hosted by The Einstein Foundation in Berlin. The event was organised by six Ambassadors and Champions – Batool Almarzouq, Verena Haage, Renato Augusto Corrêa dos Santos, Samuel Eziuzor, Nalaka Wijekoon and Lamis Elkheir – who worked hard to facilitate topics on the 'Global Dynamics of Responsible Research'. Find out more about the topics covered and hear from speakers such as Leslie Chan (Associate Professor, Department of Global Development Studies and Director of the Knowledge Equity Lab, University of Toronto Scarborough, Canada), Chelle Genteman (Program Scientist, National Aeronautics and Space Administration's (NASA) Transform to Open Science (TOPS) Initiative), Noorsaadah Abd Rahman (Professor in the Institute of Advanced Study, University of Malaya, and Chair for Malaysia Open Science Alliance), and Joy Owango (Director and Co-founder of Science and Scientific Communication, and Board member of AfricArxiv), with recordings and slide decks from the symposium accessible to all.
"Our involvement in the Einstein Foundation Symposium as co-organizers and members of the eLife Community was a unique experience. The impact of the conference was palpable, as evidenced by the interest from 40 countries around the world.
We are confident that the conference will serve as a catalyst for continued progress in the field of global responsible research, and we look forward to seeing the positive impact that it will have in the years to come." – Batool Almarzouq, King Abdullah International Medical Research Center, Saudi Arabia
Open science collaboration
"ASAPbio shares eLife's goal to promote engagement with preprints and preprint review. We recognize the value of our community members in raising awareness about preprints, and we run a Fellows program to provide training and practical experience for those in the research community who wish to learn more about preprints.
"In 2022, we were thrilled to work with a cohort of 31 ASAPbio Fellows, who included two eLife Ambassadors: Ruchika Bajaj and Kanika Khanna. Ruchika participated in ASAPbio's crowd preprint review, helping to develop the project and contributing to many public preprint reviews. Kanika was one of the Fellows who spearheaded the competition to call for the use of preprints to share negative results with the community. Other projects by the ASAPbio Fellows included a series of blog posts to learn more about journal editors' views about preprints, outreach about the Publish Your Reviews campaign, and hosting preprint events at their institutions.
"The 2023 Fellows program is open for applications until March 24, so if you want to engage with preprints more closely, do apply now to join this year's cohort." – Iratxe Puebla, Director of Strategic Initiatives & Community, ASAPbio
Our ECRs believe it is crucial that research culture and communication changes do not happen in a vacuum and that scientists engage with different organisations and those outside of research in public discussion about open and reproducible science. Over the past few months, several Ambassadors have been inspired to communicate their incentives with a broader audience.
Tala Noun, our Ambassador based in Lebanon, and Verena Haage, our Ambassador based in Germany, co-hosted an ECR community event as 'An Introduction to social research for researchers', that was presented by Kornelia Korzec, Head of Engagement and Communities at CrossRef. The aim of this event was to raise awareness of the importance of defining research questions and to give insight into the impact of cross-discipline collaboration between social and life scientists.
Emmanuel Boakye, our Ambassador based in Ghana, was invited by the Association of African Universities (AAU) to organise and present at the Africa Universities' Day celebration last year, working with individuals from organisations such as PLOS, UNESCO, SCOSS, and TCC Africa. The theme for the celebration was "Open Science - Bringing Equity to Research and Publishing for the African Research Community" and he presented on the "Global and Continental Perspectives of Open Science" —first looking at it from a global perspective and narrowing it down to the African continent.
Reproducibility for Everyone (R4E) is a community-led education initiative that emerged from the 2019 eLife Ambassadors programme to increase adoption of open research practices at scale. Many of our Ambassadors learnt from the R4E instructors and volunteered to run introductory workshops and share resources on tools and methods that accelerate research in their own labs and institutes across the world. Emmanuel Boakye aimed to run a workshop at his university, Kwame Nkrumah University of Science and Technology in Ghana, during the African University Week celebration. Kanika Khanna is currently organising a reproducibility workshop at UC Berkeley in association with both the postdoc organisation and the graduate student organisation this month.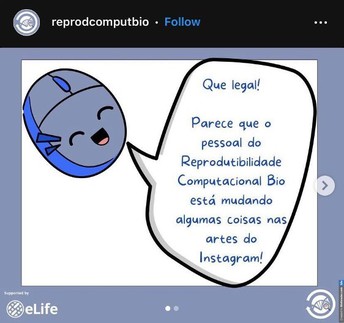 Each of our ECRs have stated that training on research reproducibility is much needed across the globe, and some of our Ambassadors have taken a step further with their initiatives that aim to not only promote rigorous and reproducible research, but to enable it. Renato Augusto Corrêa dos Santos, our Brazilian Ambassador, is working alongside his team (Alícia Lie de Mélo and Thayana Tavares) in creating a website to share best practices in computational reproducibility for ECRs. These will be published in Portuguese to ensure their work is accessible to local Brazilian researchers, as well as the public. Access the GitHub repository here. Follow @reprodcomputbio on instagram here.
After the Ambassadors' training and discussions on the importance of public engagement earlier in the programme, Ambassadors from Sri Lanka to Mexico have been inspired to start public engagement initiatives.

"No olvidemos que la "ciencia abierta" no solo debe ser para adultos que ya están en comunidades científicas y académicas. Debemos recordar que los niños tienen mentes con la mayor capacidad de asombro y miran con gran curiosidad los procesos biológicos, físicos y químicos. Es urgente que los científicos hagamos un esfuerzo coordinado para apoyarlos y generarles oportunidades desde edades tempranas." – Christian Molina Aguilar, Universidad Nacional Autónoma de México, México.

Translation: "Let's not forget that "open science" should not only be for adults who are already in scientific and academic communities. We must remember that children have minds with the greatest capacity for wonder and look with great curiosity at biological, physical, and chemical processes. It is urgent that scientists make a coordinated effort to support them (the future of science) and generate opportunities for them from an early age."
Ana Paula, our Italian Ambassador, is creating a rare disease newsletter to connect researchers, as well as both patients and the public to these important topics. The initiative was created to solve one of the biggest challenges for scientists: translating complex terms into basic concepts that anyone can understand. It aims to share essential concepts to understand rare diseases, the diagnostics, the community and even the drug development process. Learn more and sign up to their newsletter here.
Members of our eLife Ambassadors 2022 cohort, led by Nick Pokorzynski and members such as Ankita Arora and Kazuya Horibe, are also working together to enable other researchers to get involved in science policy through their newly formed initiative, the Global Science Policy Network. Read more about it here. They can't build this network without your input and support so please get involved and participate in their introductory survey here.
Improving research culture across the globe