We invite early-career researchers who have published in eLife (or have a manuscript accepted for publication) to apply for a travel grant to help them present their work at a scientific meeting.
For those wishing to apply, it's crucial to pay attention to the terms and conditions. We especially welcome applications from researchers requiring international travel to their meeting of choice. Please note that, in the shortlisting process and in the case that we receive a great number of otherwise similar applications, confirmed talks will take priority over posters, and applications from those who otherwise wouldn't be able to travel will take priority over others.
The application deadline for 2020 is at midnight on March 1 only (edit: later deadlines were cancelled in light of the COVID-19 pandemic). You can apply for funding of up to $1,000 to help cover the cost of travelling to and participating in a conference. Last year we awarded grants to 21 researchers.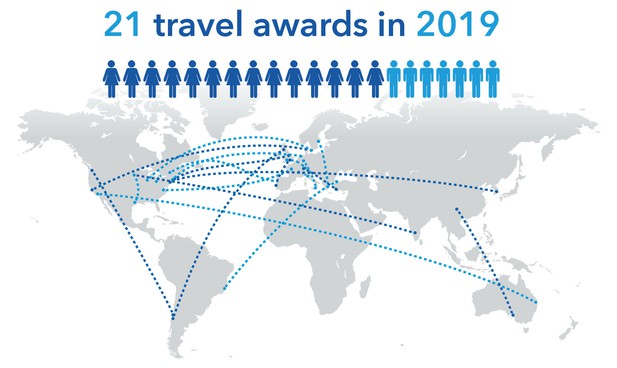 "I made a number of new connections, particularly with potential graduate students," said Lauren Schroeder, Assistant Professor at the University of Toronto Mississauga, Canada, who presented at the American Association of Physical Anthropologists Annual Meeting in Cleveland, Ohio, USA, to an audience of 200 researchers. "I also connected with potential collaborators, and am currently in the research design phase of a new project relating to the evolution of the chin."

"I made connections with two other researchers that are using the same, still rare, method and have been invited to visit them and discuss the method," said Sebastian Ocklenburg, Postdoc at the Ruhr-University Bochum, Germany, who presented at the Annual Meeting of the International Society for Behavioural Neuroscience in Taormina, Italy. "Since this is an emerging field, both contacts were very important to me. This can help my future career in terms of cooperation. The comments on my work were very positive."
Once you have read the terms and conditions, and you are ready to apply to eLife travel grants 2020, please use the button below to access the application form.
#
We welcome comments, questions and feedback. Please annotate publicly on the article or contact us at hello [at] elifesciences [dot] org.
Interested in finding out more about opportunities, events and issues that are important for early-career researchers? Sign up to the eLife Early-Career Community newsletter or follow @eLifeCommunity on Twitter.