Rosanna Alegado (@algoriphagus) studies how bacteria impact the evolution of animals and how these interactions affect ecosystems. Alegado is Native Hawaiian and her research lab at the University of Hawaiʻi Mānoa embraces the kanaka ʻōiwi concept that human health is inextricably linked to ecosystem health. Here, she discusses how scientists and Indigenous communities can collaborate to establish meaningful partnerships based on trust and respect.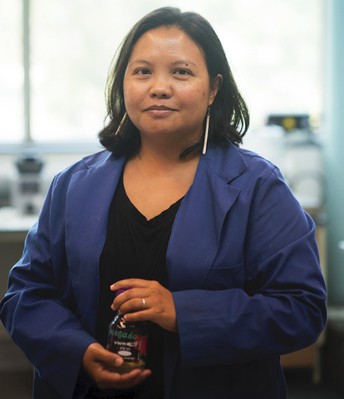 What are some of the ways that scientists and Indigenous communities interact?
Historically, interactions between scientists and Indigenous communities have been predominantly harmful. Interactions have ranged from not at all (in other words, scientists have approached research as 'on' communities rather than 'with' communities) to attempting consultation, which is not the same as consent. In this way, research has often extracted both data and approaches (both experimental techniques and scientific frameworks) from Indigenous communities without acknowledging them, resulting in communities being harmed, instead of benefiting from research.
Looking at these interactions between Indigenous communities and scientists, which aspects are you most concerned about?
I am most concerned about how research can better support Indigenous data governance and sovereignty. A significant consideration around data governance is related to potential differences between Western academic and legal concepts around data ownership and intellectual property regimes and Indigenous worldviews. Therefore, it is absolutely critical that data management plans articulate agreements with communities that ethically protect Indigenous and local knowledge from exploitation (as set out in article 31 of the United Nations Declaration on the Rights of Indigenous Peoples), and that explicitly outline plans for authorship and publications, as well as intellectual property. It's vital that Indigenous communites understand academic institutional and funding agency policies and obligations related to data ownership and access.
Do you think partnerships between Indigenous communities and scientists can be beneficial to Indigenous communities?
A partnership between Indigenous communities and scientists can absolutely be beneficial as long as Indigenous communities are involved in research projects from the very start, from a project's inception. Indigenous communities must also be involved in the project at every level, from the conceptualization to the day-to-day research and production of data, to the review of both the project and the materials produced. Essentially, partnerships between scientists and Indigenous communities must be based on reciprocal relationships, which require time and accountability from all parties.
How do partnerships between Indigenous communities and scientists enhance science?
To me, science encompasses the approaches used to understand the natural and physical world, a world that is incredibly complex. Equitable partnerships between Indigenous communities and Western scientists leverage knowledge from diverse sources and benefit from unique frameworks. In short, Indigenous Peoples have tools, methods, and knowledge that are as relevant to understanding complex systems and solving some of society's most pressing problems as the approaches used in Western science.
What are some good examples of interactions and partnerships between scientists and Indigenous communities that others could learn from?
One example of a collaborative relationship is the partnership between Oregon State University (OSU) and the Confederated Tribes of the Umatilla Indian Reservation (CTUIR). This collaboration focused on investigating how certain tribal practices, such as smoking foods, affect the tribe's exposure to polycyclic aromatic hydrocarbons. The partnership centered the interests of tribal members, empowering them to make decisions about their environment and health, and relied on community participation, tribal sovereignty and building trust between scientists and members of the CTUIR.
Another example are Indigenous/Native-led research initiatives, such as the Native BioData Consortium. This is a non-profit institute led by Indigenous scientists and tribal members that focuses on genomics research to benefit all Indigenous Peoples. The institute is also a biorepository or biobank, and stores all of the biological samples collected on sovereign Native American land. This initiative directly empowers Indigenous people to conduct scientific research, build sustainable projects and identify solutions to national problems.
In recent years, there has been more focus on inequalities within academia, and on how researchers impact the communities they work with. Do you think progress is being made?
It is difficult to assess the progress of science in improving inequalities, unless we have the ability to study, measure, and evaluate demographic progress in STEM. Recently, I co-authored a manuscript that reveals consistent funding disparities at the National Science Foundation (NSF) along racial categories for more than 20 years. Our analyses affirm the need for data transparency and indicate that if we want our interactions with the public – including Indigenous communities – to be ethical, it will be essential to work towards a scientific environment that is just, respectful and community-based.
I am encouraged by ongoing conversations at the NIH and NSF around inequalities within the academy, and have been encouraged that ethical frameworks that I and others have co-developed have been embraced within my institution and more broadly by the National Sea Grant.
What changes do you hope to see in the next few years in how scientists interact with the communities they work alongside?
My hope is that science will develop relationships with the communities in which their research is embedded. Being able to develop relationships requires a shift in framework to see community partners as equal collaborators in the research, with the agency and power of refusal as well.
Some of your work focuses on including Indigenous communities, particularly in the Hawaiian Islands, in research efforts that affect them. Can you describe some of your practices for establishing and maintaining equitable partnerships with the communities you work with?
Together with community partners, I helped to co-develop the Kūlana Noiʻi, which is a guidance document on building equitable and reciprocal relationships with communities. There are eight general principles or standards that researchers can adopt to form interactions with communities that are grounded in relationship and accountability. A unique aspect of our guidance document is that it frames the relationship-building in a series of questions for both the researchers and community members to explore together. In this way, rather than just a checklist of actions that are undertaken, relationship-building becomes an ongoing dialogue for researchers and communities to explore together.
A concept that has gained attention lately is that of scientists from Western institutions 'parachuting' into countries with limited research funding to do fieldwork without establishing mutually beneficial collaborations with local communities. What are the best ways for these scientists to include and acknowledge the communities they rely on for their research?
Key ways that researchers can include and acknowledge communities would be to include community members who have contributed to the research as co-authors (or be included in the acknowledgment at a minimum). Community partners should have the opportunity to review and provide feedback about the results, which means that researchers must be prepared to share the results with the community at regular intervals before, during, and after the research work is completed. Additionally, researchers should endeavor to compensate community members appropriately, as they would their Western scientific collaborators – meaning allocating grant resources to community members who have been involved and/or to the community. These are discussions that need to take place before research begins. Finally, once the research is completed, ideally, protocols would be in place to govern data management and access for community members, as well as a plan for storing or even returning research materials or samples.
You are the director of the Maile Mentoring Bridge Program, which aims to attract kamaʻāina undergraduates (residents of Hawaiʻi) into degree programs at the School of Ocean and Earth Science and Technology, and increase the representation of Native Hawaiian undergraduates in ocean, earth and environmental sciences. Why is the representation of Indigenous Peoples in science important?
My goal with the Maile Mentoring Bridge program is to create an environment that supports local Hawaiʻi residents, especially Native Hawaiian/Pacific Islanders, in the geosciences/STEM in the hope that matriculation rates will be at parity with the ethnic diversity of Hawaiʻi. When we have diversity in science, we have diversity of thought, diversity of solutions, and diversity of ways of being. Having scientists who are fluent in different knowledge systems aligns with the expectation that Indigenous scientists will focus their research on questions and problems that are most important to Indigenous communities, but that they will also have unique perspectives on long-standing questions in Western science. Having more Indigenous scientists is just as important for science as it is for Indigenous communities.
What do you think are the most important steps that need to be taken to ensure better representation of Indigenous Peoples in science in the next 10 years?
In my experience, consistent funding is critical to ensuring that Indigenous scholars complete their undergraduate and graduate degrees. Within the professoriate, funding is equally crucial, particularly funding that supports Indigenous scholarship that increases capacity within Indigenous communities.
Rosanna Alegado was interviewed by Helena Pérez Valle, Associate Features Editor, eLife.