For decades science in Mexico survived on funding that was modest but stable, according to Manuel Elías-Gutiérrez, a biodiversity researcher at the El Colegio de la Frontera Sur (ECOSUR) in the Yucatan peninsula. Although cuts to the research budget led to street protests against the previous government in 2017, many scientists were optimistic when, a year later, Andrés Manuel López Obrador became the country's first left-wing president in decades. "Many researchers voted for him," says Elías-Gutiérrez, "and they put a lot of hope in him".
That hope has since disappeared. Cuts to the science budget have continued; the directors of several research institutes have been replaced by individuals who are sympathetic to the president; and in 2021 arrest warrants were issued for 31 academics at a science advisory organization critical of the government, accusing them of organized crime, money laundering and other offences. The charges were dropped, but the Academic Freedom Index recently highlighted Mexico as one of 19 countries where academic freedom has significantly declined over the past decade, and international observers have expressed concerns over the erosion of democratic institutions.
Many scientists are now involved in efforts to oppose government plans to introduce a new law on humanities, sciences, technologies and innovation (the HCTI law) because they fear it will give the government more control over the direction of research in Mexico, at the expense of the academic community. However, the National Council for Science and Technology (CONACYT) – which is the main funder of research in Mexico – is pushing back against critics of the proposed new law, and in January issued a statement that accused some researchers and academics of launching what it called "a campaign of lies".
Here Elías-Gutiérrez talks to Sparks of Change about his concerns for the future of science in Mexico.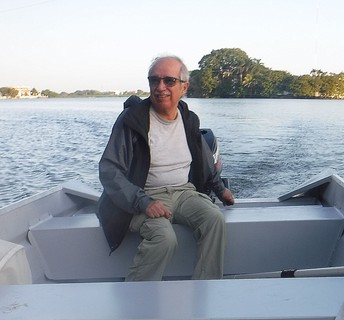 What has been the reaction to the proposed new law in your immediate community?
It's very controversial. In my institute, there have been lots of messages, lots of discussions. Most of my colleagues are strongly against what the government is trying to do, and they are worried about the budget cuts. But a few people are in favor, saying that the government is 'cleaning the house', that collateral damage is to be expected. I think that many scientists are very upset, but they just keep quiet. Some of them have started to speak up though, which surprised me.
How have things been changing for the scientific community since 2018?
We don't have a voice in this government, and we feel that there is a lot of ideological interference. The people in charge, led by María Elena Álvarez-Buylla – the presidentially-appointed Director of CONACYT – are trying to change the rules and direct the science. They say that, until now, our science has been at the service of 'neoliberalism' without giving a clear definition of what that means here. They say they want to promote a 'new science' where scientists serve society and try to solve its problems, but again it's not very clear what they mean by this 'new science' either. The only thing we know is that every day is getting tougher. They are cutting the sources of money that allow us to work.
Can you tell me more about these cuts?
I got my first research grant in 1990, and for nearly three decades I was able to obtain enough funding from the government to build and run my small lab. But I haven't received a cent since 2017. Last year, after a call to support laboratories, the CONACYT funded just 43 proposals in total for the whole country. That is nothing for a nation of this size. And now we no longer even have enough, for example, to cover vehicles for field trips, to replace broken computers or air conditioners (which are important when working in the tropics!).
Restrictions have not just been about public grants, they have also targeted other sources of funding, participation in international organisations and so on. How has this affected you?
In 2019, we received funding from the United Nations Development Programme, managed by a type of bank trust widely used in Mexico called a fideicomiso. We had planned to use some of this grant to expand our lab but in 2021, the president declared that the fideicomisos were dissolved and their money confiscated; just like that! Our grant was from the United Nations, not from Mexico, but we couldn't do anything until they cleared the situation. Eventually, we were told that we could proceed with our plans, so we got all the permits and the building work started. Then the law changed again, and everything had to stop. The money was just gone... I don't know where. After two months, we were told that we had fifteen days to spend the remaining funds, but we couldn't use them for what we had planned originally. We weren't allowed to buy anything that could be on the inventory of my institution. No equipment, not even a chair – only consumables and reagents.
How is the scientific community coping with these changes? Are you seeing shifts in research focus or lab closures?
The labs are not closing – they are adapting. We know how to work with little money; we always think about how we can keep going. Some labs are reducing field trips, some go back to datasets they had already collected. Close colleagues and I had to stop doing next-generation sequencing of environmental DNA, but we continue to study aquatic biodiversity. Right now, we have agreements with other countries such as Ecuador, Colombia and Peru, and they give us money for consumables and reagents. Our fieldwork, we support it with our salary: I have done sampling in the field with my own truck and my own gas. And we pay for publications as well.
... you pay for publications with your personal money?
Yes because open access is expensive, so we divide up the cost of the publication among ourselves and we pay it from our salaries in many cases. Even if you have money from your institute, you're not always allowed to use it for publications. Last year, I received about $1,300 (USD) from my institution for my whole year of work. The authorities of my institute calculated this amount based on my academic productivity: papers published, students, outreach and proposals granted etc. I was saving it to pay for a paper that was coming out in PeerJ, because their waiver policy does not cover Mexico. When I requested the money in September, I received an email from the administration saying that they cannot spend more on publications this year. The government imposes a limit on the institute for this type of spending, and they had already reached it in August.
You talked about "ideological interference" and there have been concerns about the government's attempts to clamp down on academic independence. What are your thoughts on this?
There are at least two examples of institutes – CIDE and CICY – where a director who was critical of the government has been replaced by someone more supportive. We believe this is going to happen in other places, but we can't tell for sure. What I can say is that, as scientists, we cannot hide the truth; even if we are now seeing attacks directed towards us as individuals are not simply within the media.
The attacks you mention refer to when the government attempted to charge academics with corruption and embezzlement; do you feel these actions are succeeding in encouraging self-censorship among academics?
Yes, I think many researchers wouldn't do what I'm doing right now. They are afraid they will be 'forced to retire', or something else. For example, a few months ago, our tribunals dismissed the charges against Antonio Lazcano [a well-known Mexican biologist who was removed from a CONACYT committee after publishing an editorial in Science criticizing the government], but we don't know what's happening to researchers like us, who are not in the media, who don't have a lot of influence. We have, however, witnessed those in favor of the existing system being unfairly rewarded, such as Attorney General Alejandro Gertz Manero being admitted at the highest level to the Mexican National System of Researchers (SNI) – the institution that recognizes the most prolific researchers in the country – even though he apparently had insufficient academic output. Overall, you know… I'm healthy, but I'm a little old. While most of my career is behind me already, I feel that my colleagues and I must speak up because it's not only affecting us, but the next generations of scientists in Mexico too.
Do you already see this impact?
I'm teaching a graduate programme, Masters and doctorate, and we normally had 10 to 15 students in the past; today I have five students. I have no official statistics to call upon, but that's what I can see, in my small world. Our young researchers are very devoted to their work; they want to continue. They will try their hardest, but there is a lot of uncertainty for them. The number of unemployed graduates and PhDs continues to increase, and Mexico is suffering a serious "brain drain" as our qualified researchers move elsewhere.
How do you think international institutions could help?
I think pressure from the international community is vital. Mexico is in the top five countries with the most biodiversity on Earth, but the government doesn't care. They're not interested. For example, the world-renowned National Commission for the Use and Knowledge of the Biodiversity (CONABIO) has almost been extinguished. We need money from national and international institutions to study these ecosystems, because we can't take care of what we don't know. What matters to me most is the biodiversity of the neotropics, and that's a region that stretches across Central and South America. For us, political borders are artificial. For example, now we have problems with sargassum seaweed washing up on our beaches in the Mexican Caribbean, and that problem is coming from South American rivers such as the Amazon and the Orinoco getting enriched with fertilisers. The real borders are given by the environment.
Are there other biodiversity issues in Mexico that you feel need more international attention?
Yes, the Maya train. It's a 1,500-kilometer railway that's currently being built across the Yucatan peninsula. An incredible amount of forest is being destroyed, and they are working very fast. They are passing through unique places that we barely know anything about, such as the most extensive underground rivers and sinkholes in the world, and there aren't enough studies on the environmental impact of this work. The community is raising the alarm, telling the president it's a big problem. Of course, the government is not comfortable with this either.
With presidential elections coming up in 2024, is there hope for change in Mexico?
There is a lot of uncertainty about 2024. We feel the president may want to keep the power behind the scenes, even after the end of his term. But what's happening to us, it's happening in other places too. My colleagues in Brazil had massive budget cuts, and their scientific system is much bigger than ours. My collaborators in the United States, they also said that science funding was under pressure in the Trump era. In the end, it doesn't matter if those in power are left-wing or right-wing. I'm worried that science may be entering a dark period. But still, we keep going. The people I see around me, they love what they do. All of us will continue doing research for as long as we can.
...
This article is part of the Sparks of Change collection, where people around the world share moments that illustrate how research culture is or should be changing. Have an interesting story to tell? See what we're looking for and the best ways to get in touch here.
Manuel Elías-Gutiérrez was interviewed by Elsa Loissel, Associate Features Editor, eLife.