"Sooooo," tweeted PhD student Angeline Dukes back in July 2020, "when are we doing a #BlackInNeuro week?". The tweet went viral and today Black In Neuro is a registered non-profit organization with a mission to "diversify the neurosciences by building a community that celebrates and empowers Black scholars and professionals". Here, Angeline (@TheRealDrDukes) – who is now an assistant professor at the University of Minnesota – discusses how attitudes towards diversity in science are changing and what she hopes the academic workforce will look like in 10 years.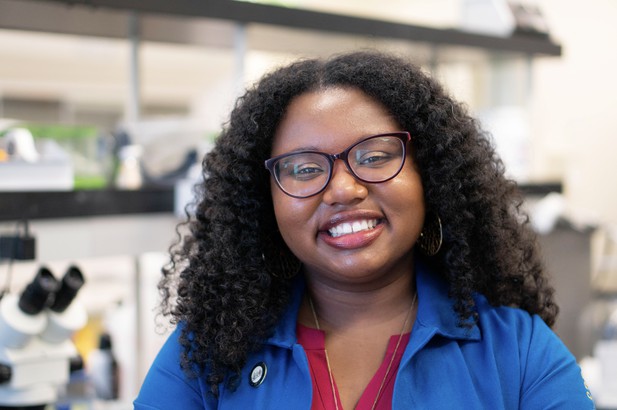 What inspired you to create Black In Neuro?
In all honesty, my own loneliness and need for community pushed my desire for Black In Neuro to exist. During the height of the shutdowns from the COVID pandemic and the international protests against police brutality, I felt extremely isolated in predominantly white spaces. There was one other Black woman in my graduate school cohort and no Black faculty in my department. I needed to connect with people who understood my anger, fear, and the struggles of having to focus on lab work, while being terrified for the safety of my loved ones. I saw Black Birders Week and Black In Astro connecting Black people in their respective fields. I had hardly seen Black neuroscientists during my academic career but knew there had to be more of us out there. So, the creation of Black In Neuro was born from a need to connect, commiserate, and build community with other Black scholars in neuroscience-related fields.
How do you think attitudes towards equity, diversity and inclusion in academia have changed since Black In Neuro was launched two years ago?
Overall, I think that attitudes towards diversity, equity, and inclusion (DEI) have shifted in a positive manner. Institutions have realized they can't be passive with these efforts and need to make systemic changes to their programs/departments. I do see some good initiatives coming through across academia involving the creation of DEI deans and offices, hiring more Black professors, and intentional programs to support Black trainees. However, my concern is whether academia will continue valuing this work and the people doing it for years to come.
In your opinion, how can Black In Neuro and other initiatives keep up the momentum they created and continue to push for progress?
The momentum comes from our community – we at Black In Neuro will keep hosting events, cultivating safe spaces, and providing resources that our community voices a need for. We are driven by our desire to make academia more accessible and inclusive. Furthermore, we keep our momentum by knowing when to rest. For example, after our largest event, Black In Neuro Week – a virtual conference that occurs at the end of July each year – the entire team takes a hiatus to rest and recover from all responsibilities related to Black In Neuro for the entire month of August. This allows us to come back in September refreshed and with renewed energy to serve our community.
We continue to push for progress by demanding more from our allies, colleagues, and institutions. We know that Black academics make up less than 1% of all neuroscience faculty in the United States; therefore, we can't do it alone. We fight for change but rely on our non-Black peers to amplify our voices and fight with us. Together, we can keep the need to dismantle systemic barriers at the forefront of institutional concerns.
Is diversity in academia improving faster or slower than you expected?
It's going at exactly the rate I expect. There are urgent, impassioned desires for change when something goes 'wrong', or an institution gets called out for racism/sexism/homophobia etc. This is followed by lulls of hierarchical pushback to actual systemic changes, then another big push for change in a continuous cycle. It can be frustrating because what we need is sustained, persistent efforts. But, hopefully, with more people valuing this work, groups providing access to opportunities and resources to diverse trainees at earlier career stages, and a focus on retaining diverse persons at every stage, it can improve faster. I already see it through initiatives predominantly led by trainees, early-career professionals, and people from historically marginalized backgrounds.
What are the main challenges researchers from underrepresented minority groups face in academia?
I believe that the main challenges are: 1) the lack of guidance, access to opportunities and resources to get into academia, and 2) the insufficient support to stay and thrive.
The first point comes from my perspectives as a first-generation student, who did not have a lot of initial mentorship in figuring out research and graduate school. There were many instances of the hidden curriculum of academia that I was unaware of. It wasn't until my junior year of college that I learned you can get paid for doing research in the summer. I did not know how to identify a potential PI who would be a good match for me, let alone that you were supposed to email them before applying to programs. I was unaware of all the career options available with a PhD. I was just blindly stumbling around and gaining bits of new information that I felt my peers already knew well in advance.
For the second point, I've met many brilliant, capable, scientists from historically marginalized backgrounds, who left academia not because they were no longer interested or no longer wanted to be there, but because they did not feel supported, either in their research or in their extra DEI work. Their efforts were not valued, and they sought spaces where it would be. Retention is more important than recruitment – people deserve to be heard, valued, and respected. They need to know their opinions matter, their time is valued, and that they are properly supported in all areas of their work and identities. Ignoring the extraneous burdens marginalized folks have to endure and telling them to "focus on the science" minimizes the additional labor that they do and ignores their identities that are the basis of this work.
Black In Neuro has members from all around the world, reaching over 60 countries. What challenges do Black academics from different parts of the world face?
One of the highest percentages of Black In Neuro members is in Nigeria. As emphasized by former Black In Neuro Week panelists, the lack of access to resources and opportunities is one of the biggest challenges faced by researchers in Nigeria and other countries outside of the Global North. It is not that these brilliant scientists do not want to engage in the discourse, but the high cost of attending international conferences, publishing in top-tier journals, and collaborating across countries, makes it very difficult. Journals, conference hosts, larger organizations, and allies with more funding and resource access should be making conscientious efforts to collaborate, fund, and provide opportunities to these scholars.
The high financial cost to be successful in academia is a struggle faced by Black academics all around the world. You must have money in order to be able to volunteer your time in an unpaid research position, to pay application fees for graduate programs, and to front costs for attending conferences even if you have the possibility of being reimbursed. Access to these opportunities – or the lack thereof – alters your chances of getting into graduate school, connecting with potential mentors, and growing your network, which subsequently affects your future job prospects. Given the prevalent pre-existing wealth gap and the fact that Black people in various countries continue to earn significantly less money for the same jobs as their white counterparts, it is no wonder that these challenges are faced by Black academics globally.
Have you ever experienced racism during your academic career?
During my very first summer research experience as an undergraduate, I was the only Black person in the lab. I was acutely aware of how 'othered' I felt, and at first I assumed it was because I was an undergraduate with very little prior research experience. Additionally, I was already a little concerned going into this space as a Black woman because the PI was a much older white man, and some of my peers who worked in other labs led by similar PIs experienced racism, sexism, etc. But the lab had other women graduate students so I assumed it would be okay.
However, throughout the summer there was also another undergraduate in the lab, a white woman, and it became very apparent that she was being treated very differently to me. She was given preferred times to run experiments – I would sometimes be in the lab by myself until 10 pm, whereas she could do her experiments during normal working hours. She also received more feedback and encouragement from the graduate students and PI. Then, when it came to create our posters for the summer symposium, mine was completely altered to include large chunks of texts while hers was left alone. No one from the lab came up to see my poster as we presented, but after the symposium I noticed them all surrounding her with congratulations. That entire experience had me questioning whether I belonged in science, if a lab was the place for me, and whether or not I would be supported in graduate school. I almost didn't pursue another research opportunity because of it. That experience stays with me. At first it was anger to prove them wrong – that I do belong here and can succeed, even without their support. But now, I just don't want any student to ever feel as awful, left out, and othered as I did, which is why I devote so much of my time and energy as a faculty member to supporting, mentoring, and advocating for marginalized trainees.
In your opinion, how can academic institutes better support researchers from underrepresented minority groups?
Historically marginalized researchers need support at every level. Academic institutes need to provide financial support for undergraduates to have paid research opportunities, and significant guidance on the hidden curriculum of applying to graduate school as many of us are first-generation students. They also need to mandate culturally competent mentorship training for anyone who wants to be a mentor to these trainees.
In addition to hiring graduate students, postdoctoral fellows, and faculty who are Black, Indigenous, and people of color (BIPOC), academic institutes need to cultivate spaces for them to thrive as researchers, not DEI specialists. They need to critically assess their departments and foster an inclusive culture BEFORE bringing these researchers in. Then they need to value feedback given and make structural changes when historically marginalized scholars speak up on problems within the institution. Additionally, they need to compensate people for their time and efforts related to DEI-work, as well as make active participation in this work a mandatory part of the tenure and promotion process in order to more fairly distribute the labor.
Many publishers and funders are also trying to tackle racism and underrepresentation. Which actions do you think will have the most – and also the least – impact?
The actions that will have the most impact are those that require continual review and improvement of policies, giving power to people from these underrepresented groups, and recurrently working towards equitable practices even when it is not the 'hot topic' anymore. Actions that have the least impact are giving someone a title or position with no power to implement change, and highlighting the few diverse people already within the organization for publicity without intending to remove systemic barriers that prevent underrepresented people from publishing or attaining funding.
Publishers need to consider who is being asked to submit and review papers, and what types of articles are being authored by certain demographics. If, for example, racial and ethnic minorities are authoring most of the commentaries on DEI-related topics, but are not being featured as prominently in the journal for their research contributions, that is a problem. Additionally, if they are being asked to contribute their thoughts, experiences, and suggestions without any compensation, that is also a concern because we all know that this work is undervalued when it comes to tenure and promotion.
For funders, scrutinizing their own requirements and selection processes can have a huge impact on whom funding is being disbursed to. Taking into account other contributions besides solely publications, or considering reasons for less 'productivity' such as managing childcare, as well as ensuring that there are diverse perspectives on the selection committees can have more positive implications.
How do you hope the diversity of the academic workforce will look in ten years' time?
My hope is that in ten years, there will be multiple faculty members from historically marginalized backgrounds in every institutional department. I hope that graduate program cohorts are significantly more diverse and that there is considerably less loss of Black, Latinx, Indigenous, disabled, LGBTQIA+, and all other historically marginalized persons at each stage of the academic process.
In your opinion, what are the main steps that need to be taken to reach this goal?
One main step requires institutional changes to occur in which departments are not only more inclusive, but also that tenure and promotion processes are equitable and more attainable for people of color. Mentorship is critical, not only for graduate students, but also postdoctoral fellows and faculty as they navigate the unique challenges associated with their identity, experiences, research, and other responsibilities. Beyond that, there need to be spaces for these diverse individuals to form community with each other to avert isolation and encourage retention.
Another major step would involve the active and intentional mentoring of undergraduate students from historically Black colleges/universities, other minority-serving institutions, community colleges, and indigenous schools. Many of these students who would thrive as researchers and have interest in pursuing the field simply need access to opportunities and resources. They need to be informed about paid research experiences and guided on the steps to pursue a graduate degree. They need knowledge of the breadth of career options available to them in the scientific workforce and to be connected with people in various positions who can help them get there. This requires purposeful effort by faculty, industry professionals, and other leaders in the field who want their institutions to be more diverse. In addition, taking a step back and creating long-term community partnerships in diverse communities to educate K-12 students about research and potential career options they hadn't considered. Making consistent positive associations as early as possible can help students who did not even know these careers were possible for them.
It takes deliberate effort over extended periods of time to alter the climate at institutions, to cultivate inclusive spaces, and to build trust and increase awareness among diverse populations. But I hope that in ten years, progress will have been made in the right direction.
Angeline Dukes was interviewed by Julia Deathridge, Associate Features Editor, eLife.