By Giulia Guizzardi (Sprint 2021 lead)
The eLife Innovation Sprint is a two-day collaborative event for developers, designers, innovators, open-source enthusiasts, technologists and researchers who want to support the prototyping of innovative projects that leverage cutting-edge technology to advance the ways we share and do research.
2020 was a challenging year that brought eLife, like many others, to a necessary shift in its events plans. That's why the annual occurrence of the Sprint, in place since 2017, was completely restructured by Emmy Tsang, Innovation Officer and Sprint lead in September 2020. In shifting the event online, Emmy did an amazing job in preserving the event's spirit while nurturing even more participation and talents from all across the globe.
The organization of last year's Sprint was a success, and the feedback has been more than positive: the inspiring projects showcase, posted on eLife Labs, is a tale of hard work and dedication.
What are we bringing with us this year?
This year we are still facing challenges brought by the pandemic, but with such a great foundation organisationally speaking, we feel confident that we will be able to deliver an experience that will be up to par with the best events in past years.
The schedule of the Sprint, structurally expanded to work and adapt throughout time zones, will be replicated at this year's event, as well as the staged phases for projects submission and general application.
The aim is to connect and nurture small and big communities of talent: on the first day of the event, projects will be pitched to spark interest and ideas; working groups will be assigned respecting everyone's needs and interests, encouraging a sentiment of collaboration and cross-team flow.
In the past, a selection of promising projects that participated in the Sprint resulted in ongoing collaborations between eLife and the projects' owners. We want to keep encouraging the community that gathers during the Sprint and give them the opportunity and the resources to keep working as a team beyond the Sprint's two days of intense work.
When is it going to happen?
The Sprint will happen on the October 4–5 2021. During the two days there will be different opportunities to connect and network with the other participants.
Looking back at the numbers and success of last year we feel that keeping the Sprint online gives us the possibility of hosting as many talented innovators as possible.
Our call for projects opens today, May 10 and it will close on the May 31.
UPDATE: we are extending the deadline for project submissions to June 7.
Accepted projects will be published on the Sprint website and on Labs, with a short description of their goals and a set of possible milestones.
At this point, you are going to be able to apply for participation in the Sprint and express your interest towards a specific project. Please note that your expression of interest does not commit you to one specific project, and during the event there will be opportunities to swap and change projects, teams and roles.
Please refer to the timeline for more details: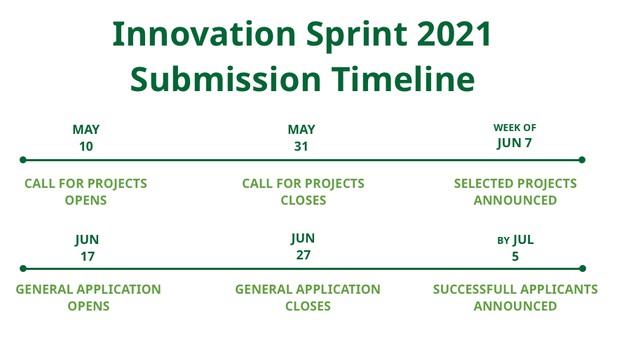 Which are the themes and the goals of the Sprint?
The relevance of the themes selected last year is still strong, and we decided to keep working towards projects submissions that:
support reproducibility in research,
promote diversity and inclusion in research,
improve publishing practices (in journals, on preprint platforms, etc.),
facilitate research collaborations.
The high-level goal is to have a vision of the future of research: a wide range of project ideas which could empower communities of different backgrounds, work under diverse conditions and adapt to different research and publishing practices.
What will happen after the Sprint?
The Innovation Sprint is a tool to make things happen. Our goal is to keep the community and the network alive, as a place where good practices and collaborations are encouraged.
Participation in the Sprint can be an opportunity to take the first step towards a collaboration between eLife and the teams or the individuals behind a project, and as we commit to showcasing all participating projects on eLife Labs, we will also be looking for opportunities to directly support a select number of Sprint participants to help take their idea to the next stage.
For more information, visit the Sprint website at sprint.elifesciences.org.
#
We welcome comments, questions and feedback. Please annotate publicly on the article or contact us at innovation [at] elifesciences [dot] org.
Do you have an idea or innovation to share? Send a short outline for a Labs blogpost to innovation [at] elifesciences [dot] org.
For the latest in innovation, eLife Labs and new open-source tools, sign up for our technology and innovation newsletter. You can also follow @eLifeInnovation on Twitter.