eLife Innovation Leaders is a new open leadership training and mentorship programme designed for innovators developing prototypes or community projects to improve open science and research communication.
Through organising the eLife Innovation Sprint for the past two years, and participating in similar events in the open science space, we realised that while these events are excellent fertile grounds for new ideas, the projects that get started at these events can often falter without further support and guidance.
With the Innovation Leaders programme, we aim to sustain and maximise the impact of events like sprints and hackathons, help turn ideas into viable solutions and empower innovators in the community to lead openly.
Date and duration: February–June 2020, for 14 weeks
Location: Online
Time required: ~2 hours per week
Application deadline: December 8, 2019
Successful applicants announced: Early January, 2020
How is the programme delivered?
As a participant ("mentee"), you will come with your own project idea/prototype. With support from mentors, experts and other programme participants, you will learn how to better develop your project through group calls, one-on-one mentorship and expert consultations.
Group calls: There will be a group call every week (~1 hour), where you will progress through the curriculum, discuss in groups and share learnings. When appropriate, we will also invite guest speakers to join the calls.
Mentorship: You will be paired with a mentor who you will meet every two weeks. The mentor will be responsible for monitoring your progress, advising on prototype/project development and putting you in contact with suitable experts.
Learning from experts: A group of experts on various aspects of product design including marketing, software development and more will be available during the programme for consultation when necessary.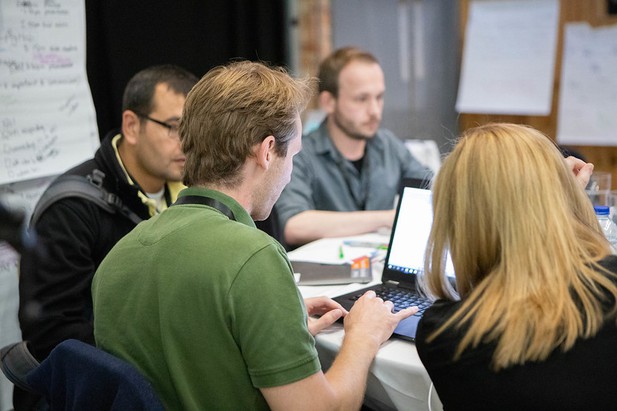 What topics will the curriculum cover?
Based on Mozilla's Open Leadership training series, you will learn about:
Defining your project's purpose and goal: What it is and what it is not
Developing a project roadmap
Basic product design techniques and concepts
Building a contributors' community and open co-creation
Measuring success
Community engagement
Accessibility and inclusivity
Sustainability, project maintenance and funding
What kinds of projects can you work on?
We invite ideas for tools/platforms with one or more of the following goals:
Improving the digital discovery, sharing, consumption and evaluation of research, including user experience, reach, efficiency and cost-effectiveness
Encouraging or facilitating transparency, openness and collaboration in research
Supporting the development of open tools, technologies and processes aimed at the above
Examples of such open projects include:
PREreview: A platform for crowdsourcing reviews for preprints
Plaudit: A widget for lightweight, open endorsements of research
We expect all participants to work openly and make resulting outputs openly available immediately or as soon as is feasible, using open-source licenses for code and software and permissive licenses (CC-BY or CC-0) for other content.
If you would like to create a project to promote best open science practices in life science and receive training in open science advocacy, please consider applying to Open Life Science, a mentorship programme designed for early-career researchers and young leaders to further their open science skills.
Bradly Alicea, Head Scientist, Orthogonal Research and Education Lab
Madeleine Bonsma-Fisher, PhD Student, University of Toronto, Department of Physics
Sarah Brown, Postdoctoral Research Associate, Brown University
Virginia Brussa, +Datalab /AREA
Aidan Budd, Trainer, EMBO Solutions GmbH
Luca Castiglione, PhD Student, Imperial College of London
Dave Clements, Galaxy Training and Outreach, Galaxy Project, Johns Hopkins University
Sanli Faez, Assistant Professor, Utrecht University
Anne Fouilloux, Research Software Engineer, University of Oslo, Department of Geosciences, Norway
Eriol Fox, Lead Designer, Ushahidi
Katja Heuer, PhD Student, Max Planck Institute for Human Cognitive and Brain Sciences
Ivo Jimenez, Research Scientist, UC Santa Cruz
Apostolos Kritikos, Software Engineer/Researcher, Aristotle University of Thessaloniki, Greece
Lauren Maggio, Associate Professor of Medicine, Uniformed Services University
Alexander Morley, Software Engineer, Babylon Health / University of Oxford
Oarabile Mudongo, Research Fellow, Research ICT Africa
Ian Mulvany, Head of Transformation, SAGE Publishing
Daniel Nüst, Researcher, Opening Reproducible Research (o2r) @ University of Münster, Institute for Geoinformatics
Bonface Ochieng, Service Coordinator Africa, Musoni Systems
Pablo Diego Silva da Silva, DevOps Technical Leader, LAPPIS at University of Brasília (UnB, Brazil)
Harry Smith, PhD Student In Nano Technology, UCL
Kaitlin Stack Whitney, Assistant Professor, Rochester Institute of Technology
Grant R. Vousden-Dishington, Research Software Engineer, Anti-Defamation League
Stefanie Butland, Community Manager, rOpenSci
Hannah Drury, Product Manager, eLife
Saloni Garg, Software Engineering Intern, Red Hat
Monica Granados, Policy Analyst, PREreview and Environment and Climate Change Canada
Bastian Greshake Tzovaras, Director of Research, Open Humans Foundation & Research Fellow, Center for Research and Interdisciplinarity
Chris Holdgraf, Post-doc, Project Jupyter / UC Berkeley
Peter Hooper, Lead Node Developer, eLife
Chris Huggins, User Experience Designer, eLife
Suze Kundu, Head of Public Engagement, Digital Science
Mauro Lepore, Research software developer, 2 Degrees Investing Initiative
Giuliano Maciocci, Head of Product and UX, eLife
Miranda Marcus, Lead Development Producer, Open Data Institute/ BBC
Veethika Mishra, Interaction Designer, Red Hat
David Moulton, Senior Front-End Developer, eLife
Ross Mounce, Director of Open Access Programmes, Arcadia Fund
Nikolaos Nerantzis, Physicist in Secondary Special Education, 1st Junior High School of Thessaloniki
Maël Plaine, Product Manager, eLife
Serah Rono, Community Engagement Lead, The Carpentries
Daniela Saderi, Project Director, PREreview / Code for Science & Society
Amit Sagtani, Software Engineering Intern, Perpule
Sayak Sarkar, Senior Software Engineer, Red Hat
Paul Shannon, Head of Technology, eLife
Giorgio Sironi, Team Lead and SETI, eLife
Gabriel Stein, Head of Operations and Product, Knowledge Futures Group
Dr. Athina Tzovara, University of Bern
Tyler Whitehouse, CEO, Gigantum
Lilly Winfree, Product Manager, Open Knowledge Foundation
Hao Ye, Postdoc, University of Florida
Yo Yehudi, Software Developer, University of Cambridge
Vot Zardzewialy, Head of Platform Solutions (Frontend), Cambridge University Press
Key takeaways: Theory, practice, mentorship
A personalised experience: You are connected with a mentor, who will oversee your progress and advise and direct you to the appropriate experts and resources
A shared community: You will be learning with and from your peers, and be connected to a wider network of open innovators in the open science and research communication space
Opportunity for further support: Your project could be considered for further support from eLife Innovation
We are looking for innovators developing open-source tools/platforms to further open science and research communication. You should:
Be passionate about openness
Be open-minded and willing to learn (from peers and non-experts)
Have a clear project idea within the programme's scope that you would like to pursue
Have the capacity and resources to lead your proposed project
In addition, you should:
Be ready to spend a minimum of two hours per week between February and June 2020 to work on the programme elements, including joining group calls and mentorship meetings (asynchronous participation is allowed, please see the "accessibility and inclusion" section below)
Have access to the Internet and preferably a microphone for calls
Be fluent in English, the primary language the programme is conducted in
You should be passionate about openness, open minded and willing to learn from others.
Please fill in the application form by December 8, 2019. (Update January 2020: applications have now closed.)
Your application will be blindly reviewed by at least two mentors of the programme. Applicants will be assessed and selected based on your answers to the questions on the application form and mentors' preference.
We aim to announce successful applications early in January 2020.
Accessibility and inclusion
We seek to host an accessible and inclusive programme:
Asynchronous participation is allowed; all calls are recorded and available to be viewed later
We will communicate a syllabus at the beginning of the programme and all call agendas before the calls
The programme operates a strict Code of Conduct (to be communicated closer to the beginning of the programme)
Please let us know if you have any specific requirements via the application form. We aim to get back to you by mid-December to discuss the requirements and potential arrangements.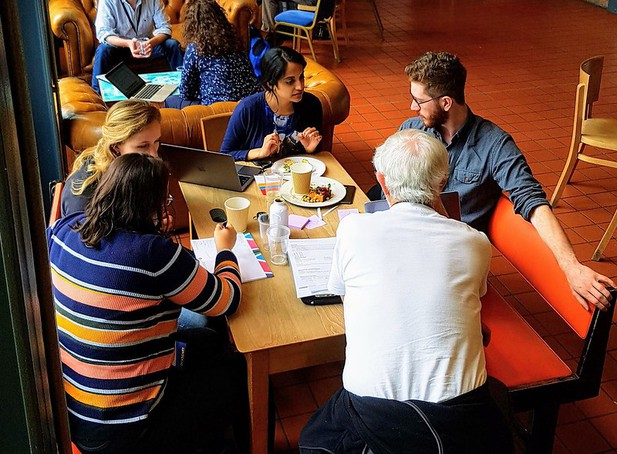 Can we apply as a team?
Yes, a maximum of two people per team. You only need to fill in one application form and one of you would need to serve as the primary contact for the application.
Can I join the programme with an existing project?
We are specifically looking for nascent ideas and testable prototypes. If your existing project is currently in beta, or you're looking to develop a new feature on something existing, convince us in your application that you and your project would benefit from the programme. If your project is already mainstream and you want to chip away at some issues, this programme probably isn't the right fit.
Can I apply if I have been in a Mozilla Open Leaders Programme before?
Yes, but please expect large curriculum overlaps (>50%) with the Mozilla Open Leaders Programme. Please consider joining the programme as a mentor or expert – for more information on this, please contact Emmy at innovation [at] elifesciences [dot] org.
Can I join with a closed project?
As long as you commit to making it open (:
Can I apply without a project idea?
Unfortunately not, but you can contribute to the programme by becoming a mentor or expert.
Does participation in the programme guarantee future support from eLife?
No, if participants and projects are interested in further support from eLife after the programme, they will be evaluated individually (read how we evaluate ideas here).
Can participants choose their mentors?
Not for this round– mentors are pre-assigned by the organiser. If you require a certain expertise for your project, you are welcome to consult our panel of experts.
What language is this programme in?
Primarily in English.
I have further questions.
Please contact Emmy at innovation [at] elifesciences [dot] org.
The organiser would like to acknowledge and thank the following people for their contributions to Innovation Leaders so far:
The Mozilla Open Leaders X organisers and cohort members, for providing feedback and support; in particular to Abby Cabunoc Mayes for mentorship and guidance, and to the OpenLifeSci team (Yo Yehudi, Malvika Sharan and Berenice Batut) for collaborative efforts and discussions
The eLife team (Giuliano, Kora and Rowena) for feedback and advice
Chiara and Kaitlin for their input on making the programme more accessible and inclusive
#
We welcome comments, questions and feedback. Please annotate publicly on the article or contact us at innovation [at] elifesciences [dot] org.
Do you have an idea or innovation to share? Send a short outline for a Labs blogpost to innovation [at] elifesciences [dot] org.
For the latest in innovation, eLife Labs and new open-source tools, sign up for our technology and innovation newsletter. You can also follow @eLifeInnovation on Twitter.