Kairomones: Finding the fish factor
The water flea Daphnia moves to deeper waters to avoid predators when it detects a chemical produced by fish.
In a very simplified version of the food chain found in lakes, microalgae are eaten by water fleas called Daphnia, which are in turn eaten by fish. But things get complicated very quickly if observed in more detail. Algae release toxins to defend themselves, and form long chains to evade predators (Van Donk et al., 2011), while Daphnia can change shape or move to avoid being eaten by fish.
One way that Daphnia and other members of the zooplankton avoid predators is by moving to different depths of the lake depending on the time of day, a strategy known as diel vertical migration. If the surrounding water contains fish, Daphnia move to darker, deeper regions during the day, so that the fish cannot see them (Figure 1), and move to the upper layers of the water column – where the microalgae live – at night. If there are not many fish in the vicinity, Daphnia stay near the surface during the day as well (Lampert, 1989).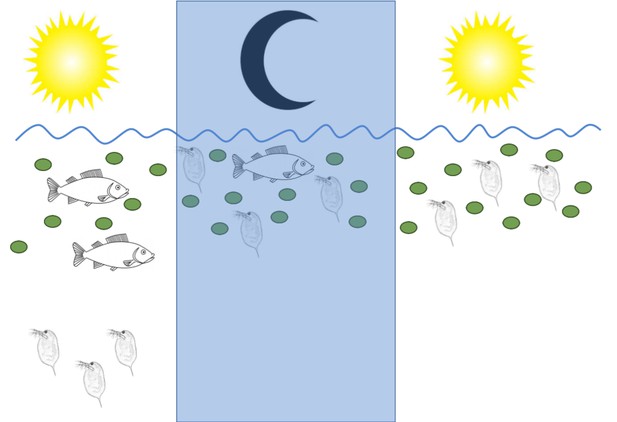 Prey species must balance their resources carefully. Unnecessarily avoiding predators costs energy and can restrict access to food – the microalgae eaten by Daphnia do not live in the dark depths of the lake – but accidentally encountering a predator can be fatal. As a result, some species have adapted to detect chemicals released by predators. The identification of several of these chemicals, called kairomones, has opened up new areas of research in aquatic ecology, conservation and aquaculture (Yasumoto et al., 2005; Selander et al., 2015; Weiss et al., 2018).
The search for the kairomone that induces diel vertical migration, also known as the 'fish factor', has been ongoing for decades, with spectacular failures and misinterpretations on the way (see Pohnert and von Elert, 2000 for a discussion). Numerous obstacles have complicated the search: the fish factor occurs in low concentrations in lake water, and bioassay experiments that could identify it are problematic because it is difficult to monitor the vertical movement of Daphnia in a laboratory setting. Now, in eLife, Meike Hahn, Christoph Effertz, Laurent Bigler and Eric von Elert report the identity of this kairomone (Hahn et al., 2019).
Hahn et al. – who are based at the University of Cologne and the University of Zurich – used a bioassay-guided fractionation method to identify the fish factor. A technique called High Performance Liquid Chromatography allowed water in which fish had previously been incubated to be separated into 'fractions' that each contained a subset of chemicals. Examining the effect of each fraction on the migration behavior of Daphnia revealed one that induced diel vertical migration even though fish were not present. Hahn et al. identified the active chemical as 5α-cyprinol sulfate. Only picomolar concentrations of this compound are found in water inhabited by fish, but even these low concentrations are sufficient to change the migration behavior of Daphnia.
Since the release of kairomones places predator species at a disadvantage, a prey species can only rely on them if the predator cannot shut down the production of the molecule. This is the case for 5α-cyprinol sulfate, which is a bile acid that plays an essential role in digesting dietary fats (Hofmann et al., 2010). The fish release 5α-cyprinol sulfate from their intestine, gills, and the urinary tract. As this molecule is also stable in water, it reliably indicates the presence of fish to Daphnia.
Besides the many implications for basic research, the finding that only picomolar amounts of a compound can trigger widespread behavioral responses in a lake also raises ecotoxicological concerns. While we survey our waters for metabolites that cause immediate toxicity, we completely ignore the fact that non-toxic doses of such highly potent signaling chemicals can also have a substantial effect on an ecosystem. This calls for a new evaluation of the routine procedures used in environmental monitoring.
Kairomones are not the only chemical signals used by the species that inhabit lakes. Pheromones (Frenkel et al., 2014), defense metabolites and molecules that help species to outcompete each other also contribute to the intricate signaling mechanisms in aquatic ecosystems (Berry et al., 2008). We can conclude that these environments are really shaped by a diverse chemical landscape, a language of life that we are only just beginning to understand.
Article and author information
Author details
© 2019, Pohnert
This article is distributed under the terms of the Creative Commons Attribution License, which permits unrestricted use and redistribution provided that the original author and source are credited.
1,630

Page views

114

Downloads

67

Citations
Article citation count generated by polling the highest count across the following sources: Scopus, Crossref, PubMed Central.
A two-part list of links to download the article, or parts of the article, in various formats.
Downloads
(link to download the article as PDF)
Open citations
(links to open the citations from this article in various online reference manager services)
Cite this article
(links to download the citations from this article in formats compatible with various reference manager tools)
Georg Pohnert
Kairomones: Finding the fish factor
eLife 8:e48459.
https://doi.org/10.7554/eLife.48459
Further reading
Prey are under selection to minimize predation losses. In aquatic environments, many prey use chemical cues released by predators, which initiate predator avoidance. A prominent example of behavioral predator-avoidance constitutes diel vertical migration (DVM) in the freshwater microcrustacean Daphnia spp., which is induced by chemical cues (kairomones) released by planktivorous fish. In a bioassay-guided approach using liquid chromatography and mass spectrometry, we identified the kairomone from fish incubation water as 5α-cyprinol sulfate inducing DVM in Daphnia at picomolar concentrations. The role of 5α-cyprinol sulfate in lipid digestion in fish explains why from an evolutionary perspective fish has not stopped releasing 5α-cyprinol sulfate despite the disadvantages for the releaser. The identification of the DVM-inducing kairomone enables investigating its spatial and temporal distribution and the underlying molecular mechanism of its perception. Furthermore, it allows to test if fish-mediated inducible defenses in other aquatic invertebrates are triggered by the same compound.

Ecology
Epidemiology and Global Health

Previously unknown pathogens often emerge from primary ecosystems, but there is little knowledge on the mechanisms of emergence. Most studies analyzing the influence of land-use change on pathogen emergence focus on a single host–pathogen system and often observe contradictory effects. Here, we studied virus diversity and prevalence patterns in natural and disturbed ecosystems using a multi-host and multi-taxa approach. Mosquitoes sampled along a disturbance gradient in Côte d'Ivoire were tested by generic RT-PCR assays established for all major arbovirus and insect-specific virus taxa including novel viruses previously discovered in these samples based on cell culture isolates enabling an unbiased and comprehensive approach. The taxonomic composition of detected viruses was characterized and viral infection rates according to habitat and host were analyzed. We detected 331 viral sequences pertaining to 34 novel and 15 previously identified viruses of the families Flavi-, Rhabdo-, Reo-, Toga-, Mesoni- and Iflaviridae and the order Bunyavirales. Highest host and virus diversity was observed in pristine and intermediately disturbed habitats. The majority of the 49 viruses was detected with low prevalence. However, nine viruses were found frequently across different habitats of which five viruses increased in prevalence towards disturbed habitats, in congruence with the dilution effect hypothesis. These viruses were mainly associated with one specific mosquito species (Culex nebulosus), which increased in relative abundance from pristine (3%) to disturbed habitats (38%). Interestingly, the observed increased prevalence of these five viruses in disturbed habitats was not caused by higher host infection rates but by increased host abundance, an effect tentatively named abundance effect. Our data show that host species composition is critical for virus abundance. Environmental changes that lead to an uneven host community composition and to more individuals of a single species are a key driver of virus emergence.

The social complexity hypothesis for communicative complexity posits that animal societies with more complex social systems require more complex communication systems. We tested the social complexity hypothesis on three macaque species that vary in their degree of social tolerance and complexity. We coded facial behavior in >3000 social interactions across three social contexts (aggressive, submissive, affiliative) in 389 animals, using the Facial Action Coding System for macaques (MaqFACS). We quantified communicative complexity using three measures of uncertainty: entropy, specificity, and prediction error. We found that the relative entropy of facial behavior was higher for the more tolerant crested macaques as compared to the less tolerant Barbary and rhesus macaques across all social contexts, indicating that crested macaques more frequently use a higher diversity of facial behavior. The context specificity of facial behavior was higher in rhesus as compared to Barbary and crested macaques, demonstrating that Barbary and crested macaques used facial behavior more flexibly across different social contexts. Finally, a random forest classifier predicted social context from facial behavior with highest accuracy for rhesus and lowest for crested, indicating there is higher uncertainty and complexity in the facial behavior of crested macaques. Overall, our results support the social complexity hypothesis.